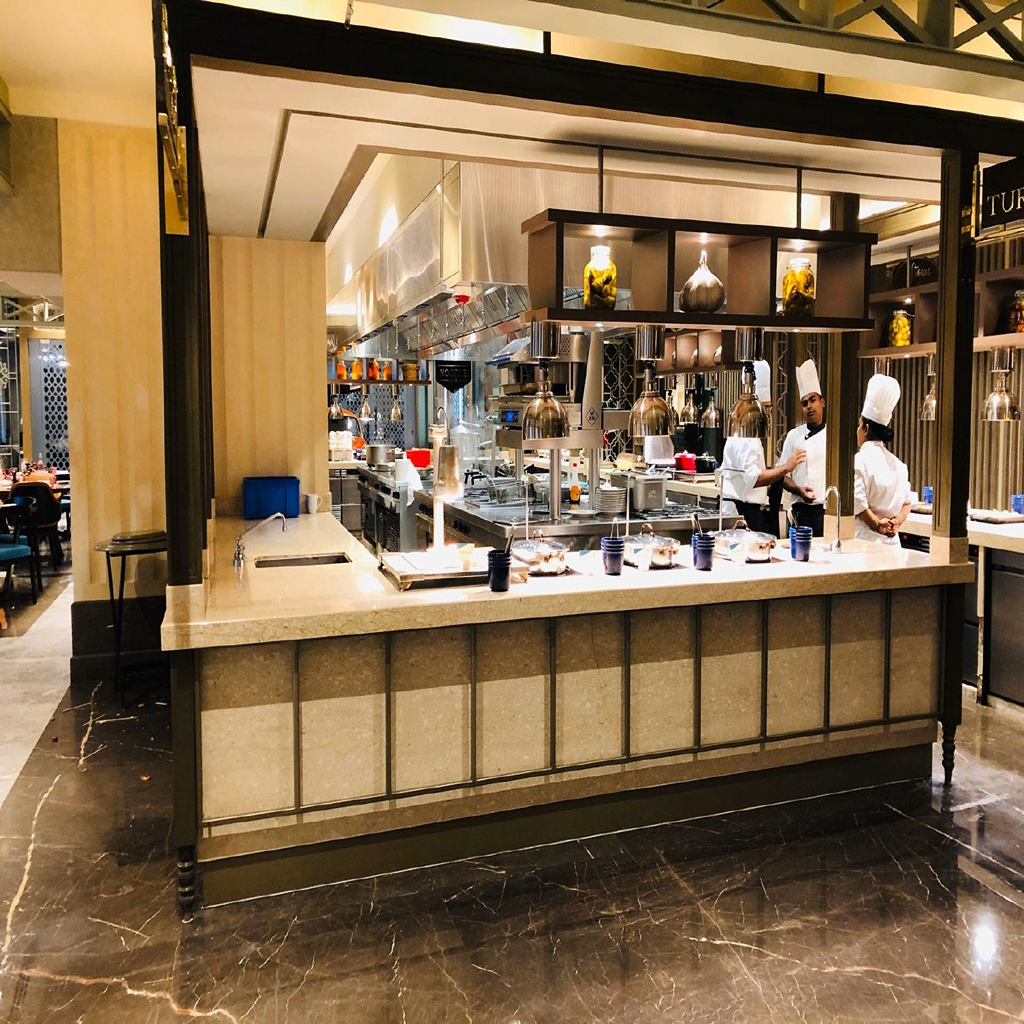 While the world is calculating if buffets and brunches with friends and family can ever be like, the pre-COVID era, ITC Royal Bengal has restarted its famous buffets at the Grand Market Pavilion, keeping all hygiene protective measures in place.
The brunches and dinners at Grand Market Pavilion, the buffet restaurant of ITC Royal Bengal has always been a carnival for all generations. The at-site Kebaberie and colourful buffet counters offer an abundant spread featuring local delicacies, unexplored cuisines from the North East of India, and the sweet and the subtle at the dessert studio.
Grand Market Pavilion draws inspiration from the iconic New Market or Hogg Market of Kolkata, once a treasury of produce for the country. Keeping pace with international trends, the restaurant serves an immersive culinary experience, creating the ambience of a gourmet food district. It is a vibrant, bustling showcase of the finest in local, Indian and global fare.
In keeping up with the ITC Hotels ethos of 'Responsible Luxury' and tailored to the present times, the experience has inculcated elevated hygiene protocols, state-of-the-art technology and Savlon and other advanced disinfectants as recommended by the World Health Organization (WHO) and Ministry of Health & Family Welfare (MoHFW) across all touch points for the guests' safety and wellbeing.
Speaking at the re-opening, Tejinder Singh, Area Manager East ITC Hotels & Cluster General Manager ITC Royal Bengal & ITC Sonar mentioned, "Grand Market Pavilion offers immersive dining keeping pace with international trends, showcasing the finest in cuisines from across the globe. Now enjoy this experience with the industry first WeAssure initiatives offering guests the highest levels in hygiene and safety along with the traditional warmth of our standards of service, in keeping up with the ITC Hotels ethos of Responsible Luxury."
The restaurant layouts and seating arrangements have been remodeled to maintain safe distancing.
Alternate Tables with 50% seating capacity of the restaurant will be operational.
All Chefs & service associates will wear PPE (Personal Protective Equipment) and adhere to stringent safety norms and hygiene protocols. Service associates to always maintain a safe distance from guests
The entire buffet will be covered with a protective shield which does not expose food. Guests will be served by the service associate through a secure opening in the shield. The Service Associates and WeAssure Ambassadors will conduct temperature checks and coordinate with chefs as required, maintaining safe distancing.
The tables and chairs at the restaurant will be sanitised after every use. Common shareable items have been replaced with individually packed condiments.
Guests would be encouraged to settle bills through contactless payment modes, i.e., QR code scan through EDC Machine or payment link through CCAvenue.