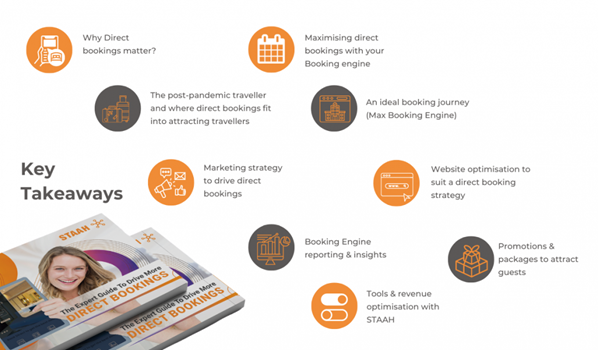 With the impact of COVID-19, trust has become a crucial factor for travelers when booking hotel stays. As a result, many travelers are now preferring to book directly rather than using Online Travel agents (OTA's). By booking directly, they can have more confidence in the safety and hygiene measures in place, as well as have a direct line of communication with the hotel.
This shift towards direct bookings has created new opportunities for hotels to generate their own direct bookings and optimize their revenues, in addition to continuing to procure business through OTA's as well!
STAAH, the hospitality solutions expert recently launched a free e-book titled 'The Expert Guide to Drive More Direct Bookings.'
The e-book guides the hoteliers with tips and trends on how to attract more guests and drive more direct bookings to their property website. OTAs and travel agents play their role in increasing awareness and occupancy, direct bookings help in lowering hefty commissions for acquiring guests.
A successful distribution strategy is getting the right balance between direct bookings and OTAs.
"The goal of the e-book is to empower hotels to increase their direct bookings and optimize their revenues. We believe that by reducing commission fees and establishing a direct relationship with guests, hotels can create a more sustainable business model and a better distribution strategy in the long-term. This e-book provides practical tips and guidance on how to effectively drive more direct bookings and attract, retain, and grow guests. We hope that the entire hospitality industry will take advantage of this resource and use it to make informed business decisions." said Edwin Saldanha, Marketing Director STAAH
The free e-book, a thought-leadership initiative, was launched at 'The Big Connect' B2B industry event in Kolkata by Rajesh Ghanshani, Director – Business Development for Indian Sub-continent, STAAH, and Akanksha Garg, Founder Director – Waxpol Hotels and Resorts. The ebook can be accessed here: https://blog.staah.com/featured/the-expert-guide-to-drive-more-direct-bookings