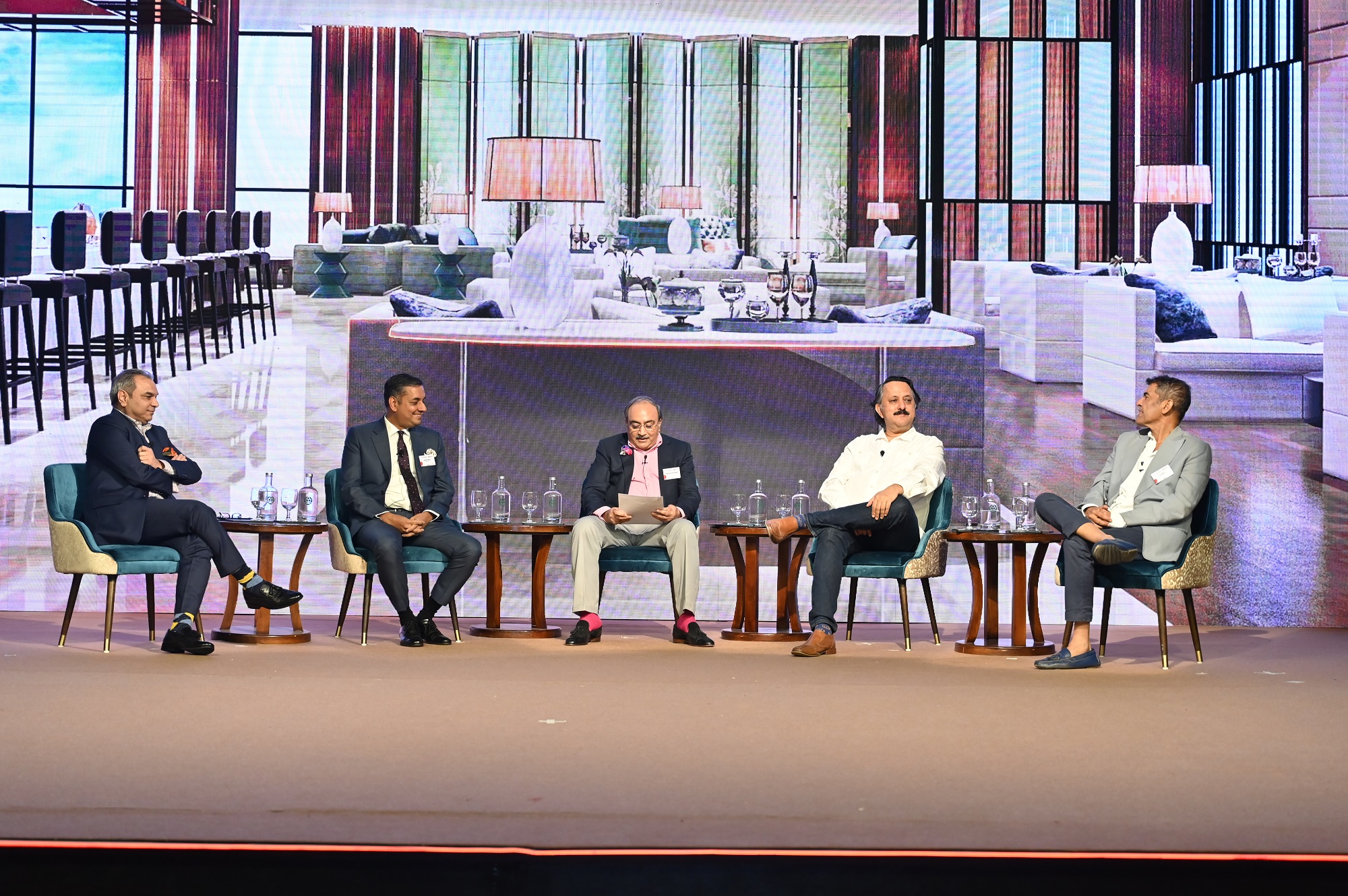 HBI Staff | Goa
HVS ANAROCK held India's most exclusive Hospitality Summit, HOPE 2023 from March 2-3 at Taj Resort & Convention Centre, Goa. The power-packed event HOPE (Hospitality Overview Presentation & Exchange) brought together a select gathering consisting of 300-350 hospitality and travel eminences, and the senior leadership of domestic and international hotel chain operators, owners, investors, travel gurus, thought leaders, and influencers from across the globe. The event showcased India's global stature as a hospitality industry powerhouse focused on sustainability as a core theme with the delegates deliberating upon a path forward for sustainable growth. The summit witnessed the unveiling of the first-ever sustainability report for the hospitality sector on the current challenges and methods to make the industry more sustainable was unveiled during the event.
Among the key dignitaries present was the Honourable Chief Minister of Goa, Dr. Pramod Sawant, who said in his address, "I am delighted that HVS ANAROCK is having the HOPE conference at Goa- India's tourism Capital and this very exclusive travel and tourism conclave will be held every year in Goa, starting this year." 
Day 1 
The proceedings on day one started with HVS ANAROCK President, Mandeep Lamba's Beachside Chat with Christopher J. Nassetta, President & CEO, of Hilton. Nassetta concluded the session by putting emphasis on how covid has changed the way we travel and the impact on the hotel industry.
Day one featured four-panel discussions, including a Global Leaders Panel (Global Hospitality Outlook: Have we emerged stronger and more optimistic than ever before?) featuring Christopher Hartley, CEO, Global Hospitality Alliance; Dimitris Manikis, President, Europe, Middle East, Eurasia & Africa, Wyndham Hotels & Resorts; KB Kachru, Chairman Emeritus & Principal Advisor South Asia, Radisson Hotel Group; Stephen Rushmore, Jr., President & CEO, HVS; and Tommy Lai, Chief Executive Officer, General Hotel Management Pte. Ltd. The session was moderated by Mandeep Lamba, President, South Asia, HVS ANAROCK. 
Featuring in the Luxury Travel Panel (Post the pandemic, is luxury travel likely to witness a significant leap? Is the rapidly changing customer behaviour and outlook going to redefine luxury travel in some ways?) were Laure Morvan, Chief Development Officer, India, Middle East, Africa & Turkey, Accor; Mary Gostelow*, Global Ambassador, Travel Writer & Influencer, Gostelow Report; Rohit Khosla, Executive Vice President – Operations, North & West India, IHCL; Salil Deshpande, Head of Editorial Content, Condé Nast Traveller India; and Sameer Nayar, Executive Vice President, Strategic Development, Oberoi Hotels & Resorts. Rattan Keswani, an Industry Stalwart and Former Deputy Managing Director, Lemon Tree Hotels, moderated the session. 
The session was followed by a Beachside Chat on How India Travels, in which Kapil Kaul, CEO & Director, CAPA Advisory was joined by Rajesh Magow, Co-Founder & Group CEO, MakeMyTrip, for a freewheeling conversation, which was moderated by Ajay Mehtani, Senior Vice President, Asset Management, HVS ANAROCK. 
 The F&B Panel (Do hotels—the original pioneers of F&B in the country—need to rethink and reimagine F&B offerings given the rapid strides in innovation and customer acquisition made by standalone restaurants?) brought together AD Singh, Founder & Managing Director, Olive Bar & Kitchen; Anil Chadha, Divisional Chief Executive, ITC Hotels; Gaurav Singh, Market Vice President South & East India, Bangladesh and Sri Lanka, Marriott International; and Rohit Khattar, Founder & Chairman, Old World Hospitality, with Diwan Gautam Anand, Industry Stalwart & Former Executive Vice President, ITC Hotels, moderating the session. 
And taking part in the HR Panel (The Manpower Conundrum: How will hotels deal with attracting and retaining future talent?) were Ashutosh (Ash) Khanna, Partner, Heidrick & Struggles; Brijesh Paleri, Founder, GigsNearMe; Gaurav Pokhariyal, Executive Vice President – Human Resources, IHCL; Natwar Nagar, Founder & CEO, The People Network & The Job Plus; and Sanjay Bose, Executive Vice President & Head – Human Resource, ITC's Hotel Group. This session was moderated by Prahlad Puri, Co-Founder & Executive Director, Indian School of Hospitality.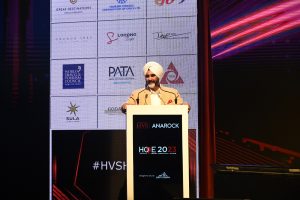 The second day's proceedings started with the Keynote Address. 'Story of India: All Facts No Fiction' by Deepak Bagla, Managing Director, Invest India. He spoke at length about how the planning that was laid out 100 months back for the development of the Aviation and Tourism space in our country is laying the foundation for making India the next superpower. 
The session was followed by an HVS ANAROCK Presentation, Spotlight on India: No looking back, by Mandeep S. Lamba—President, South Asia, HVS ANAROCK—launched the agenda on Day two of HOPE 2023. Lamba not only emphasised on the sectorial growth that the country has witnessed viz-a-viz tourism, travel and hospitality but also gave an overview of what India is going to witness in terms of infrastructural development in the coming years. 
Day 2 also witnessed a Lounge Chat of Campbell Wilson, CEO & Managing Director, Air India and Puneet Chhatwal, Managing Director & CEO, IHCL with Aindrila Mitra, Editor-in-Chief, Travel & Leisure, India & South Asia. While Wilson was very optimistic about the quick turnaround of the culture and operations of the group post the merger, he talked about the greater need of having the right distribution partners. Chhatwal talked about the consolidation and expansion that IHCL is going to see in the next 5-10 years and echoed the sentiments of Bagla and Lamba about India holding a very unique position in the global tourism & hospitality space. 
After that a series of panel discussions was scheduled, including CEOs Panel 1 (New Models, New Playbook: Is the Indian landscape changing?), which featured Anuraag Bhatnagar, Chief Operating Officer, The Leela Palaces, Hotels & Resorts; Jatin Khanna, Chief Executive Officer, Sarovar Hotels; Puneet Dhawan, Senior Vice President – Operations, India & South Asia, Accor; Ranju Alex, Area Vice President, South Asia, Marriott International; and Vikramjit Singh, President, Lemon Tree Hotels. The session was moderated by Vijay Thacker, Managing Director, Horwath HTL, India. This session stressed on the importance of Tier 2 and 3 markets and the inclusion of technology to make the industry more inclusive.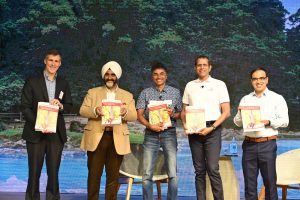 Meanwhile, in the Tech Panel 1 session (Future of Travel Technology: Where are we headed?), Ipshita Kumar, Vice President – Brand Innovations, Hype Partners, was joined by Joy Ghosh, Head of Commercial – Indian Subcontinent, Middle East, Africa & Turkey, Amadeus Hospitality; and Nuno Guerreiro, Regional Director, South APAC & Chains, Booking.com, with Ajay Mehtani—Senior Vice President, Asset Management, HVS ANAROCK—playing the role of moderator. The biggest takeaway from the panel was that the future of hospitality looks promising with human interface and technology in terms of VR, AI, etc. 
And featuring in Tech Panel 2 (Lifting the Veil on Metaverse) were Shweta Bajpai, India Head – Financial Services, Media, Travel & Professional Services, Meta; Shalaka Ramesh Pawar, Client Partner – Travel & Professional Services, Meta; and Swati Sud, Client Solution Manager – Travel & Professional Services, Meta. The three presentations took a deep dive into the world of AI, VR, AR and Metaverse and exhibited multiple examples of how the sector can benefit from these products. 
Participating in CEO's Panel 2 (Crystal Ball Gazing: Journey of a hotel guest in 2033) were Navjit Ahluwalia, Senior Vice President & Country Head, India, Hilton; Prabhat Verma, Executive Vice President – Operations, South India, International Hotels & Expressions, IHCL; Sanjay Sethi, Managing Director & CEO, Chalet Hotels; Sudeep Jain, Managing Director, South West Asia, IHG; Sunjae Sharma, Managing Director, India & Southwest Asia, Hyatt Hotels Corporation; and Vijay Dewan, Managing Director, Apeejay Surrendra Park Hotels Limited. Nikhil Sharma, Market Managing Director, Eurasia Wyndham Hotels & Resorts—moderated the session. This session was all about enhancing the guest's experience and making his experience of staying in a hotel the most memorable one. 
Participants in the Investment Panel (Private Equity & lenders' outlook for India Hospitality) included Anoop Bali, Whole Time Director & CFO, Tourism Finance Corporation of India; Manmeet Gulati, Managing Director Head, Real Estate, South Asia, Standard Chartered Bank; Hari Krishna V, Managing Director, CPP Investment; Raghu Sapra, Head of Hospitality, Embassy REIT; and Santosh Verma, Executive Vice President – Investment Banking, ICICI Securities, with Shobhit Agarwal—Managing Director & CEO, ANAROCK Capital Advisors—acting as moderator. The session not only chronicled the journey of what the industry as a whole witnessed during the COVID times but also took cognizance of the big learnings that will help the sector to become better in terms of its scalability and profitability. 
Featuring in the Alternate Accommodation Panel (The Rise & Rise of Alternate Accommodation: What lies in store?) were Amanpreet Bajaj, General Manager India, SE Asia, Hong Kong & Taiwan, Airbnb; Devendra Parulekar, Founder, SaffronStays; Nibhrant Shah, Founder & CEO, Isprava & Lohono Stays; Santosh Kumar, Country Manager – India, Sri Lanka, Maldives, Indonesia, Booking.com; and Vaibhav Singh, Senior Vice President & Head Alternate Accommodations, International Hotel Supply & Strategic Alliances, MakeMyTrip. The session was moderated by Ranjit Batra, President Hospitality, Panchshil Realty. With a more flexible work environment post-COVID and the rise in experiential travel, the lines between work and travel have got blurred. 
In the Design & Sustainability Panel (Future of Hotel Design and Sustainability), Bobby Mukherji, Architect, was joined by Hemant Khurana, Executive Director, Saint-Gobain India; Jabeen L Zacharias, Architect & Interior Designer; Patrick O'Meara – Head of Business Development, Sustainable Hospitality Alliance; Ar. Reza Kabul, President, ARK Reza Kabul Architects; and Sonu Shivdasani, OBE | Guardian of the Culture, CEO & Joint Creative Director, Soneva. The moderator for this session was Ajaya Sharma, Senior Editor, Markets, Anchor, Times Network (ET NOW). 
The Hotel Owners Panel (Real Estate Investment Outlook: Is hospitality finally maturing as a real-estate asset class?) comprised of Puneet Chhatwal, Managing Director & CEO, IHCL; Harshavardhan Neotia, Chairman, Ambuja Neotia Group; and Nirupa Shankar, Joint Managing Director, Brigade Enterprises, with the session being moderated by Anuj Puri, Chairman & Founder, ANAROCK Group. The session acknowledged and celebrated the synergy between asset managers, hotel owners, management players and PE funds that has propelled this unprecedented growth but also asked the industry to be extremely careful and manage and structure their feasibility reports with a tighter noose.
And the Hotel Development Panel (India: Land of Immense Potential and Challenges—How are operators strategizing their India entry and growth plans?) featured Andrew Langdon, Senior Vice President Development Asia, Accor; David Roberts, Global Head – Business Development, Dusit International; Nikhil Manchharam, Managing Director – Development Asia, Yotel; Shawn Hill, Chief Development Officer Asia Pacific (excluding Greater China), Marriott International; and Suma Venkatesh, Executive Vice President – Real Estate & Development, IHCL. The session was moderated by Akash Datta, Senior Vice President, Consulting & Valuation, HVS ANAROCK. The session positioned India as a clear winner when it comes to growth in the hospitality sector and the number of keys that will be added YoY in the next decade or so. 
The summit concluded by conferring the #HASHTAG (HVS Anarock Showcase Hospitality & Tourism Awards Gala) Awards, which honoured the best-performing hotel general managers and hotels from across categories in a glittering ceremony.
Testimonials
"I think it's a wonderful initiative. I would like to congratulate HVS under the leadership of Mandeep, very well supported by the founders Anuj & Shobhit. I think such initiatives are very timely, are very opportune but are also a service to the nation and a service to society. It's not easy to put such an event together and we feel extremely proud to have the opportunity to partner with HVS to serve this need and I remain very confident that this will become a very iconic event in the next years and decades to come." – Puneet Chhatwal, Managing Director & CEO, IHCL
"It's been a really amazing experience. I have been super impressed with the level of organization, the kind of event management that is happening. I think the conference, the HOPE conference, has definitely set the bar very high, it's taken it up a few notches and overall super impressed. The attention to detail, the service levels, whether it's the F&B, whether it's the stage backdrop, I think everything has been top notch and it's been my pleasure and honour to be part of this conference." – Nirupa Shankar, Joint Managing Director, Brigade Enterprises
"HOPE, wonderful bunch of ideas put together. It was great to get into the depth of what technology is going to produce over the next few years with metaverse etc. It's always good to come together with different minds, different thoughts, different levels of imagination and just talk about some ideas together. So, thank you very much Mandeep and team. Thank you HOPE." – Ajay Bakaya, Managing Director, Sarovar Hotels
"It's indeed an honour to be here. A brilliant event. It's a great forum to be, I think it was good to see so many people under one roof, who touched upon some great topics. Everyone spoke about many interesting things. A lot of the future that our industry is looking forward to, a lot of crystal gazing. We have all evolved from the past, COVID is behind us and that is a good way, and this event is epitome of that." – Vikramjit Singh, President, Lemon Tree Hotels
"First, I must congratulate HVS for this wonderful conference. It was exceptionally well-organized and I must also thank Mandeep Lamba for doing an exceptional job of bringing all international and national hospitality stalwarts to the conference and as one can see it has been a huge success. So, congratulations to HVS for doing their first conference exceptionally well. Congratulations!" – Vijay Dewan, Managing Director, Apeejay Surrendra Park Hotels Limited
"I think it's a brilliant infrastructure, a great conference, excellent speakers, and the content is extremely valuable, and relevant to the people who are attending the conference. The facilities, the engagement with the Speakers, I have been a Speaker here and so the engagement of the HVS team before and after the panel discussion has been brilliant. I think overall a very, very successful event and I wish them all the best in the near future." – Ranju Alex, Area Vice President, South Asia, Marriott International
"Hope 2023 showcased the great magnitude of the Indian hospitality opportunity and its impact on the domestic and global landscape. The conference was attended by domestic and international experts, who embarked on constructive dialogue and exchanged ideas and best practices for a better tomorrow. I personally enjoyed the session of 'The Future of Hotel Design & Sustainability'." Dimitris Manikis, President EMEA, Wyndham Hotels & Resorts
"Industry events like HVS HOPE provide unique opportunities and valuable experiences for industry leaders and fellows. Such knowledge exchange activities can't be replicated in a virtual setup. While virtual events have become more convenient, they can never replace the benefits of physical events, specifically when it comes to networking and relationship building. With recent advancements and developments, India has become a talent pool for the global hospitality industry. Events like HVS are a testament to this. It hosted relevant panels and discussions and covered all aspects of tourism, including the India growth story." Nikhil Sharma, Market Managing Director for Eurasia, Wyndham Hotels & Resorts EMEA
"HOPE was one of the best experiences that I have had. Very well-organized event. I would also say that the diversity of speakers and the topics that were covered at this event were really meaningful and it's so good to see the industry players all get together after such a long time. One of the best events and I am sure this one is a difficult one to beat." – Amanpreet Bajaj, General Manager India, SE Asia, Hong Kong & Taiwan, Airbnb