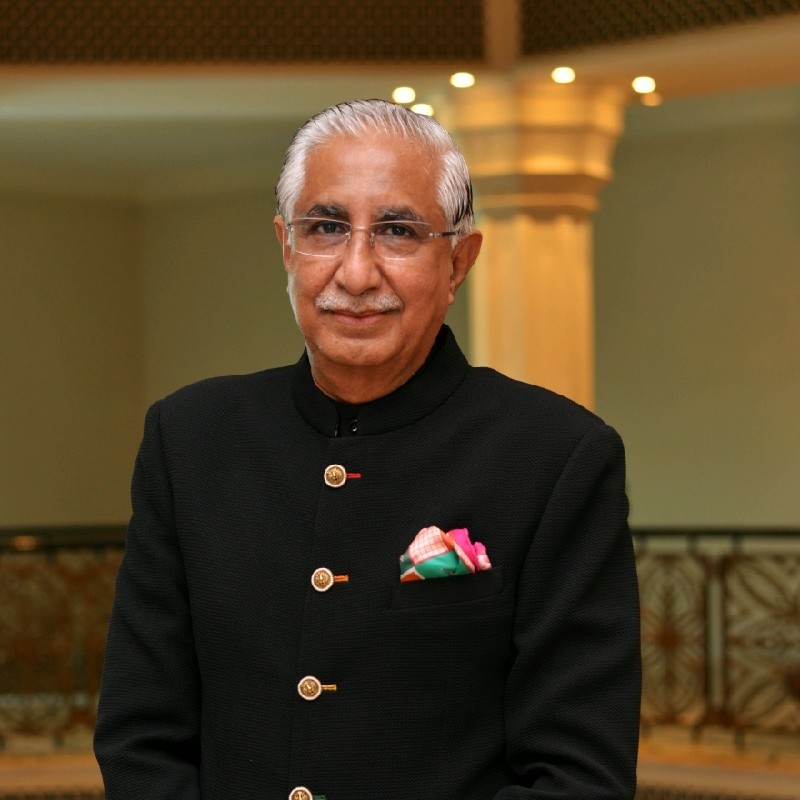 The International Hospitality Council, in collaboration with the International Institute of Hotel Management (IIHM) under the mentorship of Dr Suborno Bose, successfully organised the International Hospitality Day (IHD) on 24 April 2023. The virtual event brought together speakers and hospitality industry experts from around the world for an international convention on hospitality.
On this occasion, the Global Hospitality Awards 2023 were also held wherein the prestigious Hall of Fame Award was given to Nakul Anand, the Executive Director of ITC, for his invaluable contributions to the hospitality industry. Mr Anand has rewritten the rules of global hospitality with his 'Responsible Luxury' initiative and transformation of ITC Hotels into a future-forward, pro-sustainability green hotel chain.
The event began with opening remarks from Dr Bose (CEO, IIHM Hotel School Worldwide), who highlighted the importance of sustainability in the hospitality industry. Professor David Foskett MBE (Chairman, International Hospitality Council London) delivered a thought-provoking keynote address on the hospitality industry and how the industry is transforming and becoming future-ready.
The Special speaker, Megna Shankaranarayanan, Industry Head, Travel & Food Tech, APAC, Google, shared insights on Google trends for the hospitality industry. Celebrity chefs Sanjeev Kapoor and Ranveer Brar also shared their experiences and ideas on how to make the hospitality industry more sustainable.
Dr Bose then unveiled his much-anticipated new book, The Art of Sustainable Hospitality, which offers a comprehensive guide to sustainable hospitality practices. He also felicitated Nayanjyoti Saikia, the winner of MasterChef India 2023, who interacted with Naureen Shaikh, the YCO 2023 bronze medallist, about their experiences in the hospitality industry. Their interaction was moderated by Sanjay Kak, Culinary Director of IIHM and Indismart. Nayanjyoti Saikia was also felicitated with the Special Jury award by Dr Suborno Bose.
The event also featured interesting sessions on various topics related to hospitality, as well as engaging panel discussions.
Chef John Wood FIIHM, Founder and MD of KitchenCut, discussed the impact of technology in the contemporary culinary ecosystem with Ron Scott. Kush Kapoor, CEO of Roseate Hotels, had a conversation with Chef Gary Maclean, National Chef of Scotland, on 'Partnership for Community—Responsibility of Hospitality Enterprises towards Society'. Anita Mendiratta, Special Advisor to Hon. Secretary General, UNWTO, addressed the convention through a recorded video message.
Diwan Gautam Anand, Founding Trustee, Cuisine India Foundation, talked about sustainability in luxury hospitality in the new world order with Ron Scott and Vijay Wanchoo. The veteran hotelier was also declared President of the IIHM International College of Distinguished Fellows. This prestigious honour recognises Anand's contributions to the hospitality industry and his commitment to excellence.
Michael Grove, CEO of HotStats, discussed contemporary revenue management in the hospitality industry with Paul Walsh MBE, Managing Trustee of Jungle Crows Foundation. Dr Bose talked about partnerships with government associations globally. A panel discussion with industry leaders titled 'Education Partnership—Impact of Global Partnerships in Education on Promotion of Hospitality' was moderated by Rupa Datta. Himanshu Taneja, Area Director of Operations for South & East India, Bangladesh, and Sri Lanka, Marriott, and Chef Neil Rippington, Instructor in Culinary Psychology at Harvard Extension School, Harvard University, USA, talked about managing sustainability across borders.
After these riveting sessions it was time to honour the best and brightest in the hospitality industry through The Global Hospitality Awards 2023. Several luminaries were recognised for their invaluable contribution to the world of hospitality on International Hospitality Day.
Apart from the Hall of Fame Award to Nakul Anand, Lifetime Achievement Awards went to industry veterans like K.B. Kachru, Camellia Punjabi, Chef Chris Galvin, Christopher Crowdray, Geoffrey Harrison, M.S. Gill, Peter Jones MBE, Rajiv Kaul, Sally Beck and Chef Steve Munkley.
The Hospitality Honors List 2023 was a veritable who's who of the hospitality industry. It included the likes of Russell Bateman, Aditya Ghosh, Anil Chadha, Anita Mendiratta. Anuraag Bhatnagar, Arjun Singh Oberoi, Asma Khan, Atul Kochhar, Deepak Ohri, Harshvardhan Neotia, Imtiaz Qureshi,  Jyoti Mayal, Jyotsna Suri, Manish Mehrotra, Priya Paul, Rajeev Samant, Ranju Alex, Rohit Khattar, Vineet Bhatia and Zorawar Kalra among others.
After closing remarks by Ron Scott, International Hospitality Day celebrations came to an end.
Overall, the International Hospitality Day 2023 was a resounding success and provided valuable insights and knowledge to participants. The event has helped to promote sustainable practices and innovation in the hospitality industry.