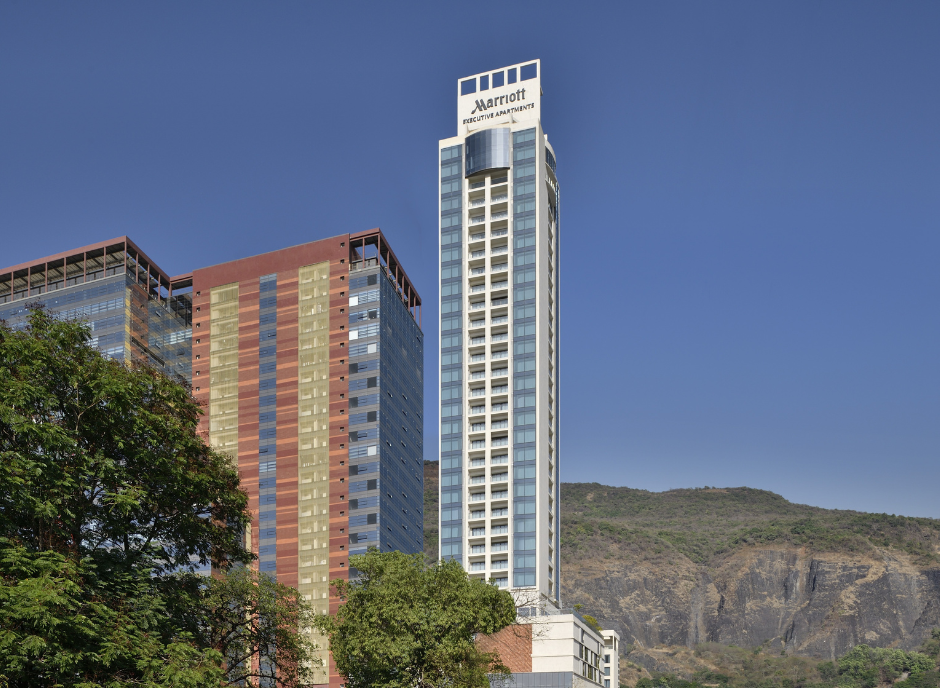 Marriott Executive Apartments, a distinguished brand within the Marriott Bonvoy portfolio, is excited to unveil its newest offering, Marriott Executive Apartments Navi Mumbai. Designed to cater to discerning travelers with a penchant for premium experiences, the property promises a seamless blend of tailored services and sophisticated style. Boasting spacious and contemporary living spaces, Marriott Executive Apartments Navi Mumbai provides a perfect setting for both work and leisure, enabling guests to connect with loved ones while pursuing their professional endeavors.
Ranju Alex, Area Vice President-South Asia at Marriott International, expressed their delight, stating, "We are pleased to introduce our second Marriott Executive Apartments in Mumbai, catering to the emerging segment of 'bleisure' travelers who seek a harmonious balance between business and leisure. Our aim is to create a 'home away from home' ambiance for longer stays, enhancing our extended stay and serviced apartments offering while upholding the highest standards of quality and service."
Conveniently located within a 45-minute drive from Mumbai International Airport, the property features 129 modern residential apartments, including standard rooms, studios, junior suites, one-bedroom apartments, and a luxurious presidential suite. Guests can relish breathtaking views of the Navi Mumbai skyline on one side and the pristine Parsik Hills on the other. Each apartment and junior suite is thoughtfully equipped with a kitchenette, coffeemaker, microwave, walk-in wardrobe, and a dedicated workspace with complimentary Wi-Fi, ensuring a comfortable and productive stay.
Marriott Executive Apartments Navi Mumbai boasts two distinct dining venues. Hill View Café, a captivating all-day dining destination with seating for 202 guests, offers picturesque hill views and an indulgent buffet comprising local and international favorites, complemented by wood-fired oven pizzas and homemade fresh pastas. The Lobby Lounge provides a vibrant space for relaxation, socializing, or work, offering freshly baked pastries, healthy salads, and wraps—a perfect choice for busy business travelers.
The hotel's strategic location in Navi Mumbai's central business district is further enhanced by its expansive meeting and event spaces, covering over 2236 square meters. The venue features two sophisticated boardrooms, two versatile ballrooms with an attached terrace, and LCD screens for seamless business presentations. Additionally, guests can enjoy customized themed breaks during their meetings.
Marriott Executive Apartments Navi Mumbai doesn't compromise on leisure facilities either. The property presents an array of exemplary amenities, including a hillside panoramic outdoor pool, a fully equipped fitness center, a rejuvenating spa, and a kid's playroom.
Siddharth Sathe, General Manager of Marriott Executive Apartments, Navi Mumbai, expressed his enthusiasm for the new opening, remarking, "We are thrilled to introduce Marriott Executive Apartments Navi Mumbai, a property that draws inspiration from its surroundings, offering breathtaking views of the ocean, hills, and cityscapes from its rooms and dining venues. Our aim is to provide independent travelers and families seeking extended stays with the luxury of ample space, home-like amenities, and enriching experiences."