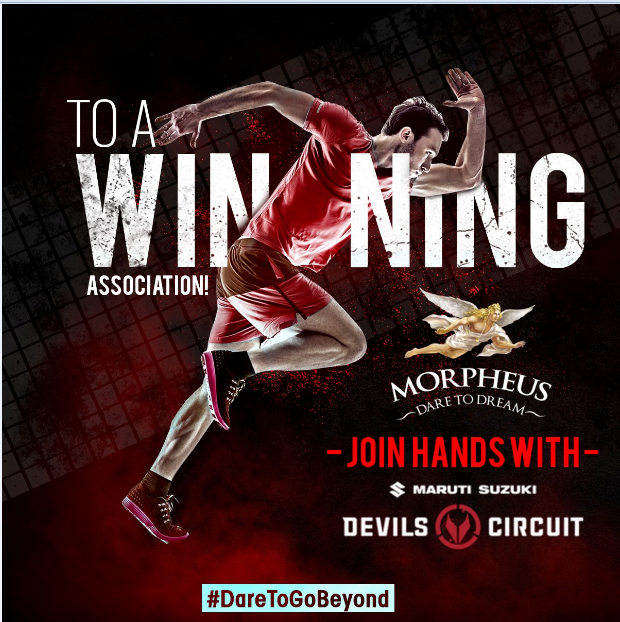 Morpheus Brandy (Morpheus Dare to Dream) has partnered with India's biggest participative sporting event and first-ever obstacle running series – Devils Circuit 2022-2023, for their 10th season in 8 cities. Beginning with Chennai on November 20th, the second and third races took place in Bengaluru and Hyderabad on December 4th and December 18th, respectively. After a fantastic response to the fourth event, held in Pune on January 15th, the race will further travel to Mumbai on January 29th.
The following events will take place in Jaipur on February 19th and Mohali on March 5th. This 4-month long season will culminate in Delhi/NCR on March 19th, 2023.
Morpheus Brandy extended its support as an associate partner in organizing the 5-km muddy obstacle race with 15 military-style curated obstacles. The brand is hosting a slew of activities and will focus on the visibility drive at the event.
Talking about the brand's participation in the event, Amar Sinha, Chief Operating Officer of Radico Khaitan Limited, shares, "We are very happy to see the overwhelming response in the first 4 events of this season with a footfall of over 3000 people per race. We hope for such a response in the rest 4 events that are going to take place across the country till March."
Not only this, Mr Sinha further adds that this is an apt opportunity for Morpheus Brandy- which states Dare to Dream in its ethos and ideology prominently and offers a blend of courage and passion. Therefore, partnering with Maruti Suzuki Devils Circuit comes as a quintessential opportunity to enhance brand awareness and visibility among its right target group.
With a footprint of over 14 cities, Maruti Suzuki Devils Circuit is India's biggest running community with a diverse participation spanning elite athletes, Indian Armed Forces, gym-goers, on the one hand, college students, homemakers, corporate professionals, and retired senior citizens on the other.