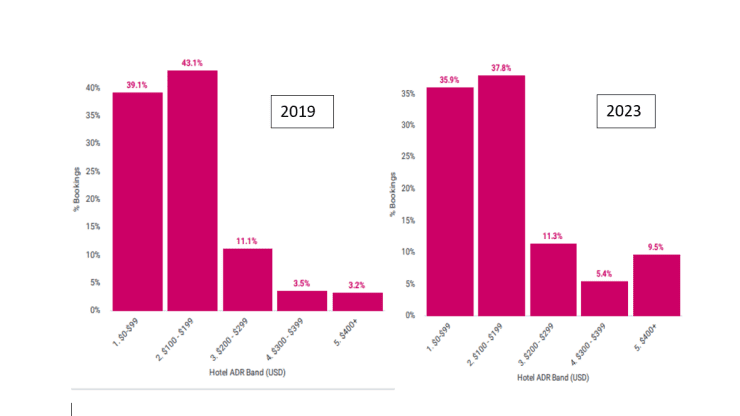 According to CNBC Travel, Hotel rates are at an "all-time high," Alan Watts, Hilton's Asia-Pacific president, said. Rates are being fueled by travel demand that is like "a feast … to offset the famine," he said, referencing the pandemic.
According to earnings reports, Hilton's average daily rates increased by 8% in the fourth quarter of 2022, compared with the same period in 2019. Similarly, Marriott and IHG hiked prices by 13%, while Hyatt had a 14% daily rate increase.
That's globally. In parts of Asia Pacific, hotel rates are climbing even higher. The travel boom in Asia Pacific has been "phenomenal," said Watts. Data shows this is especially true in places where Chinese travelers are going.
Average hotel rates across Southeast Asia have gone up more than 10% since 2022, according to data from the travel booking company Traveloka.
But rates have climbed more than 45% in destinations that are attracting the most Chinese travelers, said the company's chief strategy officer, Joydeep Chakraborty.
"The most significant increase was recorded in Bali, Bangkok, Phuket and Singapore, with Bangkok topping the charts at over 70% and Singapore coming in at over 40%," he said.
Ctrip, the leading travel booking website in China, also told CNBC that average hotel booking prices in Bangkok jumped by around 70% in late January.
Traveloka's data shows that hotel rate hikes are not limited to the luxury sphere "but are more significant among the high-end hotels," said Chakraborty.
Data shows a growing demand for luxury hotels among Chinese travelers. A report published by Morgan Stanley on Feb. 7 showed interest among Chinese travelers in luxury hotel stays jumped from 18% to 34% from 2022 to 2023.
A report provided to CNBC by the data identity company Adara in late February showed Chinese travelers are spending significantly more on hotel rooms. Fewer travelers booked rooms under USD 100 a night, while the number of people booking rooms that cost USD 400 or more nearly tripled.
Additionally, international travel is largely limited to those who are able to pay for airfares that have doubled, or even tripled, in price. China's surprise reopening announcement — timed as Covid infections surged across the country — did not trigger airlines to increase flight connectivity with China to capture outbound demand.
The result was limited seats and sky-high fares. For a return flight between San Francisco and Shanghai in March, United Airlines was charging nearly $4,000 in economy class and more than $18,000 in business class, according to Reuters.
But there's also evidence that high hotel daily rates could be short-lived — or perhaps follow an undulating path of sporadic rises and falls — as the travel industry in Asia Pacific attempts to return to normal.
According to the booking platform Kayak, hotel prices across the region have been trending upwards, yet some of the highest average hotel rates have already started to fall.
The booking site found average nightly hotel rates dropped 36% in Bangkok from January to February, and in Singapore some 33%.
But when comparing the same two months, average nightly rates rose 70% in Hong Kong and 73% in Tokyo, the company said.
This could indicate "overall demand" could be driving up costs, a Kayak spokesperson said.
Price hikes are helping hotels recoup substantial losses from the past three years and have the potential to "drive further growth," said Traveloka's Chakraborty. But what hotels view as "growth," travelers may see just another hit to the wallets, which are already being pummeled by rising costs of living and inflation.
But double-digit price increases may not faze Chinese travelers, who aren't being squeezed by the same market forces. Inflation in China has stayed relatively contained compared with the West, with consumer price inflation by year-end expected to be only modestly higher than the 2% year-over-year average seen between 2013 and 2019, according to a post on Mastercard Data & Services last month, authored by economists David Mann and Anushri Bansal.
"It should not be surprising to see a rise in luxury hotel prices following mainland China's re-opening to international travel, given its role pre-pandemic as the biggest source of outbound tourist spending globally," Mann, the chief economist at Mastercard Economics Institute, told CNBC, "Especially for economies reliant on tourism, such as Thailand."
He and Bansal likened the current status of Asia-Pacific — as it attempts to rebound in light of China's "relatively sudden, albeit anticipated, loosening of Covid restrictions" — to the period after a bungee jumper reaches the lowest point of the fall, and starts to travel upwards again.
They wrote: "After an initial rebound, a bungee jumper enters a disorienting bouncing phase when it is unclear if the trajectory is groundward or skyward."
(Source : CNBC)