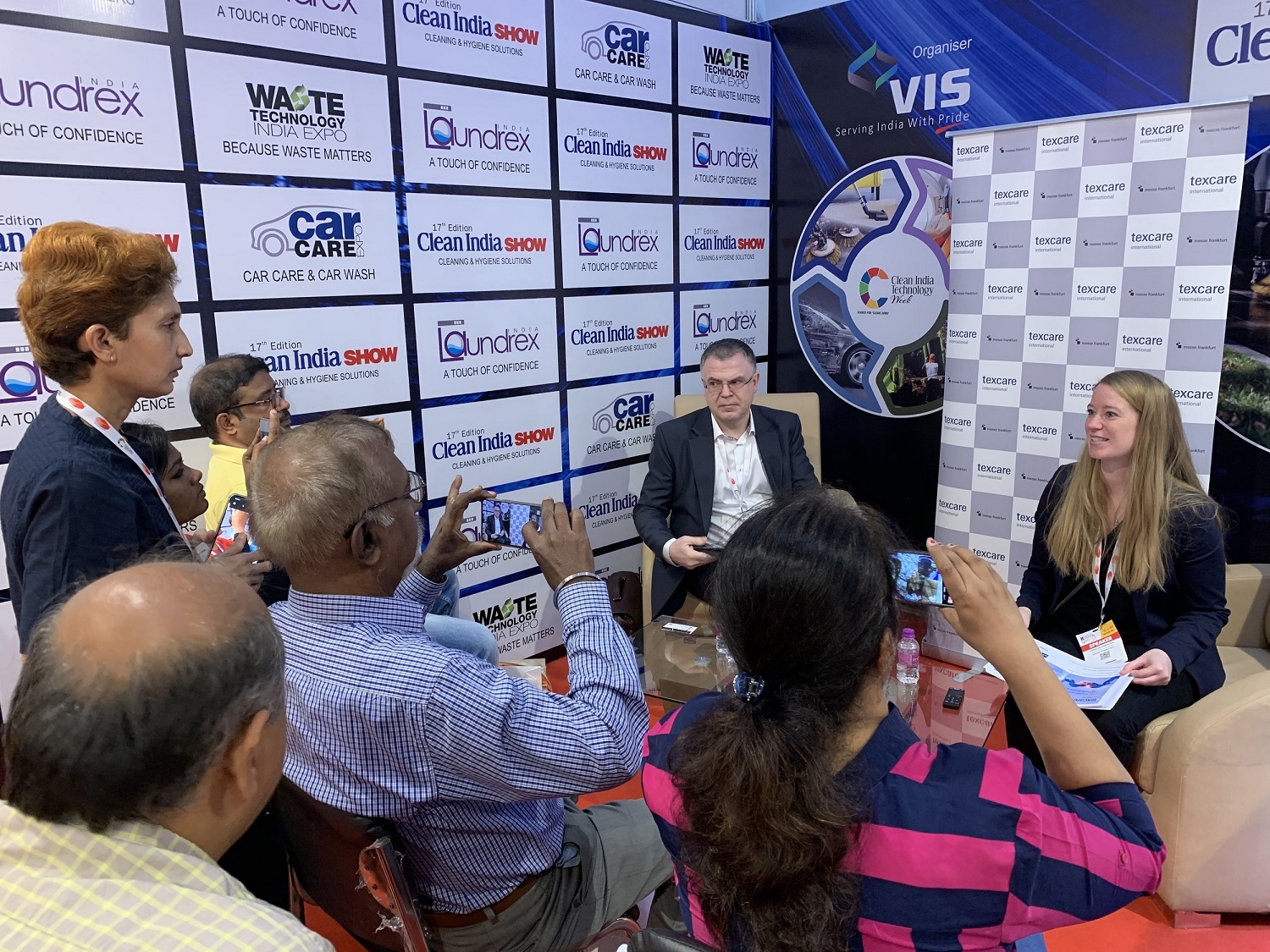 Texcare Forum India – LaundrexNet 2020 Conference marked its second edition on 15 February 2020 emphasising on the textile care sector implementing the fourth industry revolution and challenges that comes in-hand with it. It was held during the Laundrex India Expo at Mumbai, India. Organised by Messe Frankfurt Trade Fairs India Pvt Ltd and Virtual Info Systems, the Conference focused on the theme of 'Industry turning to Laundrex 4.0' that highlighted the penetration of digitally oriented technology in the Indian laundry and dry-cleaning industry.
Inaugurated by prominent members from the industry, the 2nd edition of Texcare Forum India – LaundrexNet 2020 attracted 193 stakeholders, including key manufacturers, suppliers, service providers and other industry experts. Laundry and dry-cleaning department personnel from store chains, franchisees and consultants as well as managers from hospitality, healthcare centres, hostels and manufacturing industries were among key attendees at the forum.
Presenting the key-note with an emphasis on "re-thinking laundry and dry-cleaning in the digital era", Mr Elgar Straub, Managing Director, VDMA Textile Care, Fabric and Leather Technologies shared: "Today, more and more countries are adapting higher living standards, leading to use of high-end technologies and increasing the demand for more skilled labour. Currently the top themes for the laundry sector are sustainability and resource efficiency, laundry 4.0, higher hygiene standards, hunt for young enthusiastic talents and training them into professionals."
Further elaborating on the future of laundry, he added: "The next phase would be optimisation of process through automation and digitalisation. This could be achieved by AI (artificial intelligence), machine learning, big data, robotisation and integration of the whole laundry process including logistics. The topics that will be discussed during the forum are not only important today but will also be very important for the future of this sector."
The eminent panel of speakers included technology experts and sector specialists from India, Germany, Singapore and the UK. The list comprised of top industry tycoons including Mr Elgar Straub, Managing Director, VDMA Textile Care, Fabric and Leather Technologies; Mr Andrew Glassford, Director, NewGen Business Services; Mr Iain Weir, Technical Director, NewGen Business Services; Mr Keith Tan Chee Meng, Regional Sales Executive, JENSEN; Mr T M Nagarajan, Vice President, Wipro Water; Mr Sagar Sodha, Zonal Head – West, Jyothy Fabricare Services Ltd; Mr Venkata Chary, Vice President – Business Development, World Water Works India Pvt. Ltd.; Mr Zehen Arora, Director, Stefab India Ltd; Mr Rachit Ahuja, CEO, Quick Dry-Cleaning Software; Nitya Shah, Partner, ERM India; Mr Chirag Bhatia, Director at 5asec; Mr Arunabh Sinha, Founder and CEO, UClean; Mr Anil Kumar, Proprietor, Wet Cleaning Process – Water Fresh and Mr Dheeraj Bhardwaj, The Laundry House.
The demand for professional laundry services is increasing by the day, with Mumbai alone receiving more than 50,000 searches every month. A multi-channel approach is thus a must to market, sell and service customers in a way that creates an integrated and cohesive customer experience no matter where a customer is present.
Being termed as a "hyper local concept" during the open forum for start-ups, the knowledge platform also touched points like the right franchise model that a laundry business should adapt to succeed. Another important session was the special reforms made post inclusion of GST which explained the merits and demerits of the composition scheme.
Automation & digitisation of laundry & dry cleaning, wastewater treatment in textile care industry, best linen care practices in India and beyond, ways to elevate customer experience, among others were the burning topics of high-level panel discussions today. A thorough analysis of factors challenging the growth of dry-cleaning and laundry service market were presented by industry stalwarts. The attendees were educated on upcoming trends and changes in consumer behaviour through accurate predictions put forth by textile care experts during the event.
Explaining the importance of attending this forum, Mr Harpreet Singh, Proprietor, Novex Laundry Services also a member of the Punjab Drycleaners and Dyers Association, mentioned: "We are here to understand new technologies, current trends and competitors entering in the market. The first session about integrating industry 4.0 in the laundry sector was extremely beneficial. Discussions about Laundromat, another great concept that is relatively new in the country has also helped us gauge the current progress of the sector. Attending this forum has helped us gain a lot of insights about the overall position of the industry.
The forum is one of the biggest insightful knowledge and product presentations platform attracting stakeholders of the entire cross-section of textile care industry. The one-day event was held in parallel with Laundrex India Expo 2020 at Bombay Exhibition and Convention Centre, Mumbai.
Talking about the laundry and dry-cleaning industry, it is moving fast towards digitalisation with introduction of innovative machineries and adoption of advanced technologies such as AI and IoT. These smart technologies are acting as catalysts in driving growth of the industry, by simplifying customer experience and ensuring fast service. According to Technavio research report, global dry-cleaning and laundry services market is expected to grow by USD 13.75 billion, at a CAGR of more than 4% from 2019-2023.
Texcare Forum India is a sister event of Texcare International, the world market for modern textile care. Every four years, Texcare International provides an international venue for the textile-care sector in Frankfurt, Germany. The upcoming Texcare International will be held from 20 – 24 June 2020.