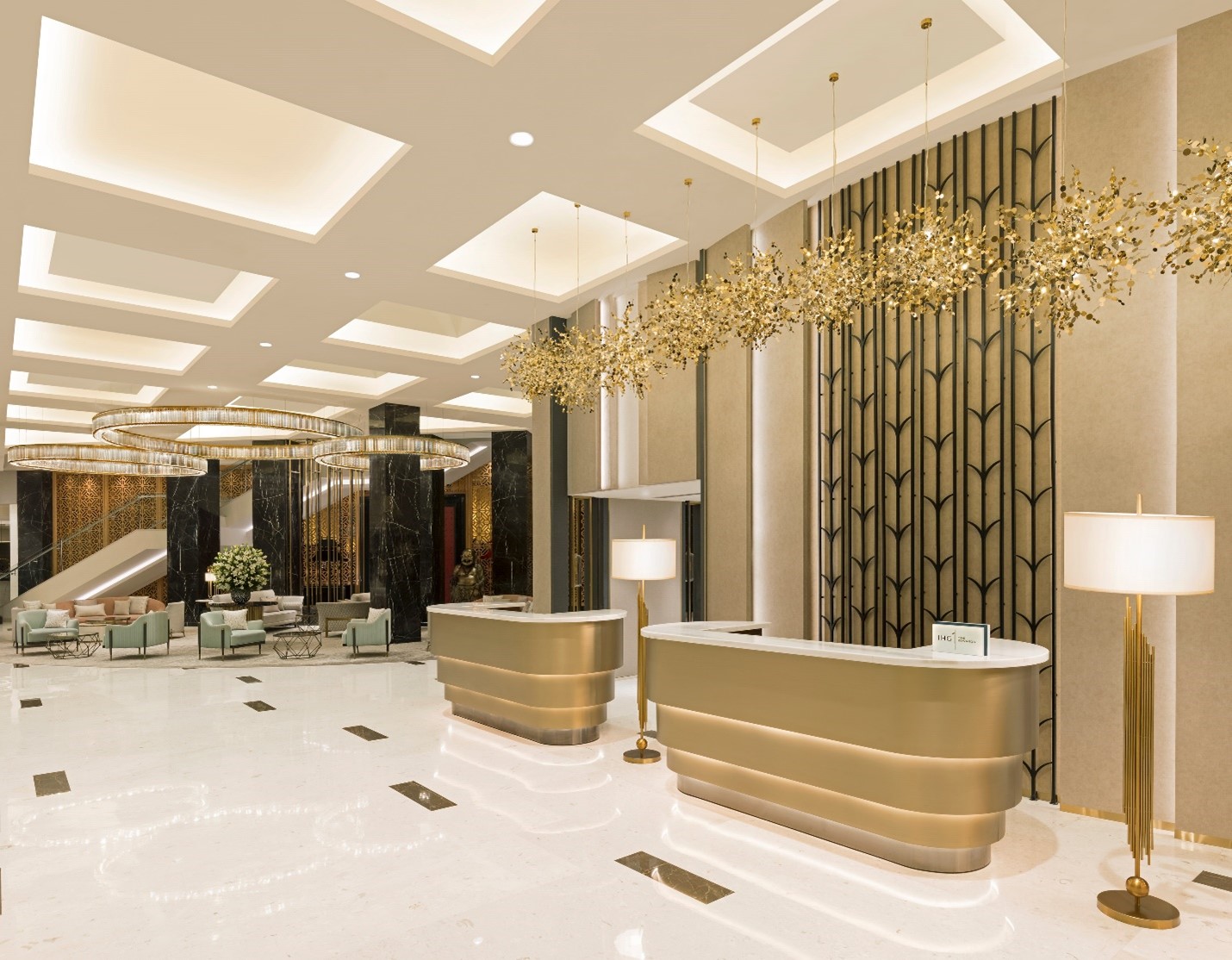 The first InterContinental in North India sets a new standard of elegance and sophistication in Jaipur
InterContinental Hotels & Resorts, the world's first and largest hotel brand, and DS Group, a multi-business corporation and a leading FMCG Conglomerate, announced the unveiling of InterContinental Jaipur Tonk Road following a monumental transformation. Situated in the 'Pink City,' this opulent hotel exemplifies Jaipur's vibrant and distinctive allure, redefining the luxury of India's heritage.
The transformation of the Jaipur hotel from Crowne Plaza to InterContinental Jaipur Tonk Road reflects IHG Hotels & Resorts dedication to growing its luxury & lifestyle portfolio around the world.
With extensive renovations and improvements, the new InterContinental is poised to provide remarkable experiences and moments of celebration for both business and leisure travellers alike.
Nalin Mandiratta, Regional General Manager & General Manager – InterContinental Jaipur Tonk Road, said, "We are extremely proud and delighted to open our doors at InterContinental Jaipur, the third InterContinental in India. Modern travellers lead diverse lives, and InterContinental acknowledges the need for seamless transitions throughout their day. We want to uplift every guest who stays with us and help them feel the best version of themselves. From our service style through to the new interiors and our food and beverage offerings, we are committed to delivering an exceptional experience for the modern luxury traveller."
Nathan Andrews, Head Hospitality, DS Group said, "The preferences of luxury travellers are evolving and we are experiencing a strong demand and growing inclination for personalised and exclusive experiences. We have worked with IHG Hotels & Resorts and we believe this partnership will assist us to deliver world-class hospitality in Jaipur, Rajasthan and we are committed to offering unparalleled experiences that cater to their discerning tastes."
InterContinental Jaipur Tonk Road, located near the airport and Delhi-Mumbai Expressway, serves as an ideal destination for both business and leisure travellers, capitalising on its prime position near the Jaipur Exhibition & Convention Centre.
Guest rooms and suites at InterContinental Jaipur Tonk Road have undergone an extensive transformation, striking a harmonious balance between contemporary aesthetics and timeless comfort. Each room showcases intricate Thikri glass inlay work and has been elevated with top-tier amenities, a luxurious four-fixture bathroom complete with a generous bathtub and Byredo bath amenities, locally inspired artwork, sleek furnishings, and captivating urban vistas. This modern masterpiece offers a total of 218 generously appointed rooms, including 20 bespoke suites.
InterContinental Jaipur Tonk Road offers a diverse array of gourmet delights across fine dining and relaxed settings. Guests can choose from an array of dining options at award-winning restaurants, including Socorro, a global cuisine restaurant, The Royal Root, an authentic Indian cuisine restaurant and House of Han a Chinese specialty restaurant.
The hotel provides flexible meeting spaces equipped with state-of-the-art features, establishing the perfect stage for conferences, weddings, and special events. The serene and spacious venues allow for the simultaneous hosting of multiple events, further enhanced by top-rated dining choices. The property entails a 51,000 sq ft banquet spaces, as well as open-air venues and extensive lawns with the capacity to cater to up to 2,000 guests at a time.
The rejuvenating spa and wellness facilities features an open-air pool, a state-of-the-art fitness centre, Tattva Spa with dedicated couple massage rooms, yoga sessions, and Planet Trekkers – dedicated kids' play areas, ensuring a comprehensive wellness experience for guests.