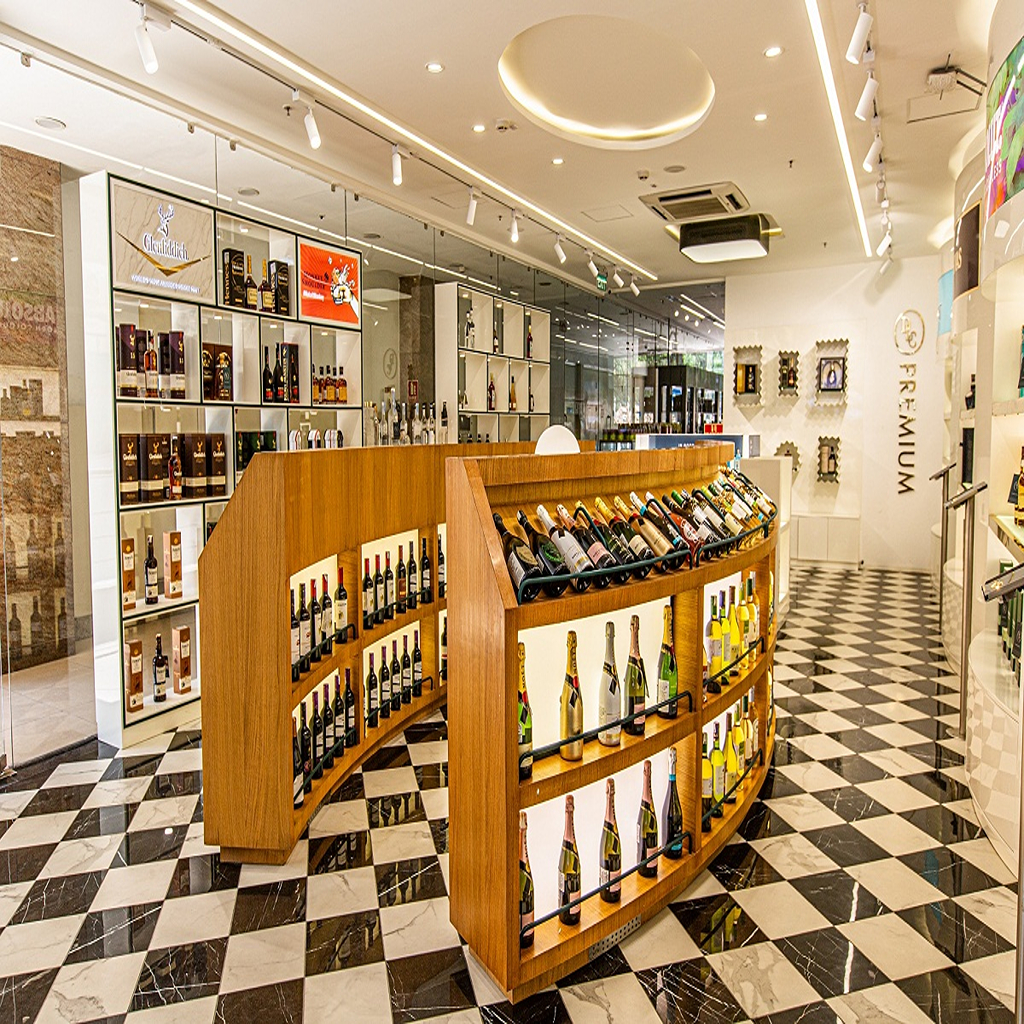 Consumers in Delhi, since long, were yearning for a one-stop destination for their beverage needs and this shall finally be answered at this all-encompassing boutique liquor store. With the launch of its first outlet in South Square Mall, Sarojini Nagar, Delhi Liquor Co., will redefine the beverage browsing and buying experience with its unparalleled and comprehensive range across categories, all hand-picked by their expert in-house team.
Spread across a 3000 sq. ft area, Delhi Liquor Co. will spearhead a new style of liquor stores in Delhi and prides itself on providing an unmatched liquor shopping experience. The range of bottles in stock is nothing short of stunning, from single barrel Bourbon to French malt whisky and 48-botanical gins, and a vast array of beers and wines across various price points. Apart from the precious finds, the store will also have all other brands which one may need to complete their home bar collection or for more regular indulging.
Owned and promoted by Mr. Abhinav Jindal, the objective of this first-of-its-kind luxury wine and spirits retail store will not only be to stash liquor ranging from domestic to global brands but also to offer a wide range of beverage-related products and services to its consumers. DLC, in the long run, aims to be more of a service and solution provider rather than just another store to shop liquor at.
The auxiliary products include a wide assortment from leading brands in categories like barware, merchandise, snacks and savouries, as well as non-alcoholic beverages in our designated DLC Café. The Café has an in-house bartender to concoct special concentrates, tinctures and ready-to-add cocktail mixers, which can be made as per your taste, packaged to be travel-friendly and to retain their freshness till you arrive at your destination. We have a range of hot snacks on offer and our chefs can whip up something easy and yummy for you to take away.
But drinks and food don't always make a fun evening. So, we have all else that you could need – fancy glassware for everything from cocktails and wines to even Cognac and shots, fun games, and a lot of unreleased or limited-edition licensed brand paraphernalia (from hoodies to trays, ashtrays to other objet d'arts) in case you really wish to wear your love for your drink on your sleeve.
And then, the most important aspect of DLC, one that no other liquor store in the country has managed to successfully address – there will be a team of trained and certified professionals from the beverage industry to advise and guide people in their buying decisions. These advisors could help you decide which whisky is great for an aperitif or suggest cocktails for a soirée (they even sell their own in-house cocktail mixers as mentioned above), They can help you pair wines with your dinner menu and also advise you on how many bottles you may need. The store will also be involved in organising in-store promotions and brand awareness exercises, catering to everything else around the drink that goes into the making of a successful soirée. DLC has thought of it all!
You can even make a prior appointment so that from the time you arrive, our valet takes care of parking while you are immediately immersed into our heady world with a beverage advisor to lead the way. A lot about DLC is also tech-forward and online-friendly. Some of the enhanced services that will be provided online experience will include:
Site, App and in-store Tablet access points: There are many ways to 'visit' DLC. IF not in person, you could simply log on to our site or, for an even more personalised experience, download the app. Both formats will allow you to browse through our entire collection with useful notes on the beverage type and style including taste notes and pairing possibilities. In order to ease the customer's buying dilemma, various sections such as "Bestsellers", "DLC Brand Spotlight" and "Highlight of the Month" will be introduced on the website and the app. The same can be done in-store on one of our tablet-stations. Or, if you prefer, you could sink into one of our comfy sofas or lounge in our DLC cafe next door and have someone from our team sit and talk you through it all personally.
Vending Zone: First time in India a liquor vending zone is introduced. Automated vending machines for consumers who like to grab the product on the go. 100% digital display machines, operated through touch controls via a smartphone app will allow consumers to enjoy a seamless experience.
Recognizing loyalty in patrons: Rewarding loyalty and nurturing it over time. A membership number will keep track of all client purchases, converting it to points, which can be redeemed for privileged products, beverage-themed gifts and special events access in the future.
Hassle-free Booking/Reserve Cart: The convenience of 'click and reserve' your favorite tipples online which can be later collected at the store will allow you to avoid waiting or risking out-of-stock. (All products will be held for a period of 12 hours before being released back.
Excited about the launch, Abhinav adds "While conceptualising Delhi Liquor Co, I felt the need for a one-stop-store that provides a wholesome buying experience. We, at DLC, aim to curate a consumer-friendly enterprise with an affable approach towards consumers where they are entertained like friends and family. Our well-trained and experienced consultants cover every sphere of our field, from alcohol and glassware to merchandise, F&B and more, and encourage the customers in making a well-rounded decision all in a secure and safe environment. The modern conveniences that DLC brings to its customers range from the no-contact alcohol vending machines to the enhanced ease of shopping through our website and mobile app that enables them to make a well-informed buying decision".
Alcohol and its purchase have always been a highly ignored field of consumer service. It has always been more a social punishment than a lively engagement. DLC's sincere effort is to remove this stigma by adding awareness and education to the mix and bring a certain civility to the entire exercise. Which is why it doesn't just stop at drinks but covers all other aspects that could be crucial to a fun relaxed evening in discerning company.
Smartly presented and flawlessly executed to deliver a bespoke and personalised experience that makes consumers feel special, Delhi Liquor Co. offers a wide range of products & services to fulfil every consumer's needs.