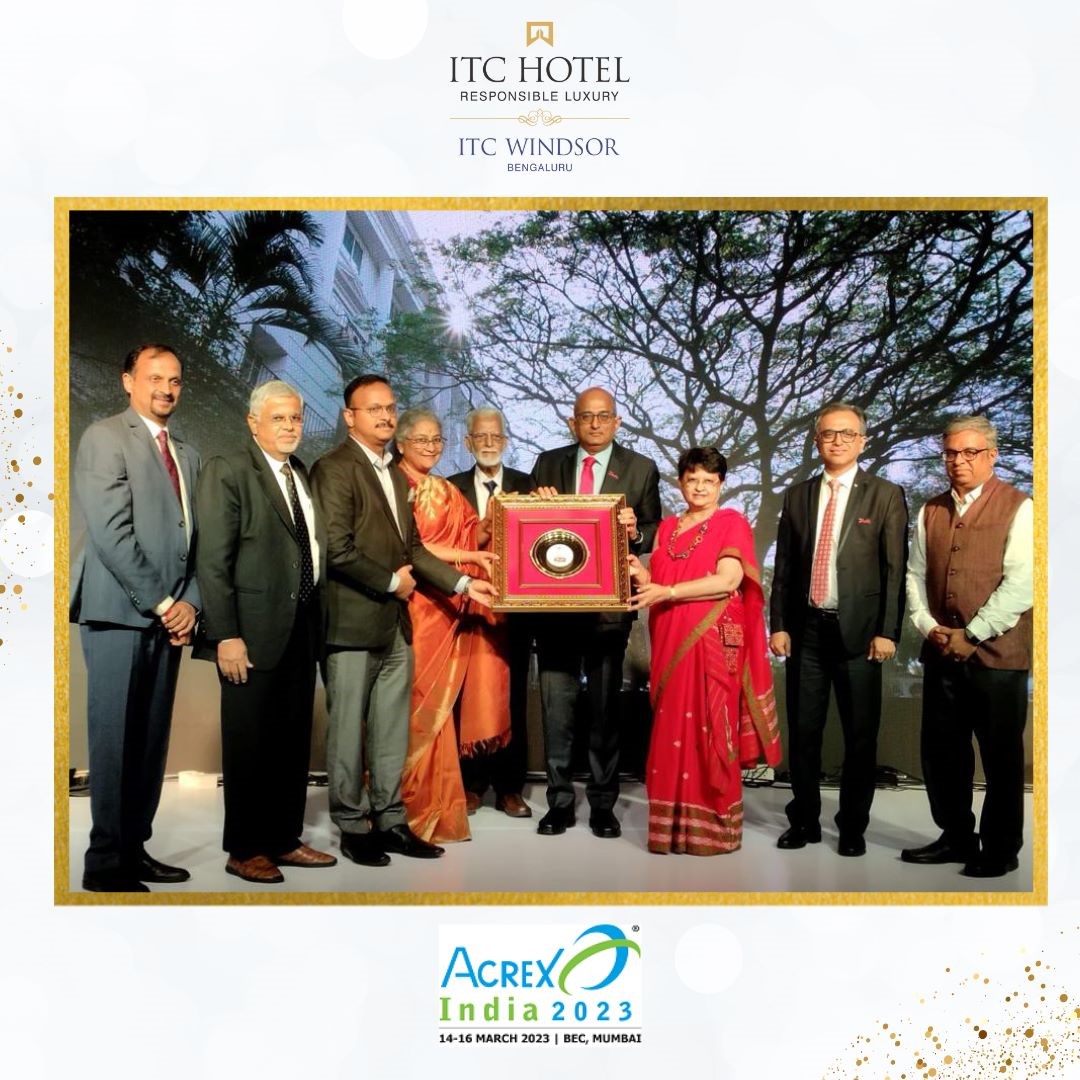 ITC Windsor Bengaluru has been inducted into the prestigious ACREX – Hall of Fame 2023 for Excellence in Energy Efficiency and Sustainability in HVAC&R.
ACREX Hall of Fame is a body instituted by ISHARE that stands as an industry benchmark that recognizes building designs that are efficient and innovative. The inductees in this body are icons that lead an example for others. The induction into ACREX Hall of Fame is done by a diligent jury that evaluates live operations data from buildings. The jury consists of a distinguished member including architects, technocrats and scientists which is supported by a team of eminent designers and engineers from across the country.
ITC Windsor is powered by its own wind turbine generators and uses innovative energy efficient technologies such as electrical boiler, induction burners and other renewable energy. The hotel is a stellar example of how hospitality can make a positive global impact by committing to sustainability and achieving net zero carbon status. ITC Windsor's best practices on sustainability and focused approach to furthering its green eco-system has credited it with the defining distinction of becoming the First Hotel in the World to be LEED Zero Carbon certified.
The induction into ACREX – Hall of Fame demonstrates a deep commitment to implementing building and design strategies that assure an enhanced quality of life. It includes creating an environment where any human-produced carbon dioxide is removed from the atmosphere through technological or natural means.
ITC Hotels has pioneered several ground-breaking initiatives on environment, hotel ecosystem, health, and well-being. From LEED platinum rating, to being one of the first chains to eliminate single use plastic free products, deployment of radiation harmonisers across the chain, farm to fork low carbon footprint cuisine, clean air and more.
Speaking on the occasion, Mr. Deepak Menezes, General Manager, ITC Windsor said "ITC Windsor's story is a story about legacy and Sustainability. It is our belief that we need to take efforts to save the planet as it ultimately means saving ourselves. Buliding infrastructure that mitigates climate – related risks plays a crucial role in achieving a sustainable and regenerative future for all. ITC Windsor is aligned to India's vision of significantly cutting emissions, and is critical driving force behind the transformation of buildings, cities, and communities so that they continue to sustain future generations."