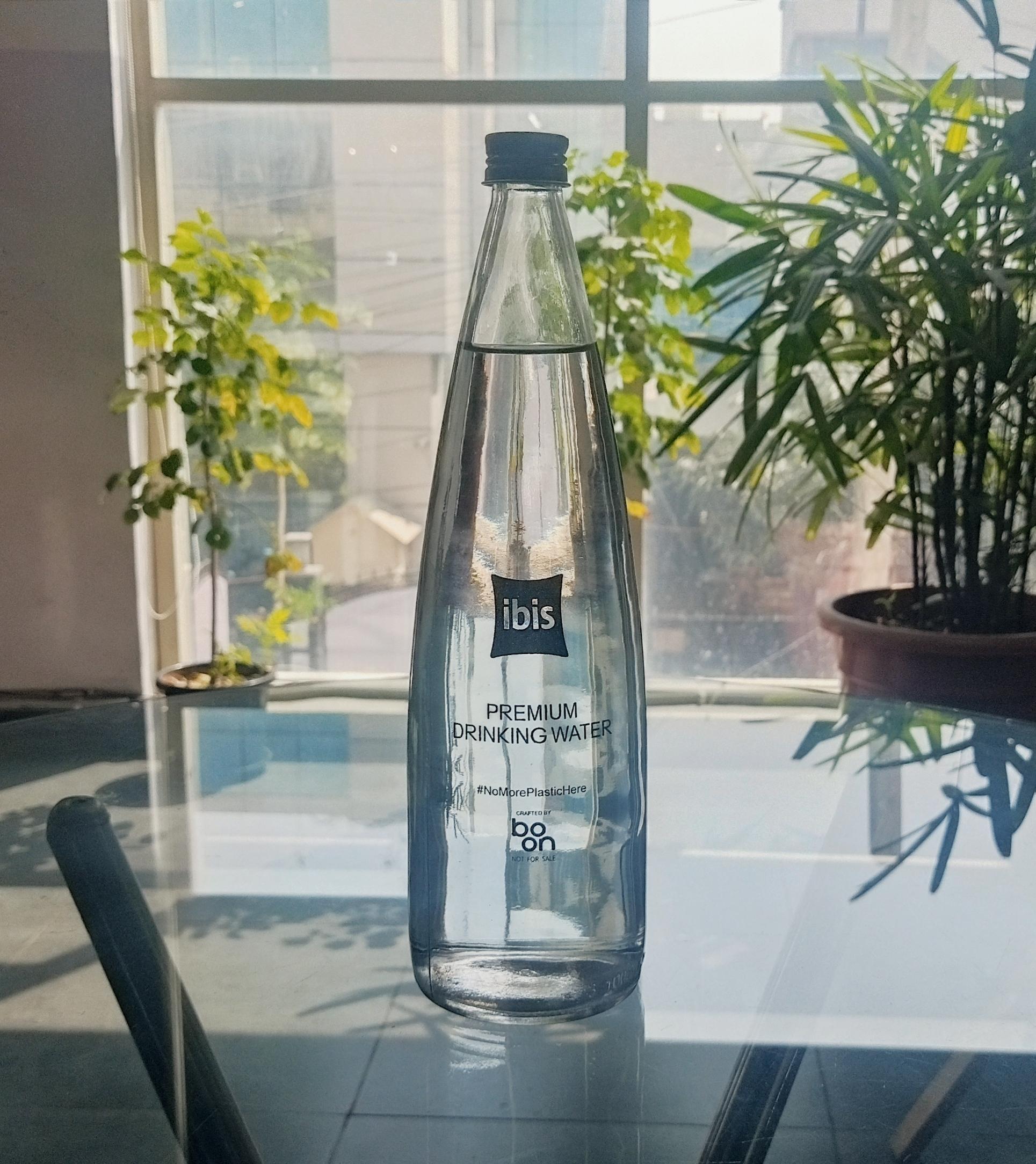 Amidst the alarming levels of plastic wastage globally, Boon, the IoT-enabled global water-tech startup, is collaborating with ibis India, to minimize plastic wastage from hotel rooms and premises. The initiative is being driven by replacing plastic bottles with sustainable glass water bottles with a negligible carbon footprint.
Boon's proprietary Zero-Mile Water ™ system is a well-designed mechanism that uses Artificial Intelligence and the Internet of Things to reduce daily plastic usage. Zero-Mile Water helps in creating a safe and affordable circular system for hotels. It purifies and packages drinking water in the glass
Bottles, thereby removing the plastic bottles from the pollution chain altogether.
Currently, around 50-75 trillion pieces of plastic and microplastics lie in the ocean, contributing to 80% of all marine pollution. UNESCO estimates that each year, plastic debris in the ocean kills over 1 million marine animals that include fish, sharks, and turtles.  Boon aims to tackle the global issue by spearheading the sustainable drinking water initiative through its partnership with ibis India. The noble step will contribute greatly towards reducing plastic bottled water consumption in hotels like ibis while also ensuring proper waste management.
ibis India hotels promote towel reuse, tree plantation, eco-design, and healthy and sustainable food, including the banning of overfished species in their restaurants. It supports sustainable tourism as well as reducing its carbon footprint through the use of biodegradable materials. The process functions on the model of the Circular Economy Principle, where an automated in-house system washes, sterilizes, and re-fills glass bottles. The perfect mechanism not only reduces plastic wastage but also eradicates carbon emissions involved in transporting the bottles to the hotel from a plant.
Sharing her views on the partnership, Dr. Vibha Tripathi, Founder of Boon, said, "The production and distribution of bottled water, along with the wastage, invariably contributes towards greenhouse gas emissions, damaging marine life, and ultimately climate change. We, at Boon, are fully committed to fighting the calamitous impacts of plastic wastage on our planet, its resources, and wildlife. In the past, we have partnered with more than 200 hotels in replacing plastic with sustainable glass bottles and our initiative with ibis India is another major step towards the noble cause. This provision of healthy alkaline mineralized water in glass bottles through these cutting cutting-edge sustainable technologies will go a long way in reducing the environmental impact, while also promoting a more responsible usage of water."
ibis India is an economy 4-star hotel chain that has been committed to sustainable measures before associating with Boon to adopt an advanced, sustainable drinking water solution that is pure and budget-friendly.
Commenting on the occasion, Vinay Gupta, Director of Operations,  ibis & ibis styles, India, "At ibis India, we strive to provide the best to our guests while ensuring that all our business decisions have a positive impact on the environment. The consumption and therein wastage of plastic products, especially single-use plastics have been a driving factor in harming ecosystems, wildlife, and human health. This is why we feel that the newly installed bottling plant will be a major step towards showcasing our efforts of going green. It also falls in line with us following the global practice of eradicating single-use plastic from across our operations and the traveler's increasing demand for the implementation of eco-friendly practices."
Boon has been busy forming strategic partnerships with multiple institutions to launch its smart hydration system, WaterCube, which revolutionizes drinking water quality. It has recently partnered with Travel Food Services (TFS) to set up an advanced AI-based intelligent hydration system at airport lounges and Fairmont Jaipur to curb plastic waste from water bottles.