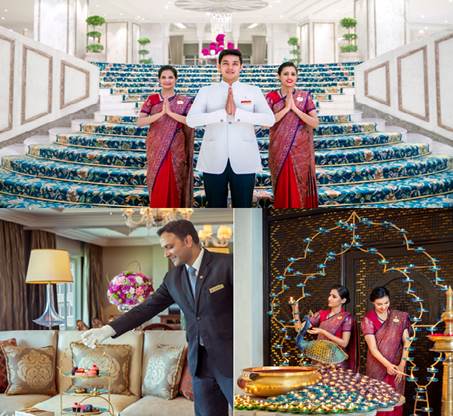 Founded by Jamsetji Tata, Indian Hotels Company Limited's (IHCL) iconic brand Taj was established in 1903 with the opening of The Taj Mahal Palace, Mumbai. For over a century it is renowned for its world-class service of genuine warmth and sincere care.  In today's dynamic environment, with ever changing consumer behaviour and in keeping with its legacy of service excellence, India's largest hospitality company sharpens its focus on customer experience with the introduction of Care@Tajness.
Puneet Chhatwal, Managing Director and Chief Executive Officer, IHCL said, "Taj now in its 120th year, has been the custodian of Indian hospitality and the recent dual honour of Taj being rated as World's Strongest Hotel Brand and India's Strongest Brand across sectors is a testament to its journey of excellence. With the rapidly evolving marketplace and keeping our guests at the heart of the business, IHCL continues to carry its glorious past to the consumer of the future by introducing Care@Tajness. A holistic approach to guest delight at the core of which lies the commitment and dedication of all our colleagues guided by the ethos of Tajness."
Care@Tajness is addressing emerging trends of the new age traveller who seeks a balance between digital led service delivery and warmth of human connect, customised experiences and a seamless journey. The framework is designed around Re-engineering service standards, Re-imagining the offerings through innovation backed by a strong culture of Responsiveness. Guest experience will include a set of rituals built with a sense of place honouring the local culture unique to every hotel; be it reliving the bygone era at the Royal Palace in Jaipur or partaking in the lighting of a thousand lamps around a lagoon in Kumarakom. Taj's legendary service known for its intuitiveness and high level of customisation will delight guests with curated magical moments.
This framework is enabled by a centralised customer contact hub that besides monitoring and responding to multi-channel feedback, also looks to listen, learn and leverage insights for product and service enhancement, i.e. Carecations for those who want to leave a light footprint when they travel or Woyage catering to the single lady traveller.