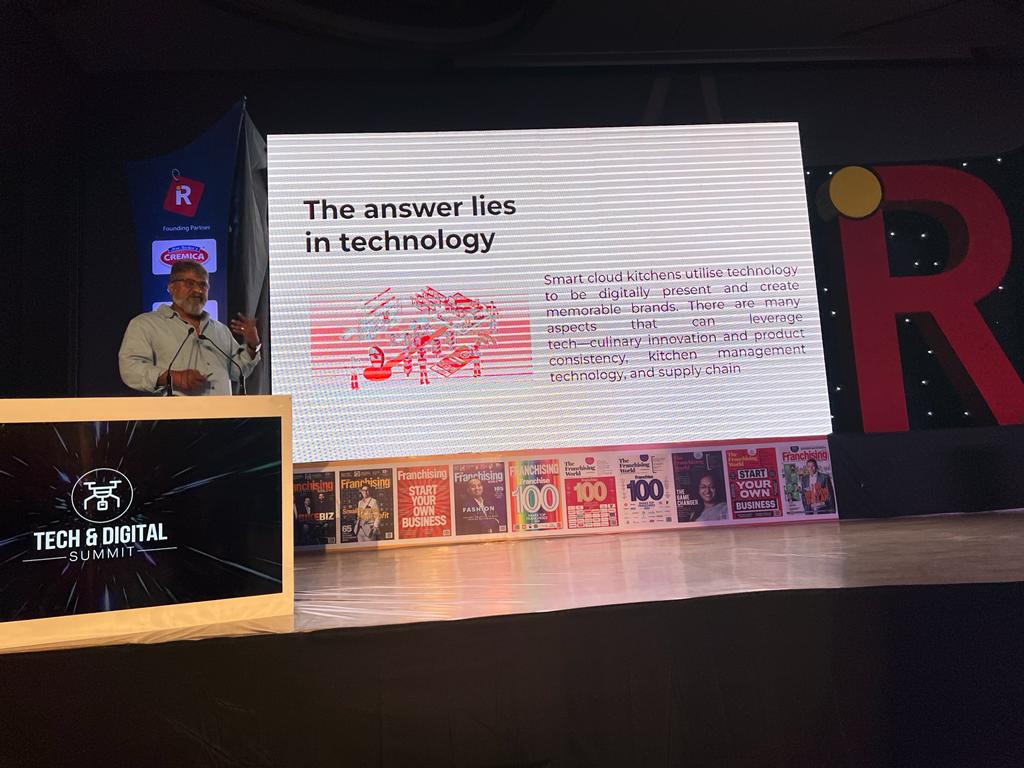 Day- two 11th annual national conventions on food and restaurant business- Indian Restaurant Congress 2022 organized by RestaurantIndia.in ended with a digital and optimistic approach to the future of the food industry. The two-day event in Aerocity, New Delhi greeted the presence of many recognized names working in the Pullman Hotel industry for years.
Among them, Mr Kallol Banerjee, co-founder of Rebel Foods, highlighted how Cloud kitchens and delivery is the new way to dive into the vastly underpenetrated Indian food industry. India has only 0.2 restaurants per thousand population making it the lowest per capita restaurant penetration. The main reason for such a low rate is the lack of affordable real estate. Digitizing cuts the costs of bearing real estate and draws a high-profit margin for a business.
Mr Kallol has introduced his brand as an "Internet restaurant company" which has adapted ways through technology such as Visual AIQC Machine to maintain quality control. "With the help of AI, we developed SWAT (size, weight, appearance, and temperature) Machines to address the concern of maintaining consistency and quality across our presence with minimal wastage," said Kallol. Rebel Foods is also evolving to the taste of consumers by giving attention to the growing palate. They are maintaining a streamlined supply chain of products by tracking and traceability which maintains a transparent environment at all levels. Data is the new way to understand consumers and their needs. Therefore, collecting, analysing and executing the process based on data stays critical to the company.
With the convenience provided by the internet, society has experienced a behavioural change. Millennials and Gen Z's prefer and are loyal to brands with a digital presence. Digital authenticity has made a major influence on the food industry by checking reviews, images and ratings before trying out a new restaurant and dish. "The new generation prefers less human interaction and thus, deliveries have become a major part of any kind of industry," said Kallol. Deliveries providing a low-time and effort option have also increased quality time with their loved ones, especially during the covid times.
According to Foodservice & Restaurant Business Report, 22-23 released by Francorp & RestaurantIndia.in, India's cloud kitchen market is anticipated to grow with approximately 15.5% to 17.5% CAGR value during the forecast years 2024-2028. The Cloud Kitchen Market was valued at USD 371.9 million in 2020 and is expected to witness during 2022-2028. India's cloud kitchen market may achieve a market value of over USD2.5 billion by 2028 growing with a CAGR ranging from 15.5% to 17.5% during the forecast period, 2024-2028. The takeaway and home delivery segments are expected to expand at a higher growth rate of around ~18.0% and ~17.4%, respectively, between the FY2021 and FY2025 periods as compared to the dine-in segment.
"Cloud Kitchen promises a future where food meets technology. This adaptation by the industry will direct us to a future of low-cost and high-profit-making businesses while also prioritizing the quality of the product and customer experience" said Mr Sachin Marya, President, Franchise India Group- the organiser body behind Indian Restaurant Congress.
The major factors driving the growth of the Indian cloud kitchen market in the next five years will be the demand for online food delivery and pre-cooked meals. Increased use of social media marketing is expected to create a profitable opportunity for the cloud kitchen market to grow and expand its consumers. According to Forbes, Facebook mobile ads account for 87 per cent of ad revenue, which stood at USD 9.16 billion at the start of 2018.