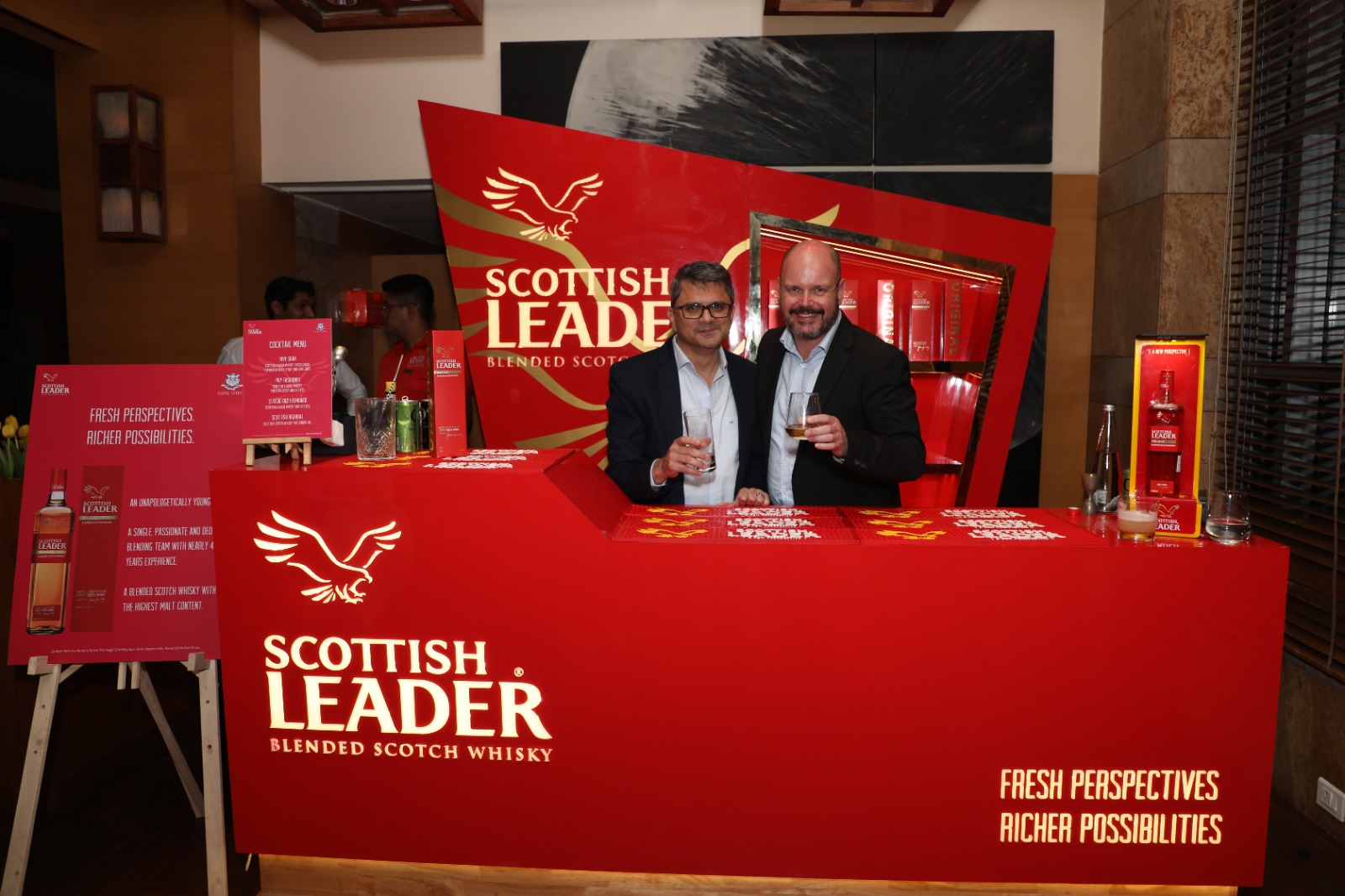 Distell Group International and Aspri Spirits Pvt. Ltd. in India have tapped on the country's thriving Scotch Whiskey market with the ambition of furthering their successful collaboration through a Scottish Leader tour in India. Strengthening their partnership in India, the senior leadership team of Distell International, the parent company of Scottish Leader, spearheaded by Guirec Danno, Managing Director for Asia Pacific at Distell International and Gillian Skinner, Marketing Director Global for Distell International visited Mumbai, Delhi and Bangalore earlier this week.
Scottish Leader was introduced to India consumers 2 years ago by a joint effort of Distell Group and Aspri Spirits. After two years, the product is well appreciated by the Indian consumers and is now available in all major cities and has won several awards in India. As a brand, Scottish Leader has been identified as one of the top-shelf spirits in the world, that connects diverse perspectives to deliver characterful and easy drinking experiences, however, its growth in India is far more exceptional that just the offerings.
Guirec Danno, Managing Director for Asia Pacific at Distell International, said, "We are thrilled to be associating with Aspri Spirits Pvt Ltd. bringing in the right vigor to the thriving Scotch Whisky market in India. Scottish Leader, by category standards, is a modern brand, born from a contemporary and progressive take on whisky. We believe in being open minded and collaborative, and ultimately that the whole is greater than the sum of its parts. Since our establishment in 1976, Scottish Leader has benefited from a forward-thinking blending team, and now a trailblazing master blender, who together, endeavour to produce blended Scotch whiskies in step with contemporary tastes."
Emerging from the successful collaboration of Distell Group and Aspri Spirits Pvt. Ltd. in India are brands like Amarula Fruit Cream Liqueur, Nederburg and Two Oceans – some of the top shelf spirit and wine brands in the world. To further reinforce their alliance in India, Distell International and Aspri Spirits Pvt. Ltd. will be tapping into India's fast growing Scotch Whisky market, with Scottish Leader's success in India propelling the decision brilliantly for both the companies.
Jackie Matai, Co-Founder Aspri Spirits said "It is our immense pleasure to be associated with the Distell Group International as we together bring a unique Scotch Whisky palette to India. We are confident that the brilliant and delectable array of Whisky collection offered through this tour will be soul satiating for the Indian consumers. We at Aspri Spirits continue to disrupt the spirits market in the country by bringing in a remarkable range of products which captures the true Indian ethos and flavors. Our aim is to always offer unique blend of spirits and experiences that tap into growing market as well as create a niche'."
India's GDP, high disposable income and drinkers' aspirational perspective for whiskey make it the fastest growing major economy amongst slowing global scenes. The scotch market has grown significantly in the last 2 years despite the pandemic effect, and it still has potentials for expansion. Projections also suggest that the urban market accounts for 2/3rd of consumption boost over the coming decades, with income levels trebling by 2025, which lined up to be the intent of SLT visit .
The India tour of Scottish Leader not only recognized these favoring factors but also made a move to expand and explore the market beyond the product. During their time here, from 30th January to 3rd February, Mr Guriec toured Mumbai, Bangalore, and Delhi/Gurgaon to trumpet the brand vision and its premium offering while building a memorable user connect. Starting in Mumbai, the Scottish Leader team turned the product to an opulent engagement episode for the workers at WeWork, BKC. The teams interacted with professionals to showcase the springing collaboration of Distell Group and Aspri Spirits with a special spotlight on the attractive price-points of the liquor.
Ms. Gillian further added, "Scottish Leader is led by award-winning Master Blender, Julieann Fernandez, where our 15-strong team collaborates to unite each ingredient with a progressive, contemporary attitude to whisky making that brings our whiskies to life. And the range of whiskies Juliann and her teams create are consistently awarded across multiple global and local institutions. Enjoying a strong influence from malts matured and finished in bourbon casks, the distinctive characteristics of all our ingredients come together to create an award-winning collection; a versatile, multi-layered balance of smooth and sweet that is easy to drink, and to mix. Every ingredient we source, and blend is beautifully unique. The harmonious whole revealing the wonder of what it is to connect new ideas and experiences – collectively in whisky and in life."
Beyond this, Scottish Leader also poured an exciting meet and greet session with industry stakeholders, Corporate Officials, key media personnel and influencers to propel its vision, intent and experience.