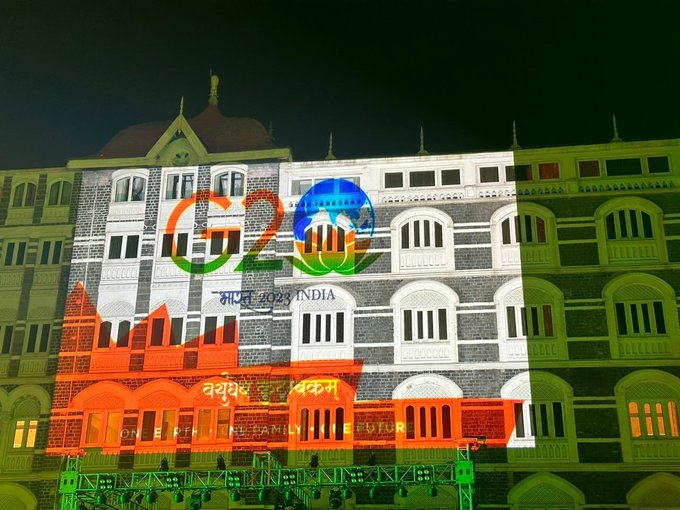 Asmita Mukherjee | Hyderabad
The hospitality industry has faced a lot of challenges but with business and leisure travel picking up pace in recent months, the industry is expecting rapid robust growth. The growth is poised to reach new heights with India taking over the presidency of G20 in December of 2022.
Industry experts are expecting that the G20 presidency will add oxygen to the rapid growth of the industry. It is estimated that in 2023, more than 200 meetings involving officials from different countries will be organised in India across 50 cities. As many as 30 heads of state and government from the G20 nations are expected to participate in the summit.
According to reports, to celebrate India's G20 Presidency the Ministry of Tourism has planned to organize a number of events engaging not only the government-level stakeholders but also the travel trade and hospitality sector. The Ministry would be organizing the first Global Tourism Investors' Summit (GTIS) in April/May 2023 in New Delhi. The objective of GTIS is to attract global investment into the Indian tourism and hospitality sector along with investments in tourism infrastructure, technology, skill development, start-ups, and more. The G20 CEO Forum alongside the Ministerial Meeting will be held at Goa in June. The event is being organized by World Travel and Tourism Council (WTTC) and WTTC (India initiative). The Ministry of Tourism will also be organizing a MICE Global Conference and event on adventure tourism in May and June respectively in 2023.
These events will surely add glitters to the growing number of the hospitality industry.
Big Opportunity for the Hospitality sector
While speaking on the opportunities, Vineet Verma, Director, Brigade Hospitality said that Indian hospitality stands to benefit from increased visibility and exposure on a global stage. Potential increases in tourism from G20 delegates and visibility of India's lesser-known destinations may also be enhanced by the G20 presidency. "The MICE (meetings, incentives, conferences, and events) segment is likely to see increased bookings from G20 delegates as many of these events are held in hotels and conference centres."
He added that G20 will also act as an impetus for increasing the room rates. "Hotel room rates are likely to increase during the G20 presidency due to increased demand for rooms. However, this will also depend on factors such as the overall supply of hotel rooms and the competition among hotels in the area," he stated.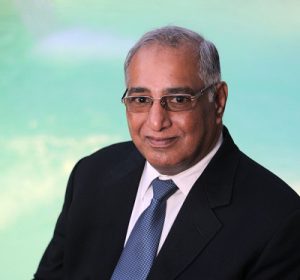 According to Param Kannampilly, Chairman and Managing Director, The Fern Hotels & Resorts, the G20 presidency will surely increase the number of footfalls in the country. He added that the Indian hospitality perspective is to increase the number of inbound travellers.
"A lot of foreign delegates and diplomats will be travelling to India. The occupancy will surely get a boost in all those places where G20 meetings are likely to be held. Besides, it will give us a chance to present the best of our country to the world in terms of our rich culture," he added.
Boost in Inbound
The G20 presidency presents a unique opportunity for the Indian travel and tourism industry to change the narrative around inbound tourism, which has been slow to recover post the pandemic.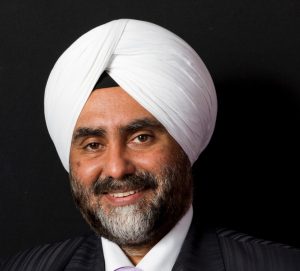 Mandeep S Lamba, President (South Asia), HVS ANAROCK explains, "Several diplomats and delegates from the G20 member countries and guest countries will attend over 200 meetings to be held across the country, and India will have the opportunity to turn each delegate into a spokesperson for its tourism industry, which has lost some of its global appeals as a result of the negative press which it received during the second wave of the pandemic. Additionally, India can showcase its rich heritage and cultural diversity, as well as a plethora of tourist attractions ranging from historical sites, monuments, and temples to pristine beaches, wildlife parks, and mountains to this global audience, which can help increase the country's minuscule share of global international arrivals in the future. It is an opportune time for our host hotels to rise to the occasion and present the highest levels of service and showcase Indian hotels and hospitality for the visitors to savour and carry back fond memories of."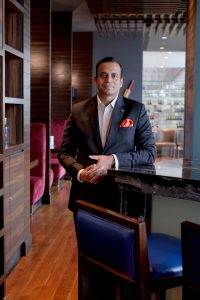 According to Divakar Shukla, General Manager, Holiday Inn Chennai, India's G20 presidency will create an opportunity to showcase India's growth story along with its rich cultural heritage and the ethos of the hospitality industry, "Atithi Devo Bhava".
"Various working groups, initiatives,  and engagement groups will participate in discussions during 200 meetings and conferences scheduled across 50 destinations throughout the year, as a build-up to the final G20 summit scheduled at Delhi in Sep 2023. The destinations will also include Tier 2 and Tier 3 cities that offer a picturesque landscape and have a rich cultural heritage to showcase. For the hospitality sector, it will be an opportunity to partner and participate in India's growth story, showcasing the best of hospitality while hosting the delegates attending these meetings and conferences. Each of these 200 meetings would gather hundreds of delegates, with several discussion sessions and side events conducted over a course of 2-3 days.  The overall projection of India's Growth story through locally rooted cultural enterprises with products tagged under "Make In India" will help project India as a destination with advanced growth, design, and high standards and is bound to attract new investment," he added.
Increased Popularity of lesser-known destinations
According to a report, India will host more than 200 G20 meetings at over 50 locations during the year, including key tourist attractions across Rajasthan, Goa, and Jammu & Kashmir regions, as well as near the archaeological site of Dholavira in Gujarat and other historical monuments. The list includes not only popular destinations but also some of the destinations situated in tier-II and tier-III cities.
Speaking on the topic Shukla said, "The 50 destinations shortlisted for conducting the meeting of various working and engagement groups would also cover some tier-II and tier-III cities that offer a picturesque landscape and have a rich cultural heritage."
However, Kannampilly stressed on the fact that infrastructure and connectivity are the two key things that can be parameters of including destinations.
"It depends on the infrastructure. If the connectivity to these places is good, people would love to visit them. Also, how well the state, as well as the central government, markets the destination to these delegates will also play a huge role in deciding it."


Elevated MICE segment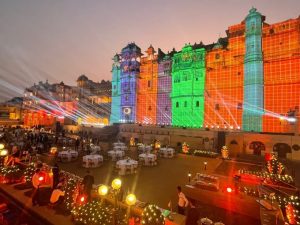 As the G20 will see a lot of corporate meetings happening in India, the MICE segment will surely get an impetus due to this.
Shukla said, "Since the format of the events scheduled covers various discussion sessions, MICE will remain a key performing segment for hotels.  Against the backdrop of India's G20 Presidency, the Tourism Ministry has also declared 2023 as a "Visit India " year to draw more international tourists. While domestic travel will continue to drive domestic leisure business, showcasing India's rich cultural heritage on the side-lines of the G20 presidency, will help drive Leisure Inbound business, as well. A study conducted by STR for hotel performances across host markets for G20 summits noted that the impact was greater on the Group segment than Transient. This is due to the fact that the delegates often rent entire properties to accommodate their staff and security teams. For example, Toronto (June 2010) recorded a 361% increase in Group Occupancy during its 7-day host period, while Transient demand decreased by 57% over the same span."
Kannampilly opined that while the banqueting facility will receive a healthy number due to the numerous meetings, the biggest beneficiary will be the leisure sector as almost everyone would like to explore India's glory which offers so much in terms of tourism opportunities.
RevPar and Occupancy slated to rise
The industry experts are contemplating that as the demand will surge there might be a supply constraint scenario in the shortlisted destinations.
Shukla informed that while the regular business for hotels is at par with pre-pandemic levels, the business opportunities created due to India's G20 presidency will add demand to cities shortlisted as meeting destinations.  "The RevPAR is likely to see an upside on the G20 meeting dates, which is likely to be occupancy driven for weekends (in non-leisure destinations) and weekdays (in leisure destinations) and rate driven for weekdays (in non-leisure destinations) and weekends (in leisure destinations). From the initial queries generated for several cities, it is indicative that the demand is not spread across the city and therefore likely to benefit only select hotels largely when it comes to driving occupancies and rates. For example, the Chennai version of the event had a clear preference towards Mahabalipuram and hence less likely to impact the performance of the city hotels. The surge in demand for Chennai is likely to drive incremental 5-10% occupancy levels (depending on a weekday, weekend date patterns) and incremental 10-15% ADR levels. The overall impact on RevPAR is likely to remain between 10-20%." he added.
Kannampilly added that the cities which are going to host events related to G 20 will definitely witness an increase in occupancy levels. The bigger metros will have a positive impact on occupancy levels.
Industry experts are saying that the demand for hotels can rise in the month of September due to the host week, otherwise, the demand will be more or less as predicted. Unusual demands are not on the cards. "While the build up meetings and conferences are not likely to drive demand significantly, the host week in September 2023 will definitely see a surge in demand across pre-event and event dates. If the pattern of booking an entire hotel by delegates for its staff and security continues, then it is likely to shift regular demand to other hotels that are not hosting the delegates and thereby create an opportunity to drive both occupancies and rates, during the event dates." Shukla added.
Shukla concluded,  "The Investments made to host the G20 presidency will create a surge in demand and also create opportunities for hotels to drive occupancies and rates not just during the G20 presidency period but also beyond."