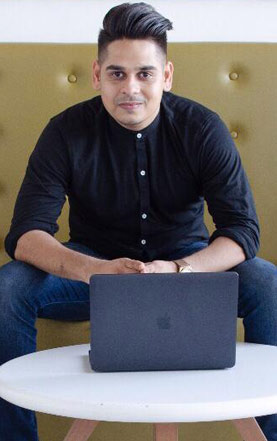 A self-funded enterprise Gobble Me Good (GMG) is planning exponential growth over the next two years. The Food & Beverages Franchise Management Company that began its journey in 2017 with its first brand, London Bubble Co. (LBC), recently brought the Indonesian coffee chain, Wake Cup Coffee to India. Saurabh Rathore, Founder and CEO of GMG, plans to grow the company by increasing the number of its brand outlets, and through equity financing.
In an exclusive interview with Hospitality Biz, Rathore informed, "I am extremely passionate about coffee, which led me to create a new market for coffee in India, as I have always been interested in originality. The brand, Wake Cup Coffee was my answer to creating a market in India for coffee made from Java Beans, which very few people in the country knew about, although In India we produce some of the finest export quality coffee. I own the Intellectual Property rights for Wake Cup Coffee. The brand started in Indonesia, but now we own it as an Indian brand. I also get a royalty for the brands and stores operating in Indonesia. So, we already have 17 stores of the brand, out of which 16 are in Indonesia and 1 is in Mumbai, India. Further, we are planning to open 14 more stores of Wake Cup Coffee globally."
"The rate of growth for LBC is looking amazing. We are aiming to reach 200 stores by 2020 which are at 74 currently. Through the successful implementation of a franchisee model, LBC has managed to exponentially grow to 50 outlets in 16 months. We now have footprints across Saudi Arabia, Thailand, Indonesia, and Muscat, which very few Indian brands in the continental dessert space have achieved. To keep up this growth rate, funding has become extremely crucial for us. There are a few private equity funds that have approached us to provide funding but we haven't decided yet who to partner with," he added.
The company has also recently announced its exclusive partnership with Oyo townhouses. Commenting about the rapid growth of GMG, Rathore says, "When I started, I did not imagine that we will multiply to 74 units of LBC within 2020. Through our strategic partnership with Oyo, we will be gaining access to 400 Oyo Townhouses which are all in prime real-estate locations. These real estate assets will enable us to operate cloud kitchens under our brands, Red Hot Chili Pepper serving Chinese cuisine, Udta Bhukkad serving Mumbai Street food, and of course LBC serving continental dessert. We are targeting 50 units in the first phase, that is, in the first four months. Out of them, 16 have already been achieved in Bengaluru, and we are working hard towards 15 more units in Delhi. We are also looking at diversifying, in terms of new brands. We are doing Mumbai street food snack, bistro desserts, cold items, and beverages from coffee to gourmet freak shake."
Rathore's non-culinary background did not hinder his venturing into the world of food business. Before making a mark with his food business, Rathore was in Canada, pursuing his Master's degree in Corporate Communications, while also doing a bit of photography. The degree led him to a job in PepsiCo in Canada, but Rathore soon realised that he wanted to do something else. He then did a couple of odd jobs on the way before becoming a waffle artist and starting a coffee shop in Canada.
With the idea of starting something of his own, Rathore then came to India and founded Gobble Me Good, an F&B franchisee management company in the year of 2017. Tapping into the emerging consumer demand for continental dessert, Rathore launched his first brand under GMG, London Bubble Co. (LBC) serving mainly bubble waffles to his clientele.
"We have planned our expansion through two methods. One is through self-operation of own units, and the other is through the FOCO (Franchise Owned Company Operated) model, where the initial set up cost is born by the franchise, while the running cost is borne by the company and in return, the franchisee gets a minimum guarantee or percentage of revenue earned." Rathore informed.
asmita.mukherjee@saffronsynergies.in