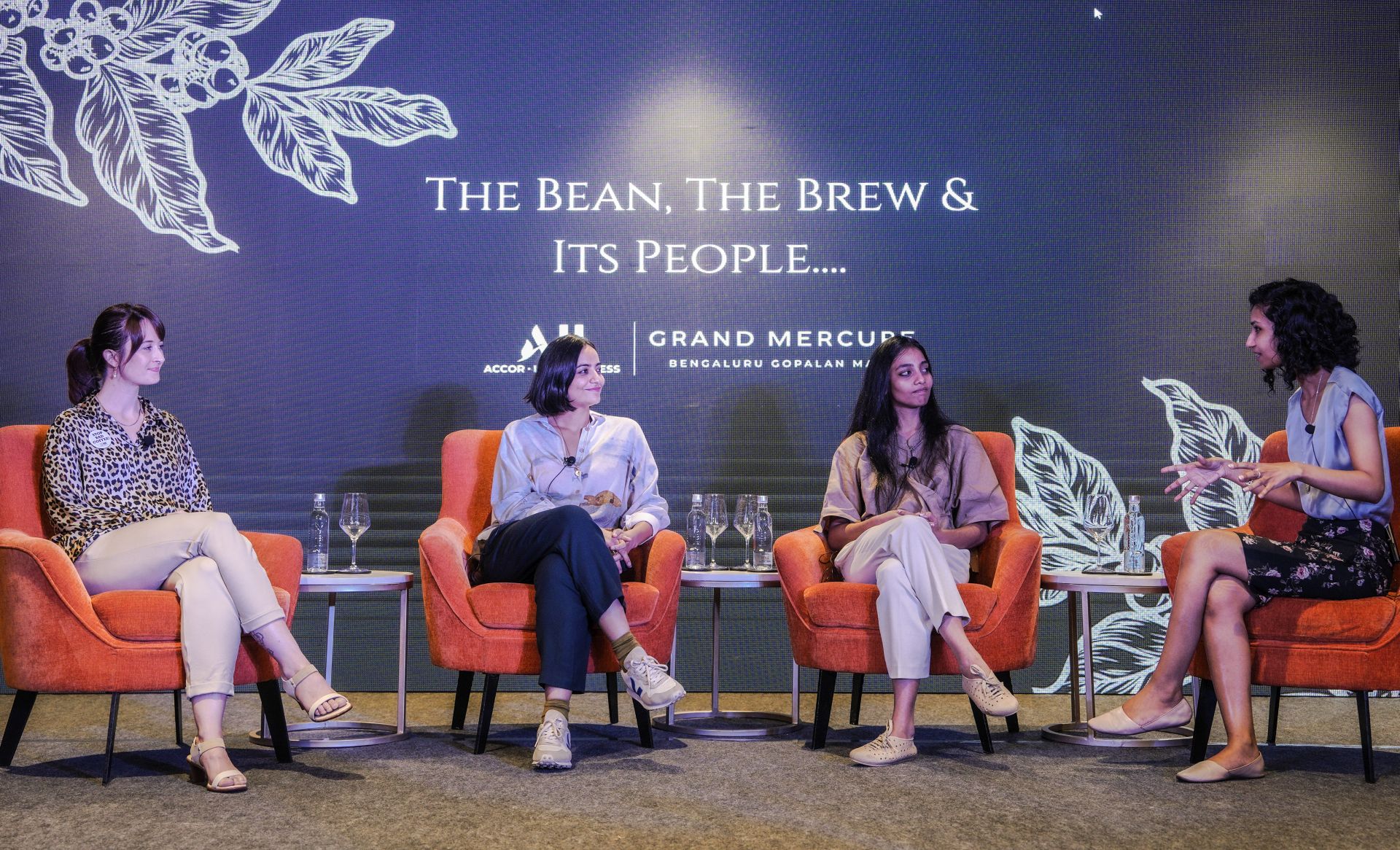 Leading to the International Coffee Day on 1st of October, Grand Mercure Bengaluru at Gopalan Mall, in association with world's most rewarded lifestyle loyalty program ALL – Accor Live Limitless, brought together the leaders of coffee industry in India for a candid dialogue on the genesis, innovation and future of the coffee bean and its various forms.
The event was an amplification of the hotel's "Brew Culture" which curates immersive coffee brewing experiences, interwoven with fables and excerpts from the bean's history.
During the event, several activities took place, including a one-of-its-kind coffee cocktail bar, as well as a panel of experts. On the panel was Tyler Richie, Head of Roastery, Blue Tokai Coffee Roasters, Poornima Katyal – Founder, Third Roast Coffee and Vaishnavi Mannava, Brand Manager, Greater Than Gin – talking about the inspiration behind their experiments with the humble bean.
The panel was moderated Ms Sangya Yadav, who brings great understanding of the coffee trade and its processes as the Lead Trainer at Specialty Coffee Academy of India.
Through the course of the panel, conversation ventured into many critical aspects of the coffee industry. Sourcing and pricing trends, as well asthe shift from commercial to speciality coffee by consumers was discussed in detail. Tyler Richie shared her thoughts on the specialty coffee market in India and how it is benefiting the farmers, while Poornima Katyal spoke in detail about the rise of the cold brew culture and its perception in the country. Vaishnavi Mannava added on to the conversation with great insights about the no-sleep coffee gin by the brand, with focus on the increased appetite of the Indian market towards coffee liquers.
The discussion was followed by a coffee showcase featuring distinctive styles of coffee such as the Siphon, Turkish and Chemex alongside the much-loved South Indian Filter Coffee.
"We at Grand Mercure Bengaluru at Gopalan Mall are extremely elated to be setting the stage for such riveting conversations on the brew. We hope that with our initiative we will aid in bringing coffee to the forefront of beverage-based discussions" said Sachin Maheshwary, General Manager. "We are excited to see an all women panel of experts, given that it was once a male dominated segment" he added.
On the occasion, Reema Chugh, Director Loyalty and Partnerships, Accor India and South Asia said "We are thrilled to bring such bespoke experiences to members of ALL – Accor Live Limitless lifestyle loyalty program. We aim to help our members discover a world of rewards, unique benefits, exceptional events while experiencing the extraordinary."