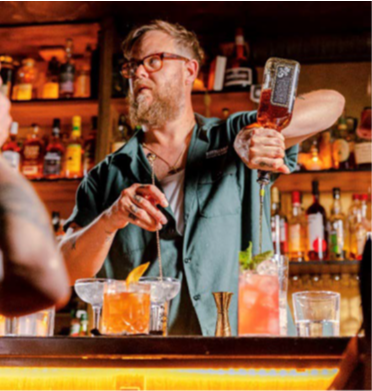 Heaven Hill Distillery, one of the world's leading distillery of Kentucky Bourbon won the 'Distiller of the Year Award' at the recently concluded 'The Whisky Magazine Icons of Whisky Awards'. To commemorate the occasion and strengthen the market presence, Heaven Hill which has a concrete and prolonged association with Aspri Spirits, India's leading importer, marketer, and distributor of International Spirits, Wines, and Beers successfully conducted bar takeover sessions across multiple Indian cities.
Award winning mixologist and European Brand Educator, and Ambassador of Heaven Hill Distillery was Mr. Benji Purslow, visited Mumbai, Bangalore & Delhi and conducted the bar takeover sessions which were a huge hit among the audience. The sessions presented the perfect opportunity for Indian consumers to get to know about Heaven Hill and its flagship products like Evan Williams Bourbon Whiskey, Elijah Craig and Burnett's London Dry Gin to name a few.
Speaking about his India visit, Mr. Benji Purslow, European Brand Educator & Ambassador said, "It was an absolute delight to come to India and showcase the wide range of spirits that Heaven Hill has to offer. Over the years, the Indian audience has considerably evolved in terms of experimenting with different kinds of flavours and I was happy to provide them with drinks like Evan Highball, Evan Manhattan, The Kentucky Buck and Boulevardier that were both new and exciting to their palette."
His bar takeover session was not only a hit with the audience but also with the bartenders. Benji was seen interacting with teams of bartenders wherever he went and even provided them with tips and tricks. "This was a great opportunity for our entire team as we got to interact with Benji and learn the nuances of mixing from an international star like him. His immense knowledge of every aspect of mixology is something to be imbibed. We look forward to more such sessions – (Bars across the 3 cities voiced out)"
Through the association with Aspri Spirits, Heaven Hill is looking to create a substantial market presence in India and be a major player in the brown spirits category.
Mr. Arun Kumar, Co-Founder of Aspri Spirits, said – It was indeed a pleasure to have Benji visit India and curate signature cocktails and some memorable bar takeovers across the three cities. The sessions with bartenders was highly interactive and are confident that the products of Heaven Hill Distillers will find success amongst the consumers in the country.
This initiative by Heaven Hill is timed at a moment when India is witnessing a considerable rise in the consumption of brown spirits. A recent study states that India is the largest whiskey consumer in the whole world and astonishingly the number is three times higher than USA. These promising numbers have made the brand very optimistic about their market expansion in India.