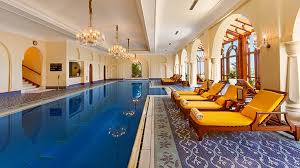 According to the Tribune,
The recent approval by the Himachal Pradesh Cabinet to execute the 2005 arbitration award in the benefit-sharing dispute between the state government and the Oberoi group's East India Hotels (EIH) over Hotel Wildflower Hall at Charabra signifies progress. However, the transition ahead is anticipated to be challenging.
A senior government official confirmed that they would be contacting EIH soon, urging compliance with the 2005 award to ensure that the state receives its rightful dues. Back in July 2005, EIH had taken legal action to retain control over the luxury property, including a pristine deodar forest, after the award was announced. However, in 2022, the hotel group approached the government to execute the award following the dismissal of their petition by the Himachal Pradesh High Court.
Originally built by Lord Kitchener in 1902, Hotel Wildflower Hall was managed as a high-end establishment by HP Tourism Development Corporation until it was devastated by a fire in 1993. The state government then initiated global tenders to operate it as a five-star property, ultimately awarding the joint venture "Mashobra Resorts Limited" to EIH. However, due to various issues arising over time, the government terminated the agreement on March 6, 2002, citing "breach of terms."
Sources indicate that the settlement of the dispute could face further delays, as disagreements are expected to arise regarding the present value of the Rs 12 crore award granted by the arbitrator 18 years ago in favor of the government. While the government estimates its share to be approximately Rs 400 crore, the EIH is likely to object to this amount, potentially resulting in additional legal complications.
The arbitrator's award favored the government, which had raised concerns about the imbalanced equity ratio perceived to be in favor of EIH. Issues such as the failure to make the hotel operational within the mandated six years and the non-regularization of 57 rooms by the Town and Country Planning Department remained points of contention.
The dispute also took on political dimensions, as the joint venture was established during the Congress-led regime under Virbhadra Singh, while the termination was carried out by the BJP government led by PK Dhumal, who claimed that it was against the best interests of Himachal Pradesh.