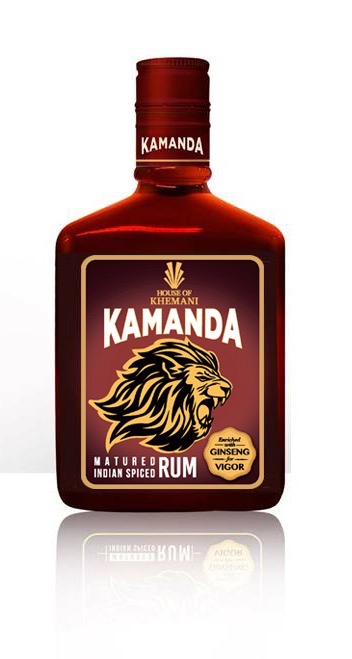 The House of Khemani is delighted to announce the launch of Kamanda Matured Indian Spice Rum, an exquisite addition to the vibrant world of spirits in Indore and Bhopal region, Madhya Pradesh. Crafted with precision and infused with Ginseng and rich Indian Spices, Kamanda Matured Indian Spice Rum offers a unique and invigorating experience for rum connoisseurs and enthusiasts alike. The launch of this new spirit by the Khemani Group, not only strengthens its product portfolio in the Madhya Pradesh region, but also, is a testimony to its commitment towards brand's recognition of the state's discerning taste and appreciation for quality spirits
Combining the rich heritage of Indian spices with the natural power of Ginseng, Kamanda Matured Indian Spice Rum showcases the commitment to innovation and excellence that the House of Khemani is renowned for. The infusion of Ginseng not only adds a distinctive flavor profile but also provides a revitalizing touch, offering a truly exceptional drinking experience.
Positioned within the mass premium range, Kamanda Matured Indian Spice Rum making it accessible to a larger spectrum of consumers who yearn for an exceptional drinking experience at an affordable price. With its unparalleled taste and distinct infusion, this exquisite rum is poised to become a preferred choice for those who appreciate the finest spirits. Its priced at Rs.615/310/150 and Rs.75 for 750ml/375ml/180ml and 90ml respectively.
"Happy to roll out our second offering in the market of Madhya Pradesh, following the successful launch of Royal Respect in the month of June," states Mr. Amit Khemani, Vice Chairman of the Khemani Group. "We are confident that consumers would appreciate the blend of tradition and vigor found in Kamanda Matured Indian Spice Rum. With the onset of the monsoons, it's the perfect season to serve our Kamanda Rum to the discerning consumers of Madhya Pradesh."