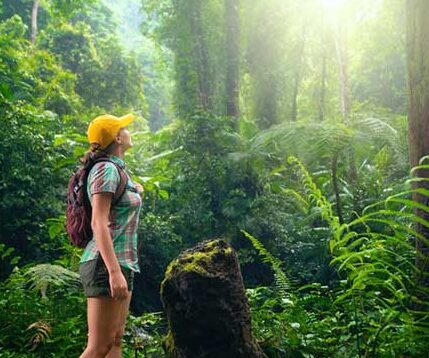 The global ecotourism market is projected to be worth US$22.48 billion in 2023. Ecotourism is anticipated to have a market value of US$90.95 billion by the end of 2033, increasing at a 15% CAGR.
Due to increasing urbanization and incomes, outdoor recreational activities, solo travel, and immersion travel are becoming more and more common. This development in popularity can be ascribed to the worldwide ecotourism business. The finest hotel chains are also utilizing cutting-edge techniques to build eco-lodges and camps, plan trails, and coordinate excursions in addition to investing in social media marketing. In order to provide locals with work, they are examining the ecological and cultural effects of ecotourism and working on initiatives that support recycling, put an emphasis on energy efficiency, and reuse water.
The market is expanding as a result. In part, because many national governments are actively promoting the sector through public education, training programs, data gathering and analysis, and corporate collaborations, growth in the global ecotourism market is anticipated.
One of the nations attributed with delivering the growth elements in Nepal, which is at the forefront of distinctive sustainable tourist places worldwide and which saw a stunning 24% increase in passengers in 2020, totaling 1,172,052 at the end of the year. In a similar vein, almost two million tourists visited Kenya in 2019, an increase of 35.7% from the year before. The trend for sustainable tourism is leading in places like Costa Rica, the Galapagos Islands, and Panama.
An increase in foreign visitors has also been attributed to governments' renewed focus on tourist security, which has in turn helped the sustainable tourism sector.
Ecotourism Demand Analysis (2018 to 2022) Vs Market Outlook (2023 to 2033)
The ecotourism industry is anticipated to grow at a 15% rate between 2023 and 2033, according to current data from Future Industry Insights. Three-time periods could be used to categorize the market outlook: short, medium, and long.
Consumers are becoming more conscious of the potential harm that tourism might do to the environment, including concerns like pollution, climate change, and wildlife protection, in the near future (2023 to 2025). As a result, a lot of tourists are looking for environmentally friendly travel experiences that reflect their values and enable them to have less of an impact on the environment.
Within the next five to ten years (2025 to 2028), many companies will have integrated sustainability and social responsibility into their business practices. This includes eco-friendly hotels, carbon offset plans, and conscientious travel habits that give the neighborhood and environment top priority. Through these activities, businesses can stand out from the competition and attract socially conscious tourists.
Long-term (between 2028 and 2033): Many governments are promoting ecotourism as a way to encourage long-term economic growth and safeguard natural habitats. Examples of the kinds of assistance that can be given include infrastructure investment, financial incentives for companies to adopt sustainable practices, and PR campaigns for sustainable tourism hotspots. With more than 25% of its land area now protected, Costa Rica is an excellent example of a nation that has effectively promoted ecotourism as a way to aid in conservation efforts.
How does eco-traveling tourism affect the expansion of the ecotourism industry?
Travelers have a variety of ways to experience eco-tours. There are numerous strategies to increase the trip's sustainability. For instance, market penetration for eco-lodging tourism is growing. Eco-tourists favor lodging options that were constructed with sustainability and the environment in mind. In eco-lodging tourism, travelers can take advantage of staying in a variety of settings, including eco-resorts, natural settings, hostels, and hotels made of sustainable materials. Even for the tourists, there is a great possibility for them to enjoy different ecotourism activities like hiking, kayaking, or bird viewing.
Due to easier access to information via the Internet and several government-sponsored awareness initiatives, people are more aware of sustainable tourism. Ecotourism promotes sustainable community development while allowing the preservation of the natural environment.
Many nations are also transforming their towns into eco-tourism hotspots that not only create job possibilities but also protect the environment, native cultures, and animals. Dubai, Doha, and Manama are prominent examples of them.
The demand for ecotourism is anticipated to grow in the upcoming years, fostering the expansion of the ecotourism sector.
How Will Improvement in Regional Infrastructure Drive Ecotourism Industry?
To get ready for the arrival/departure of a big number of tourists in the future, many nations, like the United Kingdom, the United Arab Emirates, the USA, Qatar, France, Oman, and others, are investing in improving their airports.
Additionally, these nations have been working to rebuild some of their infrastructure and heritage sites. The UAE and Qatari art galleries have also been attempting to offer fresh exhibits and works. Such construction projects aim to draw tourists and are predicted to support the expansion of the ecotourism industry.
Among the most well-liked destinations for eco-tourists are historical landmarks. According to the Saudi Geological Survey, some of the region's ancient caves are 30 million years old. In Saudi Arabia, 250 caves have been found, which is boosting the country's sustainable tourist industry.
How can Manufacturers/Service Providers Scale their Businesses in the Ecotourism Market?
Establish partnerships with local communities and conservation organizations:
This can help to build trust with local stakeholders and ensure that ecotourism activities are aligned with the needs and values of the community.
By working with conservation organizations, manufacturers and service providers can promote conservation efforts and create unique sustainable tourism experiences that highlight the natural environment and wildlife.
Focus on sustainable transport options:
Promoting sustainable transport options such as electric vehicles, bicycles or public transport could help reduce the carbon footprint and make the tour more attractive to eco-conscious travelers.
Offer educational and cultural experiences:
Offering educational and cultural experiences like local cooking classes, language classes, or visiting cultural landmarks can help travelers to gain deeper insights into the destination and foster a connection with the local community.
Implement responsible tourism practices:
To promote responsible travel practices, manufacturers and service providers should aim to minimize their environmental impact, support local communities, and promote conservation efforts.
This can include reducing waste and emissions, supporting local businesses, and engaging in responsible travel wildlife viewing practices.
Leverage technology:
Manufacturers and service providers can leverage technology such as virtual reality, augmented reality, or 360-degree videos to provide a more immersive experience for potential customers.
They can also use data analytics to gain insights into customer preferences and behavior, which can inform product and service development.
Ecotourism Market Competitive Landscape
Market players are adopting various strategies to navigate through a highly competitive environment. With an aim to gain a competitive edge, some of the leading ecotourism market players are focusing on mergers and acquisitions. Companies are also actively engaging in strategic collaborations and partnerships to gain a competitive advantage.
For instance, Big Five Tours & Expeditions Inc. was incorporated in Nairobi, Kenya, and thereafter shifted its head office from Kenya to Florida, USA. The company offers customized luxury, and adventure tours for travelers around the globe. The company also launched several websites for sustainable travel around the world, which include galapagos.com (Latin America), safaritours.com (Africa), and visibleasia.com (Asia).
Recent Developments
Wetravel, Inc. has teamed up with Tourism Cares to offer a new academy course titled Introduction to Sustainable Tourism in June 2022. The recently released training provides tourism businesses with an entry-level course that is expected to help them stay informed, actively participate, and advocate for change.
In July 2022, Rabbie's, a major UK tour operator, introduced two eco-friendly itineraries in Scotland. The newly introduced tours are a part of the company's 'We Care About There' initiative, which promotes responsible and sustainable tourism by providing a unique and meaningful experience for its customers.
Italian global cruise line MSC Cruises launched nearly 1,400 sustainability-themed summer tours in May 2022 to highlight the company's commitment to environmental responsibility. The new itinerary was created to promote "nature-positive" pursuits and lessen the negative effects of tourism.