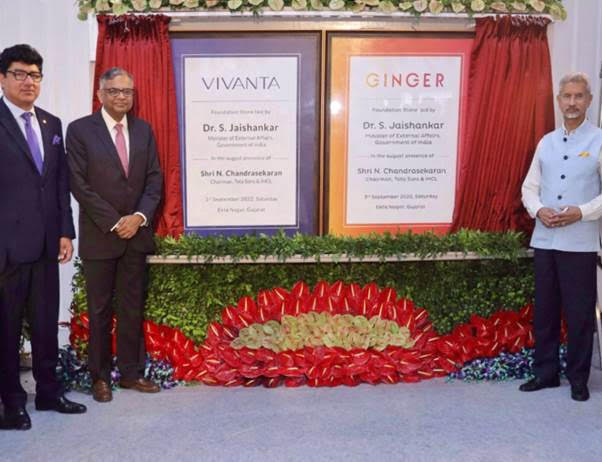 Indian Hotels Company (IHCL), India's largest hospitality company, today announced two upcoming hotels in close proximity to the famed Statue of Unity in Ekta Nagar, Gujarat. Jaishankar, Minister of External Affairs laid the foundation stone in the presence of N. Chandrasekaran, Chairman, Tata Sons and  Puneet Chhatwal, Managing Director & CEO, IHCL.
Puneet Chhatwal, Managing Director and Chief Executive Officer, IHCL, said, "It is our privilege to be a part of the vision to develop a world class destination in Ekta Nagar. The rapid growth of our footprint in Gujarat is an exciting development for IHCL, and these hotels will be a significant addition to our portfolio. Ekta Nagar is planned as a leading tourism destination in the country and IHCL, in partnership with the Sardar Sarovar Narmada Nigam Ltd. (SSNNL), will offer exceptional experiences for travellers with the two hotels. We are delighted to bring our signature hospitality to the region."
Among other dignitaries, Mr. Ghanshyambhai Patel, President Bharatiya Janata Party; Mrs. Shweta Teotia, Collector – District Narmada; Mrs. Paryushaben Vasava, President, District Panchayat, Narmada; and Mr. Prashant Sumbe, Superintendent of Police, District Narmada too were present at the event.
The two hotels include a 125-room Vivanta and a 150-room Ginger. Located at a short drive from the Statue of Unity, the hotels will offer a variety of dining and recreational facilities across both properties. In addition, the Vivanta hotel will feature conferencing and wellness facilities to cater to business as well as leisure travellers. This is a Greenfield project slated to open in 2025.
Located in the Narmada district in the heart of Gujarat, Ekta Nagar is set to be an iconic destination. It offers many tourist attractions such as the Statue of Unity, Valley of Flowers, Zarvani eco-tourism and Shoolpaneshwar temple among others.
With the addition of this hotel, IHCL will have 19 hotels in the state of Gujarat including four under development.