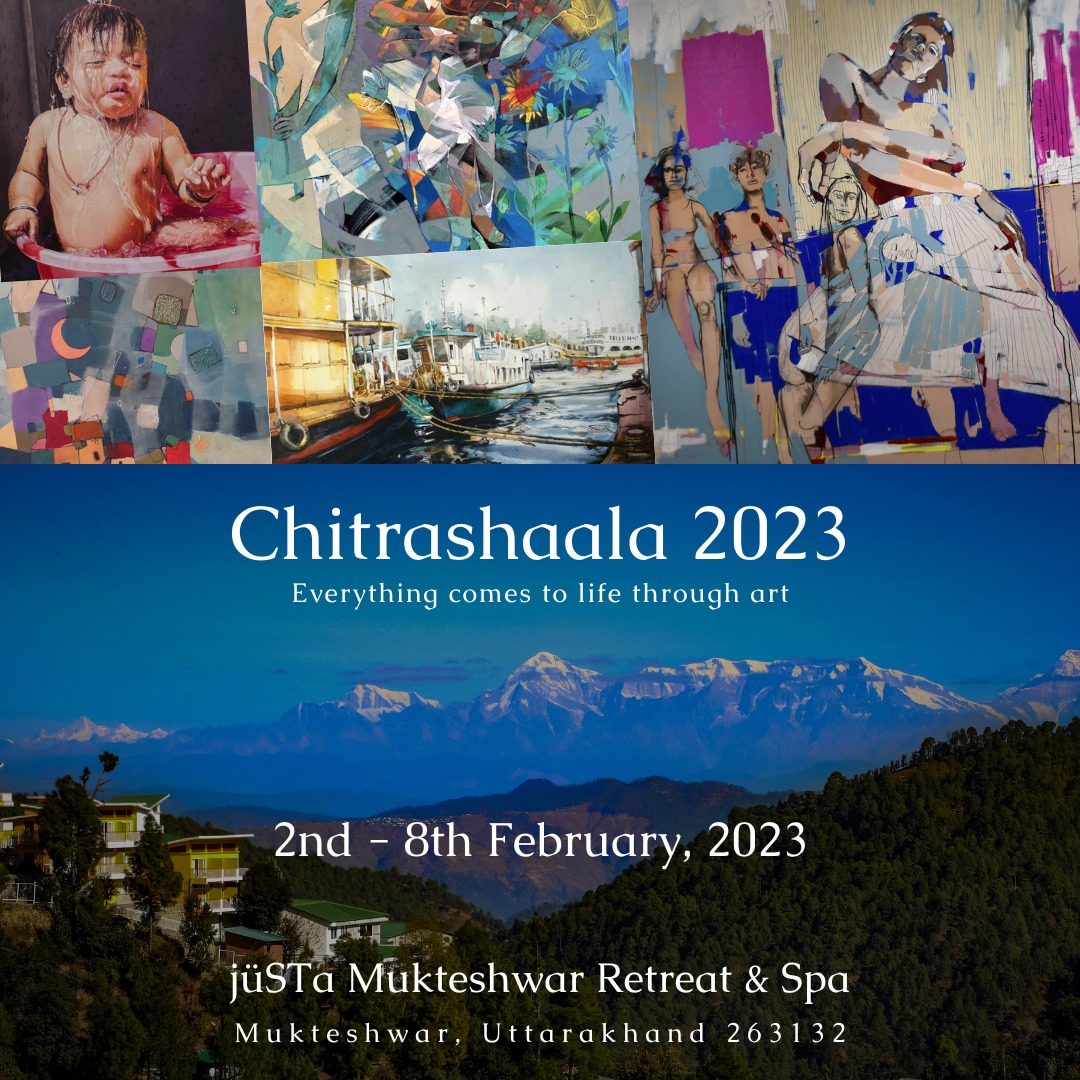 Homegrown luxury boutique hotel group jüSTa Hotels & Resorts will host the 5thedition of its international art residency 'Chitrashaala' at the jüSTa Mukteshwar Retreat and Spa from 2nd to 8thFebruary. A total of 52 artists, 22 from India and 30 international artists, who are known for their unique cultural art, contemporary designs and surrealism, will participate in Chitrashaala 2023.
Launched in the year 2015, Chitrashaala is a joint initiative of jüSTa Hotels & Resorts and fashion designer Deepika Govind that endeavours to build a credible cultural dialog among artists from diverse socio-cultural backgrounds through an enriching reciprocation of artistic ideas. Over the years, eminent artists from 17 countries such as the USA, Poland, Spain, Morocco, Bhutan, Egypt, Ireland, Bangladesh, Kazakhstan and Thailand have participated in various editions of Chitrashaala.
Regarding this unique international art residency initiative by a hospitality brand, Mr Ashish Vohra, Founder & CEO, jüSTa Hotels & Resorts, said, "Chitrashaala was conceptualized after I visited Shanti Niketan a few years ago where I interacted with and observed the work of fine art students and the emerging artists. I realized that the budding artists in our country are immensely talented but they are highly undervalued and unappreciated. So, we decided to patronize these emerging artists by displaying their original artwork at our hotels. This was the beginning of Art becoming an integral part of jüSTa Hotels' DNA. Currently, almost 1000 original artworks by emerging artists of India are displayed across jüSTa hotels. In 2015, a few artists approached us to seek a place where they could gather for a few days for knowledge sharing and fun. This led to the launch of Chitrashaala where we bring together artists from various countries, backgrounds, experience and skill sets and give them a platform to learn from each other, have fun together and get inspired by the picturesque locations of our properties."
Over the years, Chitrashaala has emerged as a creative space where artists, critics, writers and the local populace come together to create, discuss, live and breathe art. It is all about the dialogue and building bridges in a world which, unfortunately, seems to focus more on discord than accord. Ultimately, it is a week-long retreat from the cares of the world in which to create beauty, make lasting friendships and draw inspiration from the amazing sights this country has to offer.
As per Fashion Designer Deepika Govind, who co-organizes this event, "Chitrashaala has gained a place in people's minds as the emergence of dynamic art. It is a place where there is a mélange of artists of different genres creating explosive ripples in the universe. For me, it is like spending a week in an art school. It's exciting to meet artists from all across the world and observe how they connect and share their thoughts with each other. Through the years, Chitrashaala has taken its own organic shape of a space where you get to enjoy phenomenal performance arts. It has been an enriching experience to see an organic growth of Chitrashaala and how jüSTa & Art have become synonymous with each other."
This year, artists from 11 countries, namely the USA, Germany, Poland, Egypt, Thailand, Norway, Bhutan, Bangladesh, Tunisia, Algeria and Jordan, will participate in Chitrashaala 2023. The domestic artists would be coming from Kolkata, Surat, Vadodara, Mumbai, Nagpur and Ahmedabad.
Anirudh Chari, the Curator of Chitrashaala, is excited about the line-up of artists for this year. He said,"Chitrashaala 2023 will bring together a plethora of talent from all over the world to create art in one of the most stunning locales imaginable. Fifty two artists from India and overseas – selected for their skill, conceptual ability and breadth of practice – will live and work for a week in a stunning property in the Kumaon Hills. While some of the artists are Chitrashaala veterans, many will experience for the first time the incredible hospitality of jüSTa and all that it entails."
He added, "Chitrashaala has always been a rich, immersive experience for all associated with it. The artists have drawn inspiration from what they saw around them, from the stunning views of Lake Nahargarh to the contemplative vistas of Rishikesh. This year will be no different. They are certain to be influenced by the amazing natural beauty surrounding them and no matter what their mode of expression, they will be certain to capture and articulate that vigorously and energetically."