Commercial Kitchens are created for preparing food to be sold to the public, mostly in large quantities with high frequency. Considering the inherent fast and furious nature of commercial kitchens, which requires several staff to work concurrently, an optimum design of the kitchen is mandatory to facilitate efficiency. The F&B industry thrives on the basis of its kitchens. A well designed and efficient commercial kitchen can enable a restaurant to reach great heights. Asmita Mukherjee explores the state of commercial kitchens in India and gains insights from key opinion leaders regarding the intricacies of this important aspect of the F&B Business.
THE IMPORTANCE OF COMMERCIAL KITCHENS
The kitchens of large-scale restaurants achieve success in customer satisfaction by maintaining adequate workflow space and by catering to the safety and efficiency requirements of the staff, so that they can safely prepare food.
A growing trend in the F&B segment of the Indian hospitality industry is the emergence of live cooking. Live cooking delves into breaking barriers between the chef and the customers, by bringing the food preparation out in the open. This live culinary art form regales guests, and has been adopted across many restaurants in India. Bringing the food preparation to the forefront of the guests through live cooking involves taking care of adequate safety measures and other complexities, which has given rise to newer designs of commercial kitchens. A proper kitchen set up is said to have a significant impact on sales while also saving costs. As in all merchandise being sold, a properly designed and a well-coordinated kitchen is the showcase of a restaurant. The action created by the chefs inside the live kitchen is like a performance on stage and every time a good show is put on along with good food and beverage served, there will always be a positive impact on the sales..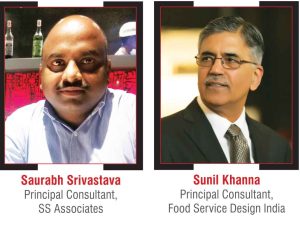 VARIOUS ELEMENTS OF A COMMERCIAL KITCHEN
The cooking capacities of commercial kitchens can range from catering for a few people in a specialty restaurant to bulk production kitchens producing meals for thousands of PAX. Consecutively, the setup, space requirement and equipment selection are totally different according to the capacity. Adequate space management and optimum equipment management are some of the most important elements of an efficient commercial kitchen.
Saurabh Srivastava, Principal Consultant at SS Associates comments, "Space is the most expensive commodity in any restaurant project. Hence, minimal space is given to the commercial kitchen, as it is still considered to be BOH (Back Of House). Therefore, it becomes very important for the kitchen planner and designer to use space effectively. We use multi-usage equipment in kitchens to save space."
Too small a kitchen will be inadequate whereas too large a kitchen will consume precious real estate. So, the design of a commercial kitchen needs to be heavily optimised. Sunil Khanna, CEO, FSD India says, "A good planner will get an ideal mix of operational efficiency & efficient space utilisation to strike a balance between investment and output." For live kitchens, a high level of aesthetics becomes important, which might not be so, in the case of regular commercial kitchens. Furthermore, internal space management, allocation of optimum spaces for different functions, and correlation of each area is of prime importance, as the workflow and ergonomics of the commercial kitchen directly affects the efficiency of the space, as well as, the people working in these kitchens.
Most of the owners and investors do not want to sacrifice their prime real estate as the kitchen is still considered a support service, not matter how much it contributes to the revenue of the hotel.
Neel Kamal Chauhan, COO, HPG Consulting sheds some light on the Indian view of commercial kitchens by saying, "Kitchens and support services are still considered as Back Area, and no investor wants to sacrifice prime real estate for support services, no matter how important they are. Hence a kitchen designer has to manage within tight spaces and efficiently plan all the services required." Other factors which are taken into consideration while designing a well-planned contemporary commercial kitchen are the type of cuisine served, kitchen extraction, drainage in tight spaces, storage for raw and cooked food, cold chain within the kitchen, energy efficiency, and waste management.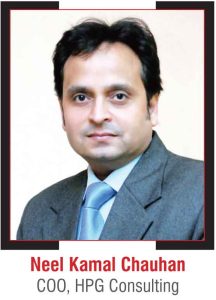 IMPORTANCE OF EQUIPMENT AND CONSERVATION
Kitchen equipment offerings by manufacturers, as well as, the designer's approach to the selection of equipment is very important. Efficient water conservation and the reuse of water is also an important consideration while designing the kitchen space and selecting the equipment. It has been witnessed that the usage of efficient kitchen equipment can result in savings of around 10% to 30%. Furthermore, maintaining cleanliness of kitchen equipment, as well as, effective operational changes can also be a cost efficient and easy manner of energy conservation.
Chauhan says, "Kitchen equipment have evolved a lot in last few years, and there have been enormous technological advancements in horizontal and vertical cooking equipment, ware washing, ventilation etc."
The emergence of live cooking has brought about considerable changes in the usage of kitchen equipment. Since, open flames can be dangerous for the guests witnessing the live cooking, in addition to the discomfort from the heat generated from such cooking, many chefs prefer electrically operated cooking ranges in place of gas fuelled ranges.
Khanna comments, "New cuisines require kitchens which are completely different. Equipment like Robata Grills, Josper Ovens, Wood Fired Ovens, Wok Ranges with turbo burners are a common sight in today's commercial kitchen."
Zero waste kitchens are a growing international trend, as kitchens generate a lot of biodegradable waste which can be treated and used. Kitchen waste needs to be segregated at source, managed and treated for reuse. Garbage dumps with or without separate rooms are mandatory for a high volume restaurant and for maintaining hygiene. Food Safety and Standards Authority of India (FSSAI) compliances and pollution compliances do take care of these factors, but training and attitude of top management is crucial. Good civil works and good Back of House (BOH) finishes also help.
CHALLENGES
There are a multitude of challenges faced by the F&B consultants while building a commercial kitchen. First and foremost, a well-planned efficient commercial kitchen currently is not focussed on, due to the high cost involved. According to Khanna, a commercial kitchen in India can cost anywhere between 30 lacs to 50 lacs excluding Heating, ventilation, and air conditioning (HVAC), due to which F&B owners do not go beyond a certain point, as it is important not to make the project non-viable.
Chauhan adds, "Most of the modern kitchens planned these days are confirming to all the international safety and hygiene requirements, however, investment in high grade and high quality equipment is still a challenge."
High energy and high water consumption can also eat up a good share of profits. So, it is necessary to keep them under control. A lot of comparative analysis is done between the different energy sources of each equipment to get the optimum consumption and efficiency. This also depends on the location of the kitchen and availability of the energy resource.
Furthermore, a lack of high caliber contractors specialized in commercial kitchens also act as a deterrent for F&B operators to invest in a quality commercial kitchen.
KEEPING UP WITH THE WORLD
Indian commercial kitchens are no longer less than any international kitchen, in terms of design, flow, and facilities. Most of the modern kitchens planned these days in the country are confirming to all the international safety and hygiene requirements. Chauhan elaborates by saying, "There has been a noticeable change in Indian Commercial Kitchens, and they are no longer places with just gas burners. Commercial kitchens in the country have evolved into sophisticated food production areas, more of technologically equipped areas producing culinary delights."
Increasing availability of global culinary equipment in the country has also contributed to domestic commercial kitchens coming at par with global standards.