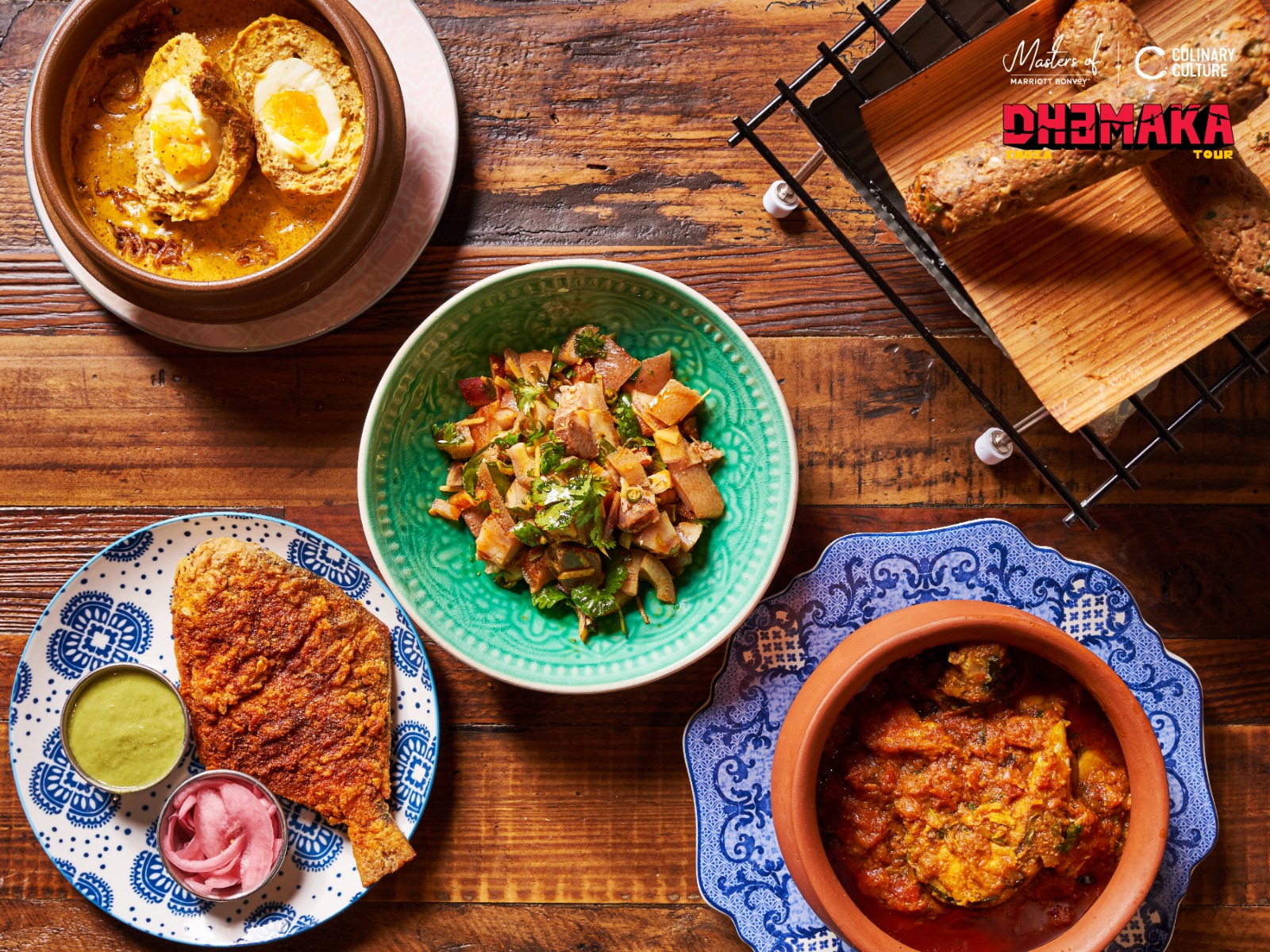 In a masterful display of culinary artistry, Masters of Marriott Bonvoy and Culinary Culture kickstart 2023 on a high note as they welcome 'Dhamaka' to India for the very first time. The brainchild of famed duo Roni Mazumdar and Chef Chintan Pandya of Unapologetic Foods, 'Dhamaka' as the name suggests packs a punch of flavour and zest into its menu comprising of quintessential favorites from the lands and roads less travelled in India. With many a first to their names, Dhamaka was recognized as #1 restaurant of 2021 by the esteemed The New York Times, and Esquire Magazine. Chef Chintan Pandya and Roni Mazumdar are also the only Indian restauranteurs to hold a seat at the New York State Restaurant Association, while not missing a mention of Hollywood celebrities such as Naomi Watts, Jennifer Lawrence, Michael J Fox and Padma Lakshmi who are regular patrons at their restaurant.
As a precursor to the exclusive dinners planned for Delhi and Mumbai; Masters of Marriott Bonvoy and Culinary Culture will play host to the leading chefs and food enthusiasts of the city for an exclusive meet & greet with Chef Chintan Pandya and Roni Mazumdar in conversation with Vir Sanghvi, India's top food authority and Chairman of Culinary Culture. The duo will deep dive into their culinary journeys to unravel the nuances of creating culinary masterpieces from the rustic and raw pockets of a forgotten India. Chef Chintan Pandya, who was awarded the Chef of the Year by the prestigious James Beard Foundation along with his team will recreate the magic of Dhamaka at the JW Marriott Aerocity, Delhi with two, small, exclusive dinners on 24th & 25th February. This will be followed by two exclusive dinners at the JW Marriott Juhu in Mumbai over the 3rd and 4th of March.
Khushnooma Kapadia – Senior Area Director of Marketing – South Asia, Marriott International said, "India's culinary landscape is constantly evolving with both traditional and contemporary cuisine styles influencing our food preferences and experiences. With Masters of Marriott Bonvoy, we are constantly pushing the envelope in our showcase of culinary excellence by partnering with true masters and trailblazers within the domain. We are excited to mix it up by hosting the dynamic duo of Roni Mazumdar and Chef Chintan Pandya of 'Dhamaka' fame in our 6th installment of Masters of Marriott Bonvoy with Culinary Culture. Their bold, fun and unapologetic style transcends through their offbeat, culinary creations. We look forward to giving our guests and patrons an unforgettable dining experience, leading the way for more to follow this year ".
Chintan Pandya, Chef-Partner, Dhamaka said, "I'm thrilled to be back home in India and cook my food for everyone after 15 long years thanks to Masters of Marriott Bonvoy, Culinary Culture and Diageo. Being a Bombay boy there is nothing I found more exciting than the bold flavors of our street food and the nuances of our home cooking. Today, I'm getting a chance to represent my own perspective of Indian cuisine and create a new wave of thinking in the American culinary landscape. Together, let's celebrate our own food — unapologetically!"
Vir Sanghvi, Chairman of Culinary Culture said, "Chintan is one of the most exciting chefs cooking in America today, which the rave reviews from the likes of the New York Times attest. It's a matter of pride for India that he's cooking Indian food of the kind that is rarely found abroad. We're so pleased along with Masters of Marriott Bonvoy and Diageo to be able to bring him home and give this experience to Indians."
A sneak peak into the menu delves some of Dhamaka's signature dishes, pieced together as regional specialties from all over India. The quintessential & colloquial 'Baingan' the rich 'Saag 'and the irresistible 'Maachi', 'Murg' and 'Mutton' preparations will vie for attention with the house made 'Paneer' the fresh 'Mocha- banana blossoms' and the tender 'Kumb– mushrooms'. Dessert will be the perfectly balanced and not -too sweet Kesar Pista followed by the typical Indian style wrap to a delicious meal, with a juicy and luscious  'Paan'.