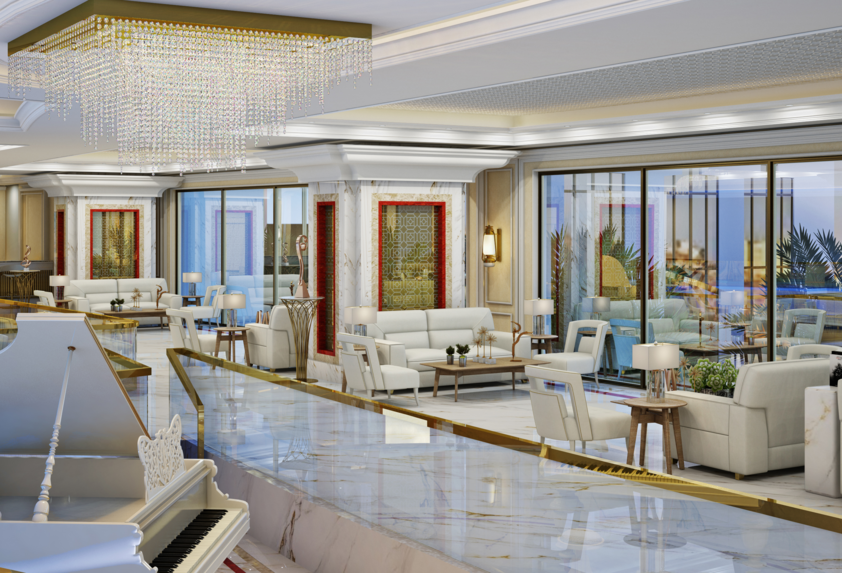 Minor Hotels, a hotel owner, operator, and investor, currently with a portfolio of 530hotels and resorts in 56 countries across Asia Pacific, the Middle East, Europe, the Americas, Africa and the Indian Ocean, continues its commitment to expanding NHHotel Group's brands. The Middle East region will see three NH Collection properties launch in2023 with two in Dubai and one in Doha. In the final stages of development in Qatar, NHCollection Oasis Doha Hotelwillopeninearly2023. The new hotel comprises 299 guestrooms and suites with spectacular views of the Arabian Sea and city skyline.
Facilities will include a largepoolwith its own cascade feature and bar, afitness centre, a kids'club, NH Collection Spa, four padeltenniscourts,a rooftop lounge withimpressivecityviews andone of Doha's largest ballroomsable toaccommodate up to 1200guests. In addition, a beach club and restaurant is scheduled to open later in 2023.The propertyis locatedalongDoha'seastern coast, midway between the city centre and Hamad InternationalAirport, with easy access to attractions such as Souq Waqif,the numerousmuseumsthe city hasto offer,Westbay and Doha Corniche.Inthe United Arab Emirates,NH Collection Dubai The Palmwill launch inFebruary.The 14-storey hotel will feature227 hotel guest rooms and 306 suites,fivedining outletsincluding a rooftop venue and a sports bar,arooftop pool, NH The Spa,five meeting rooms,akids' clubandafully-equipped gym. In addition the hotel will have itsown private beach club.The new-build hotelis in a prime location on Palm Jumeirah, situated on the main trunk next to Nakheel Mall, withkey tourist attractions including Burj Khalifa, Ain Dubai-the world's largest FerrisWheel, DubaiMarina, the Dubai Mall and the recently opened Museum of the Future all a short drive away.
Adding to the expansion of the brand in the Middle East, the 265-keyNH Collection La SuiteHotel Dubaiwas recently announced. The property willoffer a wide range of accommodation options, including guest rooms, suites and one, two and three-bedroom apartments,an all-day dining outlet, lobby lounge, kids' club, meeting spaces, a gym and recreational spaces. Centrally located on Sheikh Zayed Road, the property will be operated by Minor Hotels from Q1next year and will undergo an extensive renovation before being launched with the NH Collection flag laterin 2023."We have been committed to expanding NH Hotel Group's brands outside of their traditional areas of operation and the launch of three NH Collection properties in the Middle East in 2023demonstrates this commitment. This is just the start and we continue to explore opportunities to further grow the footprint of NH Collection, NH and how in the Middle East, the Asia Pacific region,Africa and the Indian Ocean, and I'm confident we'll have more exciting announcements to share soon," commented Dillip Rajakarier, Group CEO Minor International and CEO Minor Hotels. Designed to appeal to both leisure and business travellers, NH Collectionst and formeticulous attention to detail, outstanding services, premium innovative products, as well as offering access to state-of-the-art technology.