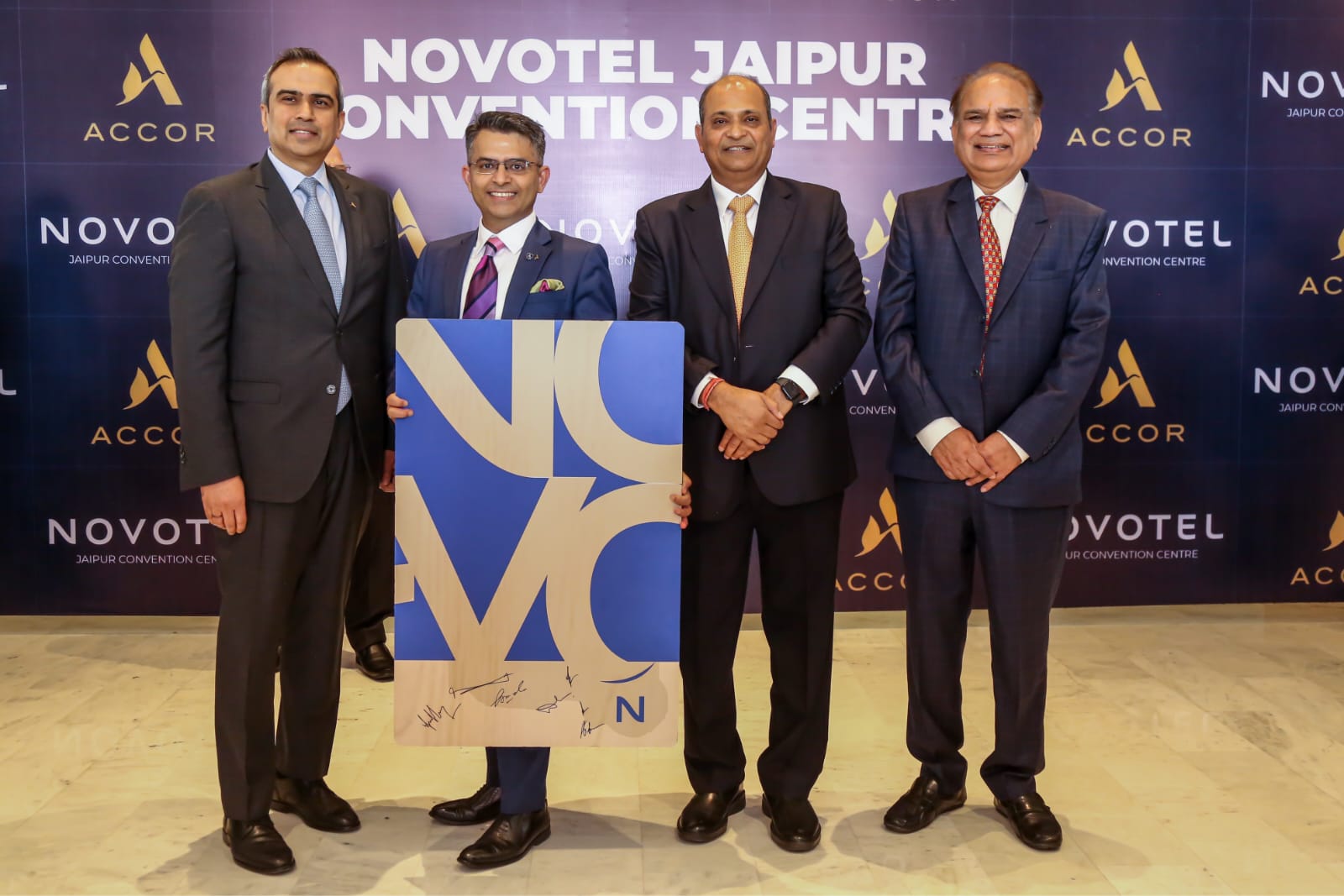 Accor launched its 24th Novotel property in India, with the opening of Novotel Jaipur Convention Centre (NJCC). The hotel is located in close proximity to the Jaipur Exhibition & Convention Centre (JECC). Novotel Jaipur Convention Centre broads 226 modern, well-appointed rooms, catering to the diverse needs of every guest. The rooms offer essential amenities and a tranquil hospitality experience. The hotel and exhibition centre spreads over an area of 42 acres with South Asia's leading pillar-less exhibitions-convention-entertainment facilities. It has 13 breakout meeting rooms, a VIP Lounge, 2 Green Rooms and a Grand Ball Room with modern technology with 740 retractable auditorium style seats, making it ideal for conferences, exhibitions, gatherings, and weddings. With its enchanting 70,000 sq. ft. lawn, Novotel Jaipur Convention Centre offers an exquisite venue for celebrations and special events, adding a touch of elegance to any occasion.
"We are thrilled to announce the grand opening of the Novotel Jaipur Convention Centre in the vibrant city of Jaipur. This latest addition to our portfolio in India strengthens our commitment to delivering cutting-edge amenities and services. The Jaipur Exhibition Convention Centre represents a valuable expansion that is poised to fuel the growth of the Accor in India, further solidifying our position as a leading provider of large-scale exhibition and convention venues in the country." said Puneet Dhawan, Vice-President, Operations, South Asia, Accor in India.
"The opening of this beautiful property is a harmonious combination of contemporary design and world-class event facilities, marking a new and exciting journey for Novotel in the Pink City. With a strategic location, we will be truly a one-stop destination for world-class exhibitions, conferences, and events. The property provides heartfelt service, comfortable yet stylish accommodations and shared spaces in a relaxing and friendly atmosphere." said Manuj Ralhan, General Manager of Novotel Jaipur Convention Centre "We are thrilled to welcome guests to experience the unparalleled hospitality at Novotel Jaipur Convention Centre."
Jaipur Exhibition & Convention Centre (JECC) has 2 large pillar-less exhibition halls, with an area of 1,06,347 sq. ft. each and a 43-feet high ceiling connected through a common entrance plaza with an extensive PreFunction area, large open spaces, and a food court, further offering 22 acres of open space to host outdoor entertainment events. The exhibition centre has a parking space, that can accommodate up to 2,000 coaches or 5,000 cars, providing an ideal space for an array of events, including exhibitions, conferences, corporate meetings, entertainment events, seminars, banquets, and social gatherings.
"We are pleased to partner with Accor to manage and operate NJCC and JECC. Their expertise and global reach will act as a catalyst to put Jaipur on the International map and provide impetus to the hospitality sector in the state" said Harimohan Dangayach, Chairman, Dangayach Group.