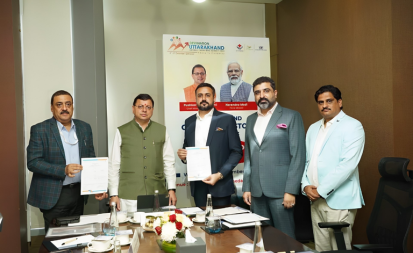 Efcee Hotels, the hotel investment arm of the Leela Group of Companies, has signed a Memorandum of Understanding (MoU) with the Government of Uttarakhand. The MoU was signed at the Uttarakhand Global Investors Summit Road Show in Ahmedabad, paves the way for the development of environmentally responsible hotels at four strategic locations within the state of Uttarakhand. The ceremony was attended by the Chief Minister of Uttarakhand, Pushpaksingh Dhami, and Efcee Hotels' CEO, Nirav Akshay Oza.
Komalkant F. Sharma, Group CMD of Leela Group of Companies, emphasized the group's commitment to Uttarakhand's economic growth and environmental preservation. "Our intention goes beyond hospitality. We aspire to generate substantial employment and adhere to the strictest environmental principles," said Sharma.
Oza, added, "This partnership aims to set benchmarks in responsible tourism and sustainable development, aligning perfectly with both Uttarakhand's ethos and the principles set forth by our Group CMD, Sharma."
Dhami was enthusiastic about the collaboration and said, "This initiative will simultaneously boost our economy and preserve our natural heritage, creating a win-win scenario for all stakeholders."
The project is slated to break ground in the coming year, focusing on local employment and eco-friendly practices.