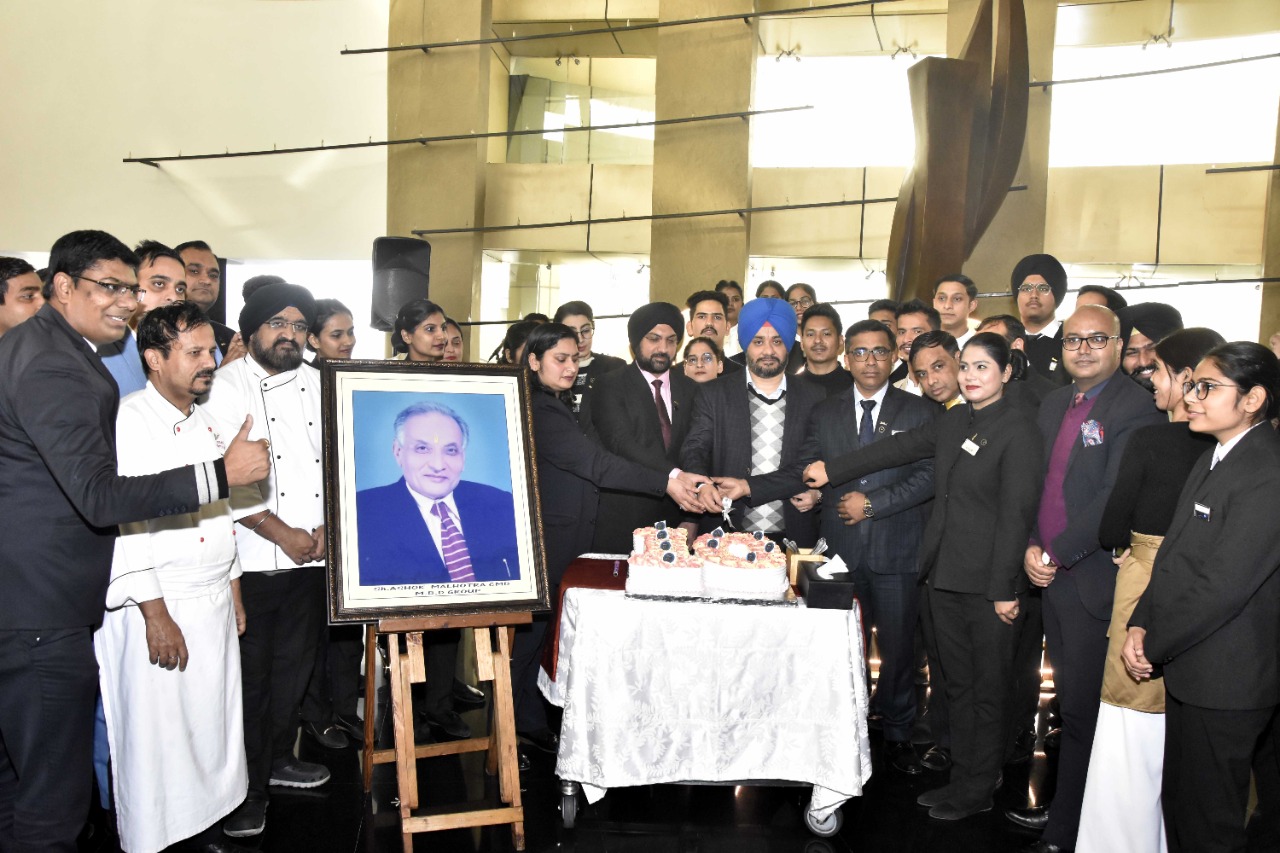 Radisson Blu Hotel MBD Ludhiana, the first five star hotel of the city has completed a decade of providing remarkable hospitality and impeccable services to its guests. Over the last ten years, the hotel has become an iconic landmark in Ludhiana city and has become an epitome of luxury and innovative guest experiences that delight at every step.
In commemoration of this momentous milestone, Radisson Blu Hotel MBD Ludhiana unveiled a series of scintillating celebrations for guests and associates which included exclusive offers on F&B alongwith a video recap of the hotel's growth and achievements over the past 10 years. A cake cutting ceremony was held for in-house guests and patrons to celebrate the 10th anniversary of the hotel and a host of CSR activities were planned for the orphans.
On the occasion, Satish Bala Malhotra, Chairperson, MBD Group said, " As our hotel celebrates 10th anniversary, I would like to wholeheartedly thank everyone who has contributed to the success of the hotel and establishing it as one of the best hotels in Ludhiana. Our guests, employees, business associates and stakeholders have all been part of the wonderful journey in creating numerous memorable and personal experiences. And, following the dynamic vision and values of Sh. Ashok Malhotra Ji, we will continue to create even more memorable moments for guests".
On the occasion, Monica Malhotra Kandhari, Managing Director, MBD Group said, "We at MBD Group feel a sense of joy and celebration with another milestone being reached. We are deeply grateful to those who have supported us in our endeavors so far. We reaffirm our commitment to providing unwavering service to our customers following the footsteps of our founder Shri. Ashok Kumar Malhotra Ji".
Commenting on the special occasion, Sonica Malhotra Kandhari, Joint Managing Director, MBD Group said, " It is a momentous occasion for all of us at MBD Group as we have completed a decade of serving our guests with the finest level of hospitality services. And, as we celebrate this milestone, we are even more committed to provide the best hospitality services and meaningful experiences to our patrons. We would like to express our gratitude towards our patrons for showing immense confidence in us and make MBD Group a great name to reckon with. And, as we progress ahead, we will continue to achieve new benchmarks and spread the light and warmth of hospitality among our patrons".
During the last 10 years, the hotel and its restaurants has received numerous awards for its impeccable services and hospitality. Some of the awards won are "Pride of Ownership Recognition" award, "Iconic Luxury Hotel" by Times Hospitality Icons 2019, "Best Luxury Hotel Award" by HRANI, "Luxury Business hotel" by World Luxury Hotel awards," Best hotel in Ludhiana" award by hotel.com in association with hotel critics and bloggers associations. Also, the hotel's fine dining specialty restaurant Made in India won "Best Hotel Restaurant in India" award by Haute Grandeur Global Excellence among others.