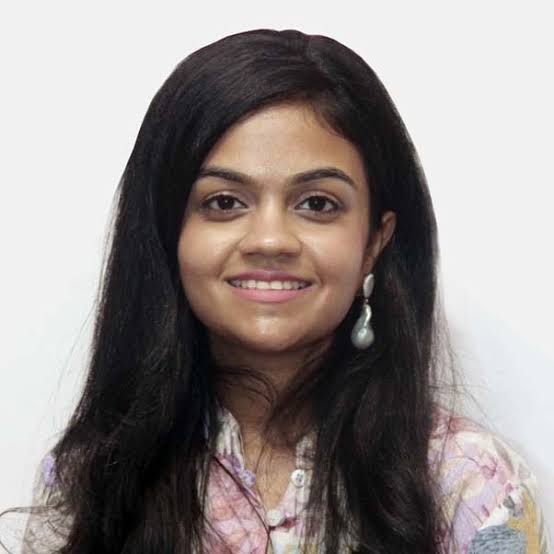 In a bid to recapture its position as a pioneer in the fast food industry, Nirula's has announced an ambitious expansion plan to open over 250 outlets across India by 2023. The renowned fast food chain aims to reclaim its market share, which has been eroded by multinational corporations (MNCs) and new entrants in the industry. The brand currently operates 130+ outlets in the Delhi NCR region, all of which provide the complete ice cream parlour experience alongside a diverse range of food options. Asmita Mukherjee spoke with Sumedha Singhal, Director of Marketing, Nirula's to know their strategy for the rapid expansion.
●
What is the main objective behind
Nirula's
aggressive expansion plan with 250+ outlets in India by 2023?
The main objective behind Nirula's aggressive expansion plan with 250+ outlets in India by 2023 is to regain the market share that has been lost to multinational corporations (MNCs) and new entrants in the industry. Nirula's aims to recapture its position as a pioneer in the fast food industry in India, particularly among the residents of Delhi. As one of the first establishments to introduce concepts like fast food, pizzas, burgers, and ice cream parlors to Delhiites, Nirula's seeks to reclaim its significance and ensure that it receives its fair share of the market. By expanding its presence with numerous outlets, Nirula's intends to reach a larger customer base and compete effectively with other players in the industry.
●
In the Delhi NCR region, how many o
utlets does
Nirula's
currently have, and what percentage of them offer the complete ice cream parlour experience?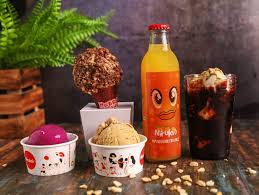 In the Delhi NCR region, Nirula's currently has 130+ outlets. These outlets are distributed across various locations such as clubs (NSCI, Friends Club, Delhi Golf Club, Delhi Gymkhana), physical outlets, and outlets within convenience stores (24/7 and Smart Bazaar). Importantly, all of these outlets offer the complete ice cream parlor experience to customers. Whether you visit a club, a standalone outlet, or an outlet within a convenience store, you can expect to enjoy the full range of ice cream parlor offerings that Nirula's provides.
●
Apart from ice cream, what other food options does
Nirula's
offer in its outlets that ser
ve both ice cream and food?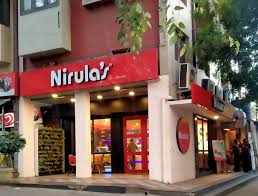 Apart from ice cream, Nirula's offers a diverse range of food options in its outlets that serve both food and ice cream. Approximately 70% of the outlets provide this combination. Nirula's aims to cater to families where each member may have different culinary preferences. To fulfill this objective, the menu includes a variety of cuisines. Customers can enjoy Italian options such as pizzas and pasta, American favoriteslike burgers and chops, Continental delights like momos and sandwiches, as well as Indian dishes like wraps, biryani, and meal bowls. This wide selection ensures that there is something for everyone, allowing families to dine together and satisfy their individual cravings at Nirula's outlets.

●
How is
Nirula's
planni
ng to expand its presence through the shop-in-shop format in convenience stores? Could you please elaborate on your business model?
Nirula's is expanding its presence through the shop-in-shop format in convenience stores and has about 8 outlets in such locations. The strategic focus of these outlets is to cater to late-night binge eaters. As a result, the menu at these convenience store outlets is limited to the ice cream parlorofferings and momos, a popular street food item. By targeting late-night customers, Nirula's aims to provide convenient and satisfying food options for those seeking a late-night snack or treat. This business model allows Nirula's to leverage the existing infrastructure and footfall of convenience stores to reach a broader customer base and meet the specific preferences of late-night diners.
●
Which cities are currently undergoing expansion efforts by
Nirula's
, besides Goa, Kolkata, Jammu, Hyderabad, Pune, and Chennai? What are your future plans for further expansion?
In addition to Goa, Kolkata, Jammu, Hyderabad, Pune, and Chennai, Nirula's is currently undergoing expansion efforts in various cities. These include Bangalore, Mohali, Indore, Moradabad, Patna, Kanpur, and Lucknow.
Looking ahead, Nirula's has plans for further expansion in cities like Goa and Hyderabad, with the goal of launching these outlets by August. Moreover, Nirula's has started targeting airports as well and has already opened outlets in Banaras and Visakhapatnam. The company aims to continue this trend by opening outlets at Udaipur and Vadodara airports before the end of July. These expansion plans reflect Nirula'scommitment to reaching new markets and serving customers in different cities and airport locations.
●
Could you provide more information about the daught
er brands of
Nirula's
, such as Valentino Pizzeria,
BigBoy
Burger, Batter Days, and Café Healthy High?
Nirula's has successfully expanded its offerings through various daughter brands, each catering to specific culinary preferences and health-conscious choices.
Café Healthy High is a recent addition to Nirula's portfolio. It serves fast food in a healthy and guilt-free format, offering options such as whey protein ice creams, quinoa and brown rice bowls, multigrain pizzas, and ragi burgers. This brand appeals to a wide range of customers, from fitness enthusiasts to food lovers who are conscious of their dietary choices.
Building on the success of Café Healthy High, Nirula'slaunched Valentino Pizzeria, specializing in Italian fare, and BigBoy Burger Co., offering an American-style diner experience. These daughter brands were introduced within the existing Nirula's outlets to effectively compete with local competitors and expand the variety of options for customers.
In addition, Nirula's has opened physical outlets for its daughter brands. One such example is Batter Days, a French-style bakery that offers handcrafted artisanal bonbons, fresh breads, French viennoiseries, quiche, sandwiches, cookies, and tarts. This bakery provides customers with a range of delectable baked goods and confections.
Nirula's is also working on launching four other brands in the near future, with plans to introduce them before the end of the year. These expansions highlight Nirula's commitment to offering diverse culinary experiences and catering to the evolving preferences of its customers.
●
How is
Nirula's
developing its catering vertical, and what types of events and services does it cater to? What are the B2B tie-ups that you have? Are there any collaborations or partnerships that
Nirula's
is considering as part of its expansion strategy?
Nirula's has been actively developing its catering vertical since 2021, with Gaurav Gupta leading the initiative. The catering services provided by Nirula's encompass a wide range of events and clientele. Some of the events and services Nirula's caters to include:
Hyderabad House, ITDC, Indian Railways, and DDCA: Nirula's has catered to these organizations, providing food services for their events or establishments.
Luxury car brands: Nirula's has collaborated with luxury car brands to provide catering services for their exclusive events and launches.
Crew catering for concerts: Nirula's provides catering services for the crew members involved in organizing concerts and events.
Additionally, Nirula's has established B2B tie-ups to expand its reach and cater to corporate clients. They have recently partnered with the largest corporate FnB caterer in India and currently serve over 200 meals daily to an IT MNC based in Noida. While the B2B contribution to sales is currently low, Nirula's is actively expanding this vertical.
Furthermore, Nirula's is in discussions to start selling their popular momos and dairy products to larger brands, exploring potential collaborations and partnerships as part of their expansion strategy. These initiatives showcase Nirula'scommitment to diversifying its services, reaching a wider customer base, and exploring new business opportunities.
●
How ha
s
BanyanTree
Growth Capital contributed to the revival and growth of
Nirula's
brand since its acquisition in 2018? Can you please elaborate on funding plans? 
Since its acquisition in 2018 by BanyanTree Growth Capital, Nirula's has experienced a significant revival and growth in multiple aspects. BanyanTree's contributions have been instrumental in driving this progress. Here are some key ways in which BanyanTree has influenced the revival and growth of the Nirula's brand:
Under the ownership of BanyanTree, the number of Nirula's outlets has grown from 26 to 120+ in the Delhi NCR region. This substantial expansion demonstrates BanyanTree's commitment to revitalizing the brand and increasing its presence in the market.
BanyanTree has facilitated Nirula's expansion beyond the Delhi NCR region. The brand has successfully entered new cities like Bangalore, Indore, Mohali, Moradabad, Bahadurgarh, Patna, and Kanpur, enabling the brand to reach a wider customer base and tap into new markets.

BanyanTree has played a significant role in expanding the menu offerings at Nirula's. The ice cream menu, for instance, has been expanded threefold, introducing items like fruit coolers, doughnuts, and an extensive range of 51 flavors of ice cream. Moreover, the overall menu has expanded fivefold, incorporating popular items such as momos, wraps, biryanis, and pasta. These additions have enhanced the variety and appeal of Nirula's offerings, catering to a broader range of customer preferences.
Regarding funding plans, specific details are not available as they may be subject to the internal strategies and decisions of BanyanTree Growth Capital. However, it can be inferred that the significant expansion efforts and menu enhancements undertaken by Nirula's since its acquisition indicate the availability of funding to support the brand's growth and development under BanyanTree's ownership.