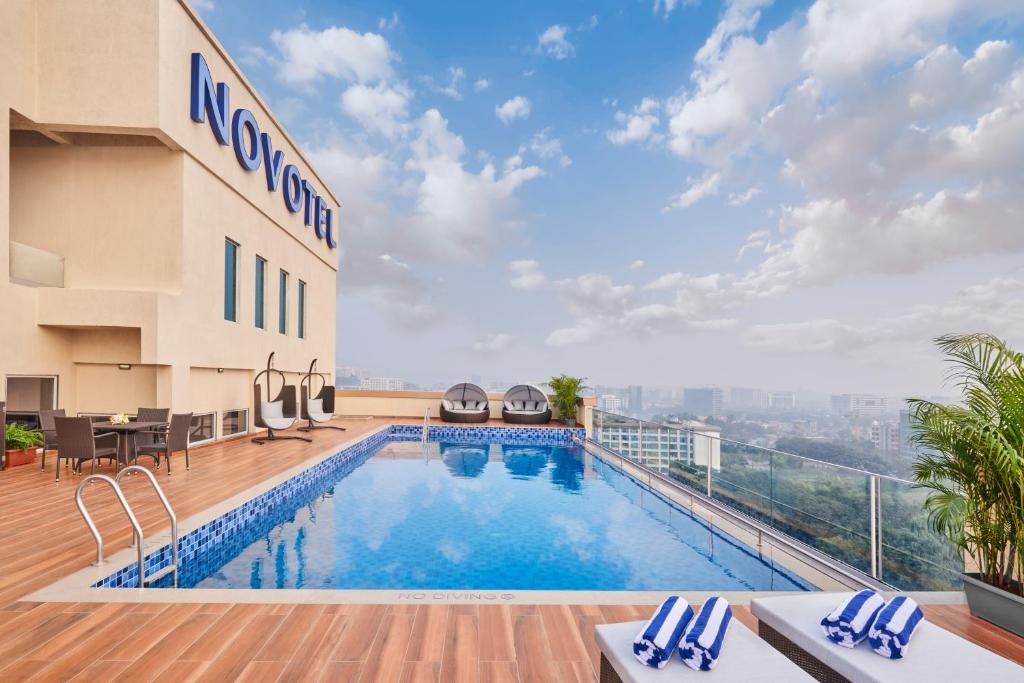 Asmita Mukherjee | Mumbai
Nestled at the hustling and bustling business junction of Andheri-Kurla road in Mumbai, Novotel Mumbai International Airport Hotel is the new kid on the block. The 268 Keys hotel is situated just 2 km away from the T2/International Airport of Mumbai and is easily accessible from the city's Western and Eastern Express Highways. With futuristic architecture, a magnificent lobby, ample gastronomic options, an infinity pool with a city view and world-class hospitality, the newly launched hotel is giving a tough fight to its competitors in the vicinity. The hotel can be the perfect choice for corporate travellers, FIT, and transit passengers.
On a short trip to Mumbai, we had a chance to stay at the newly opened hotel which  not only boasts big rooms of 34 square metres but has large conference halls consisting of 16,500 sq. ft. of spectacular meeting and event spaces. After finishing the check-in process, we had a refreshing welcome drink which got us ready for a room tour.
The rooms are exceptionally big and the décor is inspired by the local culture and attractions of Mumbai. One can have impressive views of the Mumbai International Airport and Airport Road Metro Station from the hotel. The use of big wallpapers of Dabbawalas, the iconic Dhobi Ghat and Juhu Beach makes one feel the true essence of 'Amchi Mumbai'. The amenities include 43-inch TVs, glass-enclosed rain showers, a coffee maker, a mini-fridge, and work desks along with multimedia panels. The new-age hotel has introduced Wi-Fi 6 at the hotel, which is the next-generation wireless standard and that makes them amongst the first hotels in the country that introduced Wi-Fi 6.
We found that the gastronomic options are plenty at the hotel; Gourmet Bar located near the lobby area offers popular global and local cuisines, another restaurant Food Exchange offers a scrumptious Buffet menu and lastly chic designed – 190 AMSL By Novotel offers yummylicious Continental, Mexican, Chinese, North Indian dishes along with an extensive bar menu.
At the Gourmet Bar, we ordered a lip-smacking Multigrain Spiced Lamb Burger made up of a big Lamb patty wrapped with Bacon, Lettuce, Tomato, Cheese, and Gherkins. The jumbo burger came with French fries and Dips. The wholesome burger could easily alternate a meal.
During my few hours of stay at the hotel, I witnessed the great efforts taken by the hotel towards sustainability. Instead of plastic bottles, one can find glass bottles in the rooms. The Mini Toiletry Kits had also been replaced by refill bottles of shampoo, conditioner and shower gel, which were pretty convenient. Also, the hotel has replaced toothpaste with tooth tablets which are a plastic-free, zero-waste alternative to a traditional tube of toothpaste.  All in all, we had an extremely comfortable stay at this new hotel which not only does good business but also has an equally sharp focus on achieving sustainability measures.