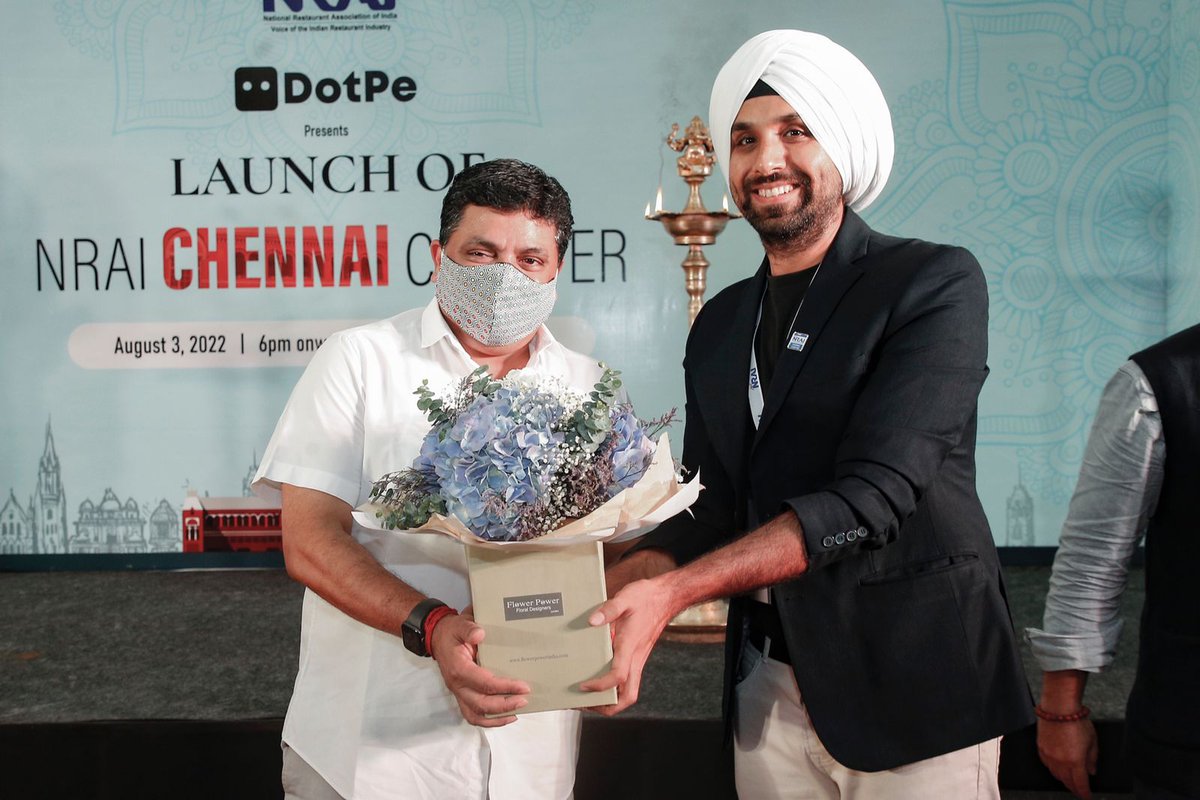 The Chennai Chapter of the National Restaurant Association of India (NRAI) – the Voice of the Indian Restaurant Industry, was formally unveiled by the Chief Guest Dr. Palanivel Thiaga Rajan, Hon'ble Minister of Finance & Human Resource Management, Tamil Nadu on 3rd August at Crowne Plaza; in the presence of Kabir Suri, President, NRAI; Rahul Singh, Past President & Trustee, NRAI; Sagar Daryani, Vice-President, NRAI; Japtej Singh Ahluwalia, NRAI Chennai Chapter Head; Vignesha Gurudas, NRAI Chennai Co-Chapter Head and Prakul Kumar, Secretary General, NRAI. The National Restaurant Association of India, founded four decades ago in 1982, represents the interests of 5,00,000+ Restaurants, QSRs, Bars, Cloud Kitchens and Catering, an industry valued at over INR 4,23,865 Crores.
Speaking on the occasion Dr. Palanivel Thiaga Rajan said, "The launch of NRAI Chennai Chapter is going to be a very progressive step to strengthen the Restaurant Fraternity in Chennai. Globally, the Food Services Industry was amongst the hardest hit by COVID-19 pandemic, with India being no exception. I am glad that through this Industry Association Chapter, the Chennai Restaurant Fraternity will get required support and guidance." He assured the gathering of Government support for any challenges the Hospitality Industry faces.
The formal launch of NRAI Chennai Chapter by the Chief Guest was followed by two remarkable panel discussions. The title of the first panel discussion was 'ICONS of the South – Building Businesses that last a generation with esteemed speakers like KT Srinavasa Raja (Managing Director, Adyar Ananda Bhavan), Kumaaravelan & Prasanna Venkatesh (Founders of Madras Coffee House); Balachander R (Director, Junior Kuppanna). It was a very interesting panel where legendary speakers shared their success stories, learnings & strategies of building iconic brands.
The second panel titled 'F&B Industry in India and why a body like NRAI is so relevant in today's times' was moderated by Nikesh Lamba & Sandesh Reddy with esteemed panelists like Kabir Suri (President, NRAI; Co-Founder & Director, Azure Hospitality Pvt. Ltd.); Rahul Singh (Past President & Trustee, NRAI; Founder & CEO; The Beer Café) and Sagar Daryani (Vice-President, NRAI; Co-Founder & CEO, Wow! Momo). Through this informative and knowledge sharing panel, Industry Stalwarts deliberated on the Industry Issues and significance of the Association for the Restaurant Fraternity.
NRAI has been at the forefront and leading the Indian Restaurant Industry to greater profitable growth, besides representing interests of members through advocacy, training, research and industry events. The Association, at the National level, has been relentlessly advocating changes in the laws governing the Indian Restaurant Industry at Local, State and Centre levels; providing opportunities to educate members and is playing a key role in promoting skilling and career opportunities for industry professionals through the Hospitality Sector Skill Council.
The NRAI Chennai Chapter, which currently has about 500 members and intends to have 2000 members on board in a year's time and later spread its wings across Tamil Nadu. The Association aims to place Chennai firmly on the national map and shall focus on positively building the Food Service Industry. As per NRAI India Food Services Report 2019, the Organized Market Share of Restaurants in Chennai is INR 9,266 Crores with Standalone Restaurants market share as INR 5,730 crores and Chain Restaurants at INR 3,536 crores.
"As an Association, we hope to be the voice and focal point to coordinate groundwork and actions pertaining to Government issues, regulations and representations, facilitate the exchange of knowledge, experience, and passing of information related to various essential compliances/requirements by conducting seminars and knowledge sessions with the industry experts, says Japtej Singh Ahluwalia, Chapter Head, NRAI Chennai Chapter."
One of the areas, NRAI Chennai Chapter intends to give strong impetus is attracting investments into the F&B sector, commensurate to Chennai's growing stature and encourage national and international brands to actively foray into this rapidly expanding city with global prominence. The Chapter will simultaneously give fillip to locally developed brands to go national and global.
"Locally, the Chapter apart from helping raise service standards through training workshops, will work towards building a strong platform for right vendor management and develop social impact initiatives to ensure the industry grows with its heart in the right place, says Vignesha Gurudas, Co-Chapter Head, NRAI Chennai Chapter. "
Speaking on the event, Anurag Gupta, Co-Founder, DotPe said, "We are delighted to be the lead sponsor for NRAI's Chennai Chapter launch. DotPe & NRAI have always been at the forefront of working towards the betterment of India's Restaurant Owners. As technological revolution in the F&B Industry reaches new heights & sees increased adoption, we are proud to be leading this transformation with our flexible tools that connect the front of house with the back of house and integrate everything a restaurant owner needs to run his restaurant. Here's to more power to every entrepreneur in India!
Industry's expectations from Government
The industry has high expectations from both the Central and State Governments, especially to revive the Industry after the severe impact of pandemic on the Hospitality Sector. Some of the measures the industry expects from the Government to provide immediate succor are – Ease of Doing Business from over regulation and excessive licensing; Restoration of Input Tax Credit (ITC) under GST and to have a fair & equitable E-Commerce Policy.
Globally, the Food Services Industry was amongst the hardest hit by COVID-19 pandemic, with India being no exception. In FY21, Indian Food Services Industry contracted severely leading to permanent closure of over 25% of Food Business Operators which resulted in job losses of nearly 24 Lakh people. In FY21, the Food Services Industry in India declined by 53% and was estimated to be worth INR 2,00,762 Cr, compared to INR 4,23,624 Cr in FY2020. In FY22, the Food Services Industry is expected to recover and reach a size of INR 4,72,285 Cr. The industry employs ~73 Lakh people and is one of the largest employment generators for the economy.