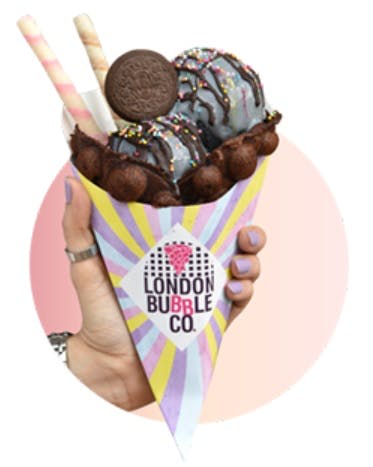 Saurabh Rathore stepped on the path of entrepreneurship in 2017 through Gobble Me Good (GMG), a dynamic Food & Beverage Franchise Management Company, with an aim to bring a myriad of flavours from across the world and spin them to suit the Indian palette. The first venture of GMG was London Bubble Co., which successfully fulfilled Rathore's aim and has been spreading across the country. Asmita Mukherjee spoke with Rathore, Founder and CEO of GMG to know more about the concept behind London Bubble Co. and his future plans.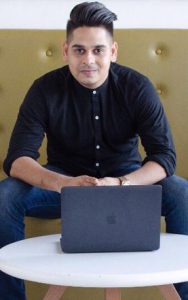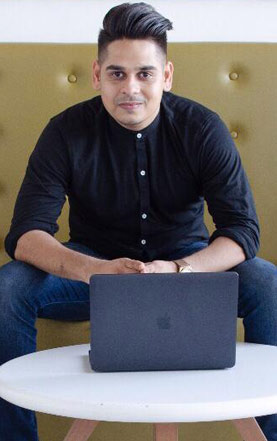 What is the USP of the London Bubble Co.'s menu?
London Bubble Company specialises in offering a wide array of unique waffles and beverages with a spin. After being introduced to bubble waffles in London, I wanted to bring this aesthetically pleasing trend to the Indian market at a pocket-friendly price. In India, waffles were looked upon as an expensive dessert and reserved for special occasions. Our USP is in being able to provide them at prices which are as low as traditional waffles by leading brands making them an all-time dessert. To this effect, we have recently introduced the price of waffle to INR 59, as it will now be affordable for all. We also introduced the Instagram-worthy black waffle called the Black Jack served with black charcoal ice cream.
Recently you launched your 50th store at Charni Road, Mumbai, and also announced to have 200 stores within 2020. How do you plan to fund such an expansion?
Currently, we are working towards bringing one international brand and three unique home grown brands into our fold. Our goal is to introduce newer concepts from around the world to the Indian palate. By 2020, we expect to open 200 outlets across the globe, introducing a myriad of continental flavours to a variety of cities. We are at 50 outlets and looking to grow aggressively to newer territories this year. London Bubble is currently present and flourishing across major cities like Mumbai, Chennai, Kolkata, Indore, Hyderabad, Ahmedabad, Rajkot, and Pune. We are planning to reach the markets of Delhi NCR, Rajasthan, Punjab, Uttar Pradesh, and Bangalore. On the international front, we are looking to set up around 25 units spread across Mauritius, Qatar, Sri Lanka, Bangladesh, and East Africa by mid-2020.
Gobble Me Good has been an entirely self-financed company so far. I started it with an initial capital of INR 50,000 and now over time, have managed to have a cumulative turnover of INR 7 crores. Over the next 6 months, we are projected to multiply this amount by two folds with more outlets opening up. With our focus on setting up presence in more regions both nationally and internationally, we do have plans to invite investors into the GMG family in the future.
Kindly brief us about London Bubble Co's business model?
London Bubble Co follows the franchise model for operations. Currently, we have 50 outlets and we are actively looking to expand to more untapped regions this year. We have outlets across the country and internationally as well. Waffles, bubble tea, bubble waffles, gelatos etc. are no new inventions. It's just that no QSR brand has attempted them before. They were largely found in Cat A hotels, restaurants, clubs, lounges, etc. My vision was to make this a mass product. The only way I could achieve that is by means of standardisation, making it commercially viable, and most importantly by scaling it. It took us a good 6 months to work our way around the pricing and getting the standards in place. Once the product was ready, I wanted to capitalise on the timing, and avoid any duplication. Thus, the idea of carpet bombing stores in every metro, small town, tier I cities and tier III cities made more sense. I somewhere knew that the only way possible is if either I personally put in a huge investment (which would be a risk on my part) or have investors come on board and use simple methodology of franchising. I chose the latter, and since then we haven't looked back. I think franchising is the only solution to achieve such tremendous results in a short time span.
Which city contributes the most to London Bubble Co.'s revenue?
London Bubble Co has 50 outlets till date with a strong presence in Tier I cities. We are currently expanding to Tier I cities as well and introducing the concept of bubble waffles to a wider audience. With our first outlet in Juhu and now, our 50th outlet in the same city, our largest revenue stream comes from this urban city owing to the heightened brand and product awareness in the region.
Online channel partners (Uber Eats, Zomato, Swiggy etc.) contribute to what percentage of sales, as compared to retail store sales?
Online delivery channels have truly transformed the restaurant industries. We are now able to tap into a target audience that would otherwise be considered as missed opportunities through these apps. Currently, our sales are divided into a 50-50 ratio between retail store and online sales.
asmita.mukherjee@saffronsynergies.in