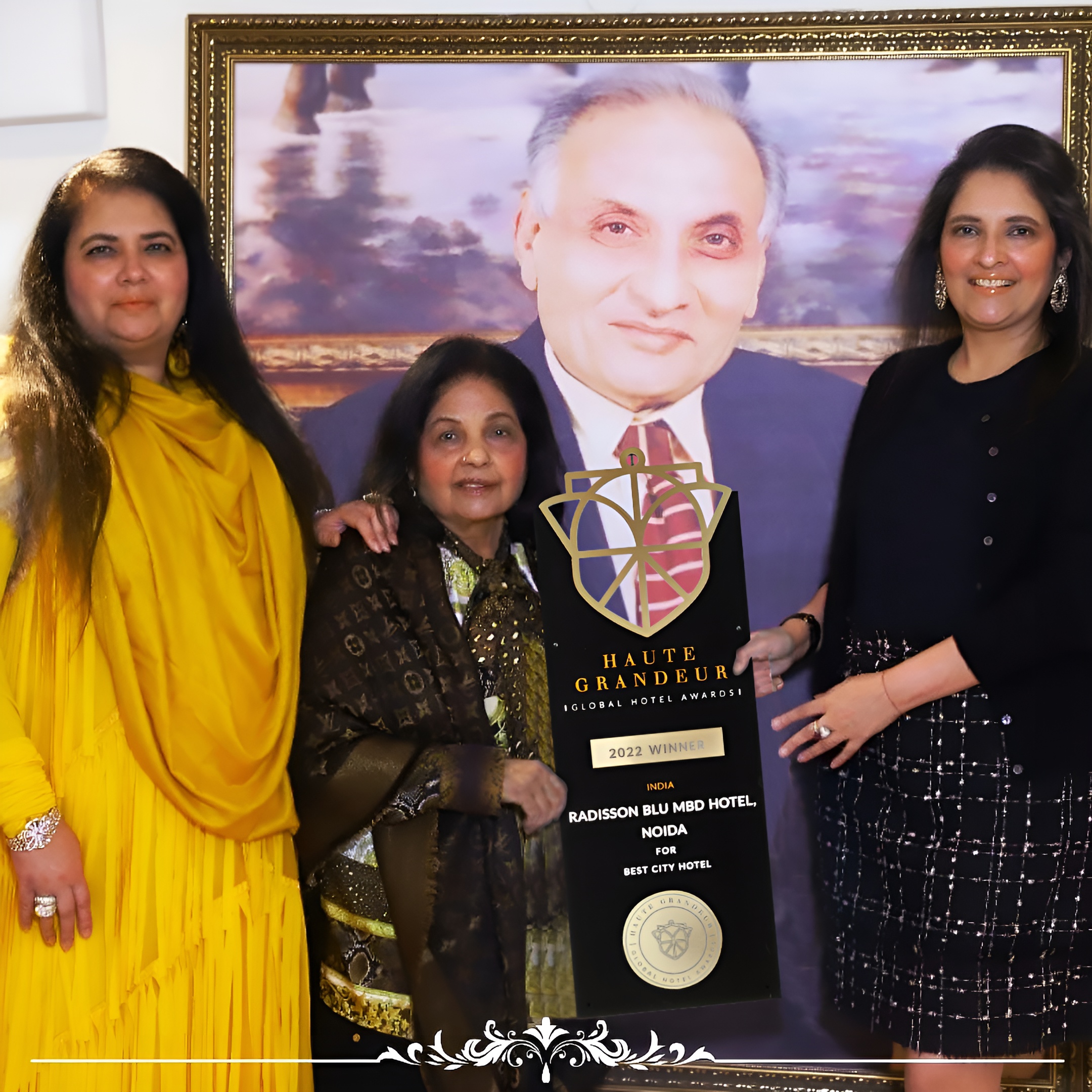 Radisson Blu MBD Hotel Noida has once again asserted its top position in the hospitality sector by winning the "Best City Hotel" award at the Haute Grandeur Global Hotel Awards 2022. This award was given to the hotel in recognition of reinforcing its reputation for exceptional service, bespoke design and luxury offerings.
Speaking on the achievement,  Sonica Malhotra Kandhari, Joint Managing Director, MBD Group said," Throughout our journey, we have tirelessly worked and dedicated ourselves towards providing world class and exemplary service to our guests. This award is a testament of our efforts for delivering exceptional experiences and impeccable service in the hospitality sector. We are delighted and humbled to receive this award and will continue to work towards providing signature and memorable experiences to our guests".
Radisson Blu MBD Hotel Noida, Noida's first boutique-luxury hotel has completed 19 remarkable years of exemplary service and operations this year. It was the vision of the Founder Shri Ashok Kumar Malhotra that MBD Group from being an education conglomerate decided to enter hospitality sector on 21st November 2003 and launching "Radisson Blu MBD Hotel Noida". The hotel has continued to evolve to provide bespoke luxury, immaculate service and elevating the guests' experiences in all aspects. Tapping into the ever-shifting pulse of society, the innovative design and awe-inspiring heritage interwoven in colonial elegance has made the hotel as the most distinguished address situated in the heart of the Capital.
Throughout its distinguished tenure, the hotel has created new benchmarks and got numerous awards & accolades for its exceptional performance and hospitality services and become a name to reckon amongst Radisson hotels in Asia Pacific. Recently, the hotel was conferred "Centre of Excellence Recognition' by the Radisson Hotel Group. In 2019 alone, Radisson Blu MBD Hotel, Noida, won "Pride of Ownership Recognition" and the "Pride of Ownership" by the Radisson Hotel Group along with 'Haute Grandeur Global Excellence Awards for "Best Business Hotel and 'Best Design Hotel. The hotel has been featured amongst the top 100 Best Business Hotel in India by Conde' Nast Travelers. The hotel has also got inducted into the "HT Hall of Fame" and has won multiple awards year on year for its celebrated Food and Beverage restaurants at Times Food & Nightlight Awards and also crowned as the "Best Business Hotel" by Lonely Planet Travel & Lifestyle 2017. The hotel has also been awarded as Centre of Excellence- 2019 & 2021 and have been consistently awarded as the most loved property over the years according to TripAdvisor. The hotel has been the top performing hotel and being the number one in the competition set.
The Haute Grandeur Global Restaurant Awards recognize remarkable achievements in delivering consistent, exceptional experiences in the global luxury hospitality industry. The award honor establishments that continuously excel through remarkable dining experiences, amazing food with a combination of the setting, ambience and presentation playing a key role in the overall guest experience.