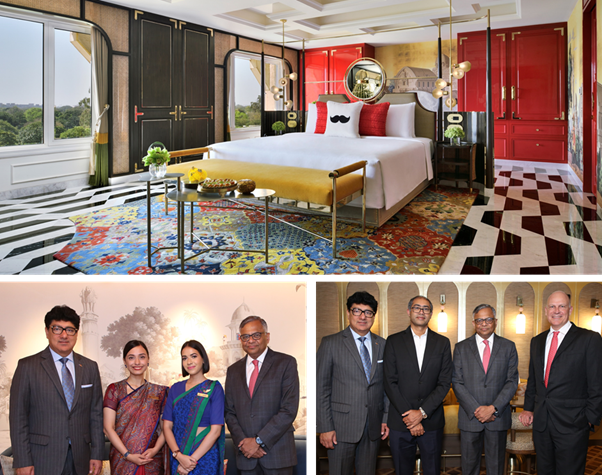 Indian Hotels Company (IHCL) has introduced The Maharaja Suite at the Taj Mahal in New Delhi, paying tribute to Air India and welcoming the national carrier back to the Tata group. The suite takes guests on a journey through time with a uniquely themed master bedroom, dining room, enclosed balcony lounge, and study paying homage to the pioneer of Indian aviation. The specially-commissioned furniture and artworks feature the characteristic style, wit and warmth of the Maharaja, with aviation aesthetics in the airplane-styled windows, lounge chair, luggage elements and the deep red in the doors and ceiling.
Puneet Chhatwal, Managing Director & Chief Executive Officer, IHCL, said, "Taj, with its rich legacy for over a century, has always been renowned for pioneering innovative concepts. We are proud to bring this distinctive experience of The Maharaja Suite starting with New Delhi. As Air India takes flight to gateway cities around the world, Taj will partner their journey to offer the world -class Indian hospitality that it is known for."
Campbell Wilson, CEO and MD of Air India said, "It will stand as a strong reminder of Air India's history even as we transform the airline to become, once again, amongst the best in the world." The Maharaja Suite was designed by Bobby Mukherji and Associates and marks the completion of the renovation of the Taj Mahal, New Delhi.