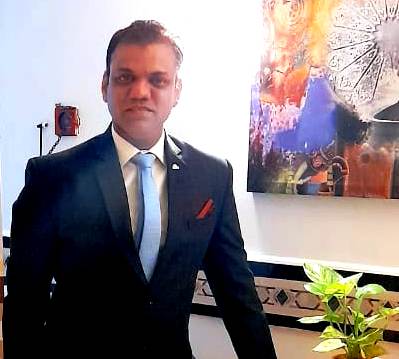 Shailendra Dharme has been appointed as the Corporate Learning & Development Manager of Pride Group of Hotels, India. With over 16 years of experience across multiple brands like Taj Hotels, ITC Hotels, Radisson Hotels Worldwide, McDonalds India, Orchid Hotels, Ananta Hotels, and Sarovar Hotels & Resorts, Shailendra has showcased his skills and talent at numerous events and platforms over the years. He was also awarded the "Trainer of the Year" award in July 2022.
He holds a Hotel Management Degree from SBT HMCT Nagpur, completed post graduation at the University of Pune, and is also certified by the Advanced Train the Trainer programme at IIT Roorkee. He has also worked as an Assistant professor at the University of Pune.
Shailendra Dharme has began his career in the Food and Beverage industry in 2006 with Taj Hotels & Resorts, later joined Mcdonalds India as Management Trainee. Over the next few years, he worked in a variety of hotels before transitioning to learning and development. In 2013, he joined ITC Fortune Bella Casa Jaipur as training manager; later in 2015, he joined Radisson Blu Jaipur as learning and development manager; in 2017, he joined Ananta Hotels & Resorts; and in 2019, he joined Sarovar Hotels & Resorts as regional training manager to oversee all of western India.In his recent appointment, he will be taking care of Learning & Development responsibilities for the entire Pride Group of Hotels.
Pride Group of Hotels operates in 5 different brands, Pride Plaza, Pride Suites, Pride Resorts, Pride Hotels & Pride Biznotels has more than 52 Properties including signed one, and also upcoming properties at many locations like Agra, Daman, Bhavnagar, Aurangabad etc with a vision to reach 100 hotels by 2030. On his appointment, Shailendra Dharme says, "I am delighted to begin my wonderful journey at Pride Group and be a part of this wonderful Success Journey." I believe that there's always a way if you're committed, and I'm looking forward to serving the hotel and our guests, and progressing further at Pride through strengthening employee development and training processes, as learning and development play a major part in today's scenario.