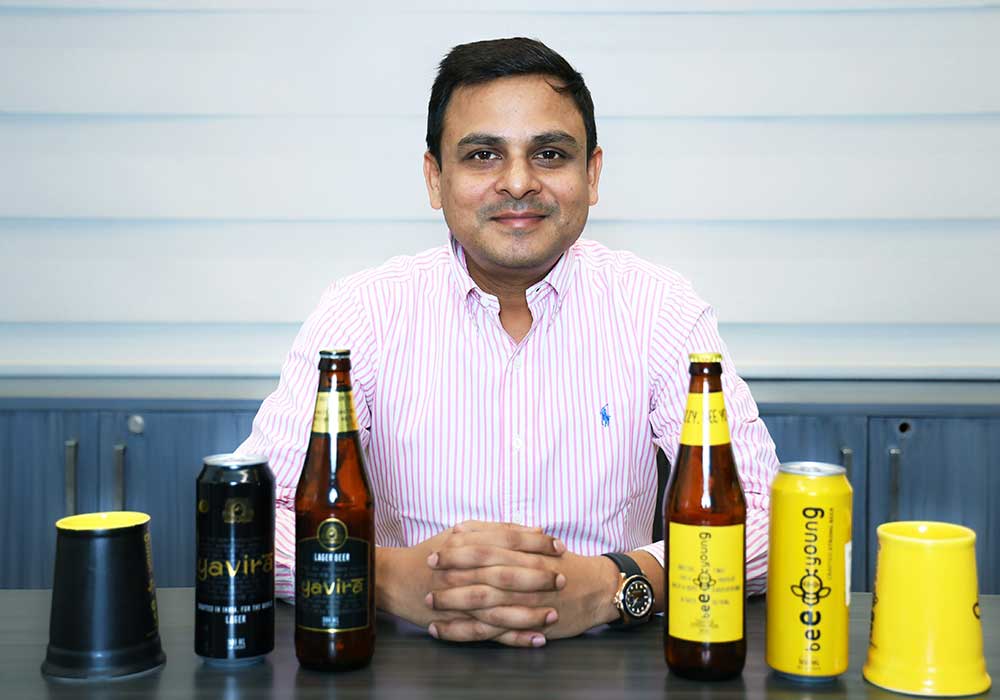 According to a report, the India beer market stood at a value of nearly INR 371 billion in 2020. The industry is further expected to reach approximately INR 662 billion by 2026, exhibiting an estimated CAGR of about 9.2% during 2022-2027. Abhinav Jindal, CEO, and Founder of Kimaya Himalayan Beverages is on the path to capturing this burgeoning Indian beer market with new offerings. Building upon this strategy, his brand has recently launched a new product – BeeYoung, which is also India's first crafted strong beer.
Speaking about the unique offering, Jindal said, "We were the pioneers in introducing a 500ml bottle pack size in India, to make beer lovers aware of the adequate quantity to be shared and consumed at the right temperature (a 500ml bottle does not lose the temperature halfway through). We aim to premiumise the strong beer segment in the country by introducing a craft product in the strong beer segment. Our latest offering BeeYoung is India's First Crafted Strong Beer."
Jindal said that as a brand they aim to offer products that are unique in terms of taste, concept, and audience perception. "It is an affable product with honest pricing which is creating a niche for itself in the market. The crisp and citrusy taste notes with invigorating flavors set BeeYoung apart. It perfectly complements a celebration or any vibrant, energetic, and adventurous milieu," he added.
While the Indian beer market is growing in numbers, companies offering beer are mushrooming across the country. To beat the competition, Jindal said that the brand is focusing on its distribution network to make the brand available across the country. "Given the current growth rate of the beer market in India, we are seizing the opportunity by strengthening our distribution network to generate greater revenue. We are working towards expanding to newer territories, capitalizing on the existing audience and the likability of our current offering, BeeYoung. This opportunity has also seen various marketing tie-ups/avenues exclusively curated for beer brands, through which we are getting the chance to acquire a newer audience as well,' he said.
Informing about the product pipeline Jindal said, "We would be launching a new variant in the craft beer segment, which we shall disclose soon."
The brand is optimistic to sell a million cases at a minimum for this year. Jindal shared their growth plans by adding, "Kimaya's growth for FY 21-22 over FY20-21 has been 30%. Given that we've for the first time got a full beer season, we expect this year's growth at about 50% or more. Also this year we'll be doing at least a million cases if not more."
asmita.mukherjee@saffronsynergies.in
asmitamukherjeehbiz@gmail.com