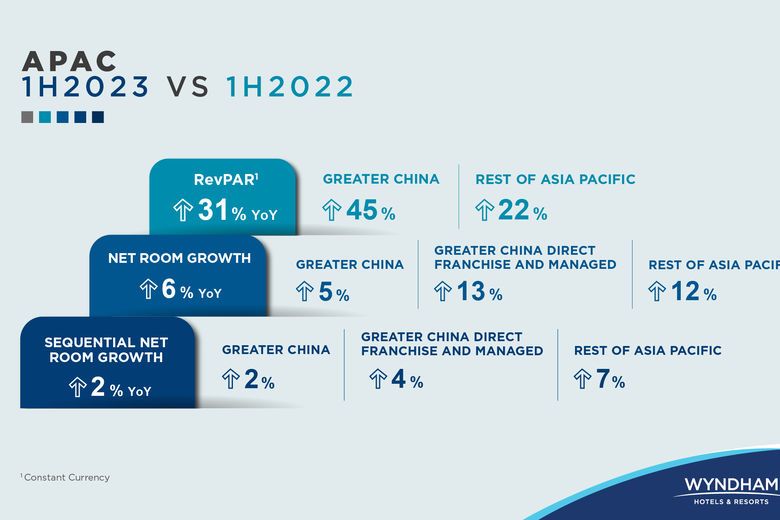 According to sources, Wyndham Hotels & Resorts has announced strong growth momentum in the Asia Pacific region for the first half of 2023 (1H2023). With approximately 9,100 hotels in over 95 countries, Wyndham has been increasing its offerings for guests and owners throughout the region.
The outstanding performance in 1H2023 was attributed to three significant factors: the resurgence of bleisure travel in Asia Pacific, a rebound in domestic and international travel demand in Greater China, and the introduction of exciting new brands and hotels in strategic markets across the region. Guests were drawn to the appeal of Wyndham's brands, while the highly user-friendly Wyndham Rewards program kept them engaged within the Wyndham ecosystem. At the same time, owners experienced the strength of Wyndham's commercial and operational support, driving demand and growth.
During this period, Wyndham achieved remarkable results, marked by the opening and signing of hotels, including flagship Wyndham, all-inclusive Wyndham Alltra, and TRYP by Wyndham brands. This expansion led to an impressive 6% increase in Wyndham's room capacity across the Asia Pacific region.
Furthermore, the company achieved a 31% increase in revenue per available room (RevPAR) in constant currency during the first half of 2023. This notable success was the result of strong guest and owner loyalty, coupled with the resumption of leisure and business travel in the region.
The first six months of 2023 witnessed several significant milestones for Wyndham as it introduced iconic brands like Wyndham Grand, Wyndham, Wyndham Garden, and TRYP by Wyndham in popular destinations such as Singapore, Wellington (New Zealand), and Phu Quoc (Vietnam). The company also made its entry into new countries through hotel signings and openings.
These milestones included the signing of the first Wyndham hotel in Singapore, Peninsula Excelsior Singapore, a Wyndham Hotel, with 591 rooms. The hotel, after a multi-million-dollar renovation, will officially open as Wyndham Singapore in 2024. Additionally, Wyndham Alltra, Cat Ba, became the first all-inclusive resort in the Asia Pacific with 300 rooms, and Wyndham Grand Phu Quoc, the largest Wyndham Grand globally with 1,399 rooms, opened as the first Wyndham in Phu Quoc and 15th hotel in Vietnam. The 921-room Wyndham Garden Phu Quoc became the largest Wyndham Garden globally and the first in Phu Quoc, while TRYP by Wyndham Tory Street Wellington became the first TRYP by Wyndham in New Zealand with 77 rooms.
The company's momentum continued with additional hotel signings and openings across the portfolio. In Thailand, Wyndham strengthened its presence with the signing and opening of Ramada by Wyndham Bangkok Sukhumvit 11 and Ramada by Wyndham Bangkok Ten Ekamai Residences, its 21st and 22nd hotels in Thailand, and 8th and 9th, respectively, in the city of Bangkok. In Greater China, Wyndham ventured into new deals and openings, including the third Wyndham and 32nd property in the city of Shanghai, Wyndham Shanghai Nanxiang, which opened in April.
Throughout these achievements, Wyndham extended unprecedented support to owners, partners, and loyal guests through various commercial initiatives, such as the 'Work, Play & Stay' campaign catering to the rising demand for bleisure travel. The celebration of Wyndham Rewards surpassing 100 million enrolled members also contributed to attracting more guests to book future stays with Wyndham.
The current brand portfolio in the Asia Pacific region consists of 14 brands with over 197,000 rooms, reaffirming Wyndham's commitment to making hotel travel possible for all and catering to diverse market segments.
The hotel franchising business model continues to gain popularity among potential owners in the region, driven by Wyndham's unparalleled support in driving demand and portfolio growth. The company's global franchising expertise and the immensely popular Wyndham Rewards program with over 103 million members worldwide have provided owners with a centralised operational support system, maximizing their top-line profitability.
With the tourism industry's increasing stability, Wyndham remains optimistic about introducing new brands in Asia Pacific to meet the evolving aspirations of hotel owners and guests alike. The company is set to further evolve its brand portfolio, strengthen development and opening pipelines, and continue its journey towards sustained growth for the foreseeable future.