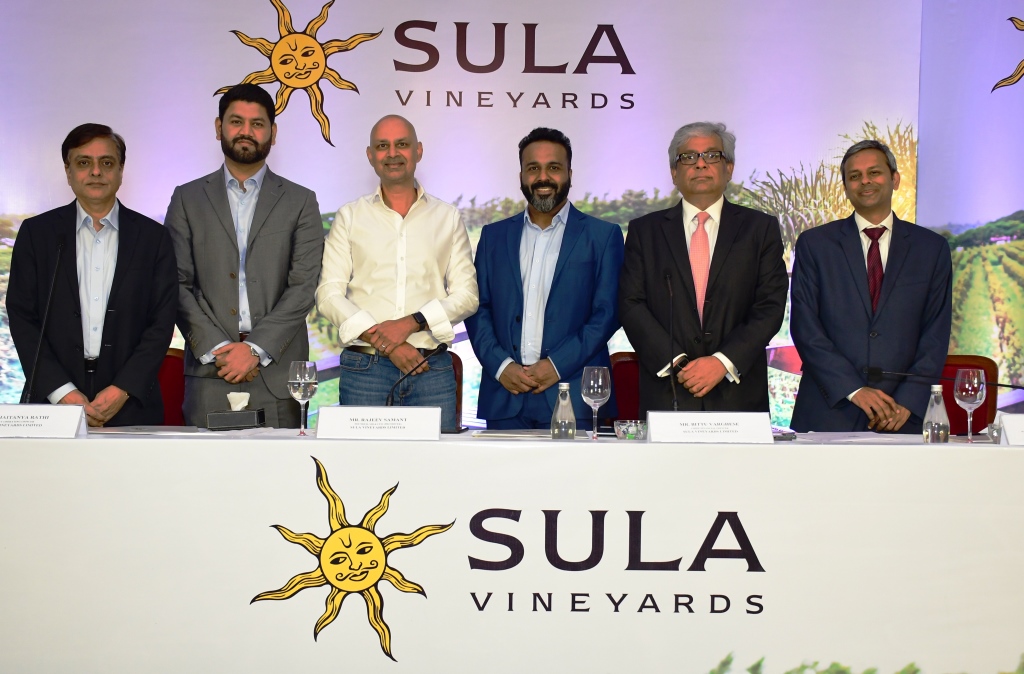 Sula Vineyards Limited the country's largest wine producer and seller and a market leader in the Indian wine industry in terms of sales volume and value since Fiscal 2009 has received bids of 4,38,35,400 shares against the offered 1,88,30,372 equity shares, at a price band of INR340-357, according to the data available on the stock exchanges.
Overall the issue was subscribed 2.33 times on the final day of bidding.
Qualified Institutional Buyer portion was subscribed the most with 4.13 times followed by Retail Portion with 1.65 times. Non-Institutional portion was subscribed 1.51 times.
Kotak Mahindra Capital Company Limited, CLSA India Private Limited and IIFL Securities Limited are the book running lead managers and KFin Technologies Limited is the registrar to the offer. The equity shares are proposed to be listed on BSE and NSE.
Sula set up its first vineyard in 1996 and in the year 2000 was the first to introduce varietal wines in India with the launch of Sauvignon Blanc, Chenin Blanc, Zinfandel, Riesling, Red Sparkling, and dessert wine offerings. In Fiscal 2005 it launched the first wine tasting room in India at its winery in Nashik, Maharashtra followed by country's first vineyard resort in 2008, and in the same year, the wine-maker launched the first wine-themed music festival in India, "SulaFest", at its Nashik facility in 2008. "SulaFest" has been widely recognized as the largest wine music festival in India and one of the largest wine music festivals in Asia, based on attendance. In Fiscal 2017, it launched a wine tasting room at its "Domaine Sula" facility in Karnataka.
The Mumbai-based wine maker is one of the fastest growing alcoholic beverage companies in India as of March 31, 2021 and has grown at a CAGR of 13.7% between Fiscals 2011 and 2021 according to Technopak report as mentioned in the DRHP. On the basis of total revenue from operations, it has gained market share from 33% in Fiscal 2009 in 100% grapes wine category to 52% in value in Fiscal 2020 and further increased to 52.6% in Fiscal 2021. Its business can be broadly classified under production of wine, import & distribution of wines and spirits and sale of services from ownership and operation of wine tourism venues including vineyard resorts and tasting rooms.
The companies revenue from operations increased by 8.60% fromINR 417.96 crore in Fiscal 2021 to INR 453.92 crore in Fiscal 2022, primarily due to increase in sales of manufactured goods under its brands, increase in selling price of wine in select brands and markets, increase in revenue due to increased focus on premiumisation, favourable response its wine tourism business and increase in revenue from other operating income (government grants). It clocked a profit of INR 52.14 crore in the financial year FY22 against INR 3.01 crore from the previous year.