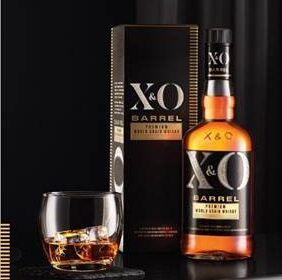 Allied Blenders and Distillers (ABD) Ltd., the largest Indian spirits company followed its recent launches with its premium offer X&O Barrel Premium Whisky today. Unique to ABD, the launch is again first on its metaverse platform, the ABD MetaBar. This will be followed by its physical market launch this week in the millennial city, Gurgaon. The brand will subsequently move for a national launch.
X&O is a premium blend of best Scotch malts matured in American bourbon barrels and finest Indian grain spirits. The name 'X&O' comes from the millennial short code of X (kisses) and O (hugs) that comprises elements like intimacy, warmth, passion and friendship. This whisky embodies the spirit of a close bond and deep connections.
Speaking on the launch, Shekhar Ramamurthy, Executive Deputy Chairman, ABD said, "The launch of X&O Barrel Premium Whisky is a step in ABD's journey to premiumise and offer top quality products and contemporary brands to consumers."
Bikram Basu, Vice-President, Strategy, Marketing and Business Development, ABD, said "Get Closer with X&O. We've got a blend to enjoy, share and advocate. The communication will mirror the black and white of the packaging, with highlights of gold. It will be intimate and sensual."
Speaking on the launch, Sohini Pani, Founder and Managing Director – River, said "The communication idea and the visual space is inspired from the name itself, X&O. When the product is all about Kisses and Hugs, what better way to launch it, than to celebrate intimate moments between loved ones. The brand proposition 'Get Closer' urges people to build meaningful connections in their lives."
X&O Barrel Premium Whisky is available in three pack sizes i.e., 750 ml, 375 ml and 180 ml.