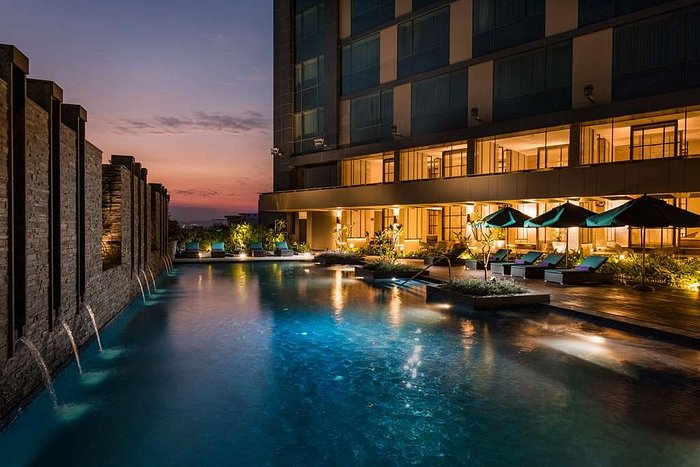 Conrad Pune, the flagship luxury hotel for Hilton Worldwide, has expanded its team with five key hires. The hotel has appointed Disha Shah as Director of Marketing & Communications, Harita Wadke as Learning & Development Manager, Naveen Raaj as Front Office Manager, Saurabh Debnath as Senior Revenue Manager and Amol Singh Reel as Director of Sales. These individuals bring a wealth of experience and will be responsible for driving the next level of growth for Conrad Pune.
Disha Shah has taken over as the Director of Marketing and Communication. She first joined hospitality in 2015 and has worked for global hospitality chains like Marriott International and Hyatt Hotels, across their brands. Her core areas of expertise include brand building, strategic communications, managing alliances, media management, social media marketing, digital marketing and crisis communications. In her current role, Disha will continue to build, maintain and sustain the integrity through positioning strategies for the first flagship hotel of Hilton in India, Conrad Pune.
Her sheer commitment towards her work was recognized as she won Marketing Person of the year for Hotelier India Awards, December 2021, ranked 18 as TOP 25 POWER by Hoteliers Web as the most powerful marketing leader who has led and influenced the change brought in by the Pandemic in 2020 – 2021 from South East Asia, Middle East & Africa, won the Certificate of Excellence for Top Performing Hotel in Food & Beverage Marketing Excellence for the year 2022-Q1.
Harita Wadke has been appointed as a Learning & Development Manager at Conrad Pune. Harita comes with more than eight years of experience as a quality and training professional with hotel brands such as the Westin Hyderabad Mindspace and Hitec City, JW Marriott Mumbai Sahar, Le Meridien Goa and ITC Maratha Mumbai. Her key competencies include people development, performance management, skills development and team building. Harita is also the recipient of the 'Exceptional Leader of the Year 2020' award. At Conrad Pune, Harita will be responsible for developing and implementing a wide variety of programs that enhance the effectiveness of the workplace.
Naveen Raaj has been appointed as the new Front Office Manager and comes with more than nine years of experience in the hospitality industry and with Hilton's portfolio. He began his journey at Hilton Chennai as a Guest Service Agent, and since then he has been steadily climbing the ladder with the brand. In his past roles, he has trained newly appointed team members in customer handling skills and worked to set up strategies to ensure effective and smooth departmental functioning and higher guest satisfaction scores. Naveen has also done task force assignments with 'Hilton Garden Inn Singapore' and 'DoubleTree Suites by Hilton Bangalore'. For his stellar efforts, Naveen has also been awarded 'Manager Of The Year 2020' at Hilton Chennai and 'Manager Of The Quarter 2019' at Doubletree Suites by Hilton Bangalore.
Saurabh Debnath has been appointed as the Senior Revenue Manager and brings over 12 years of experience in Operations and Revenue. Saurabh kick started his career with Ista Pune in 2010 as a Team Coordinator and over the years, he has worked with various international five star properties such as Accor North India Revenue Cluster, Novotel Ahmedabad, and The Oberoi Udaivilas. Prior to joining Conrad Pune, Saurabh was working as a Cluster Revenue Manager at the Hilton North India Revenue Cluster. He holds a Bachelor's Degree in Hospitality Administration/Management from IAM Goa (affiliated with Edinburgh Napier University, Scotland). At Conrad Pune, Saurabh is responsible for Sales, Budgeting & Forecasting, Pricing Strategy, ATL and BTL activities such as city events and activities while maximising revenue and profitability through strategic planning and execution.
Amol Singh Reel has been appointed as the Director of Sales. In his new role at Conrad Pune, he is responsible for developing and setting revenue and marketing strategies while ensuring a positive outcome. He looks after managing sales and establishing performance and development goals for the team members while providing them with essential guidance. Being associated with the hotel industry for over 15 years, Amol has worked with various luxury hotels like the Hyatt Regency Pune, Taj Group of Hotels – Vivanta by Taj Coral Reef Maldives, Vivanta By Taj – Blue Diamond Pune and Vivanta By Taj – Panaji Goa. He holds a Postgraduate degree in Marketing Management(PGDMM), a Bachelor degree in Tourism Studies and a Diploma in Hotel Management.