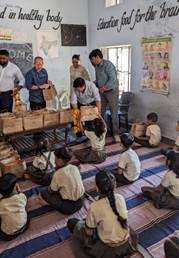 In honor of the visionary Founder Chairman, late Mrs. Sadhana Rai, Espire Hospitality Group celebrated its Founder's Day on 6th May 2023. Mrs. Rai's profound commitment to wholehearted care for the colleagues and unwavering dedication to community service has always served as guiding principle for the group.
Drawing inspiration from the wisdom left behind by late Mrs. Sadhana Rai, Espire Hospitality Group actively engaged in heart-warming initiatives across their multiple operating locations in New Delhi, Bhimtal, Jim Corbett, Mussoorie, Vrindavan, Chail, Goa, Ranthambore and Udaipur.
Espire Hospitality Group exemplified their dedication to the community by organizing various donation drives at institutions in need of ongoing support, including Earth Saviours Foundation in Delhi NCR, USR school in Jim Corbett, Himalayan Tails – Animal Rescue Service in Bhimtal, Sanatan Abhishek Charitable Trust in Goa, and a Government primary school in Chail.
In Vrindavan, a special lunch drive was organized at the Apna Ghar Ashram, catering to the needs of destitute. Additionally, the team at ZANA Lake Resort, Udaipur made a meaningful contribution by donating a RO Machine and a water cooler to a Government school in Udaipur.
The team at Six Senses Fort Barwara donated stationery items like notebooks, pencils, coloring books, and fresh fruits to a nearby school in Barwara. This act of compassion was aimed to bring happiness and support to the young students while honoring the legacy of the Founder Chairman.
The group also organized 'Excellence Awards' to recognize and appreciate colleagues who have made a positive impact in their respective workplaces.