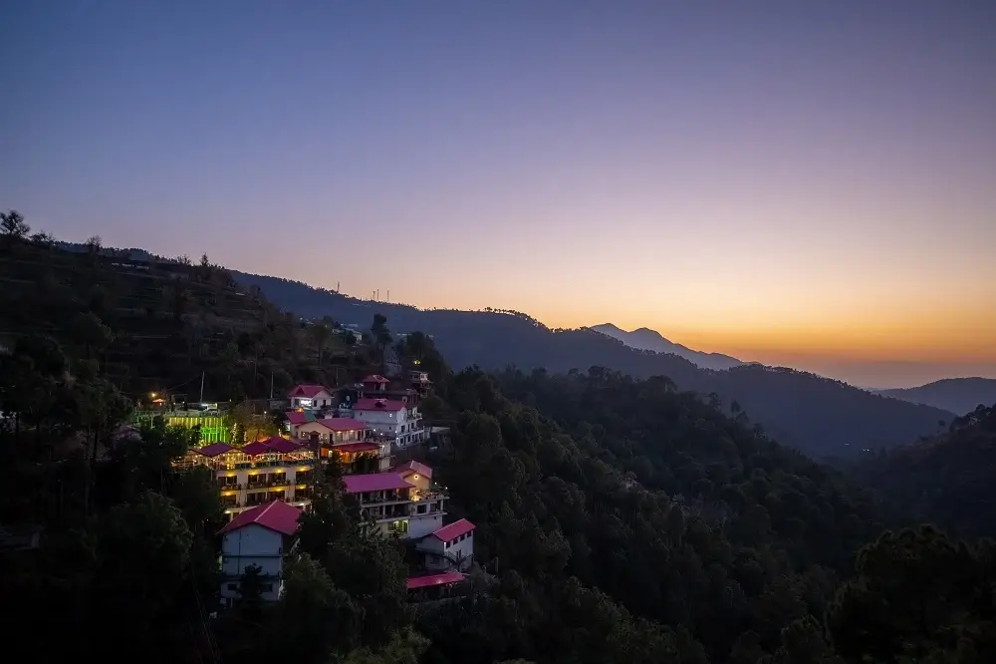 Espire Hospitality Group, one of India's fastest-growing hospitality companies has launched its first property in Himachal Pradesh, 'Country Inn Maple Resort, Chail'. The group also announced the opening of its first 'Country Inn Premier' resort, 'Country Inn Premier – Pacific, Mussoorie'. This new brand has been designed to further elevate the Country Inn experience with a tasteful amalgamation of modern aesthetic and enriching experiences.
Country Inn Maple Resort, Chail
The resort is conveniently located on Kandaghat-Chail road, in one of the most scenic hill stations, known for the spectacular settings, sightseeing and adventure. The resort sits timelessly amidst snow-clad mountains and picturesque landscapes to become your perfect home in the hills. One would choose to stay at Country Inn Maple Resort, Chail to experience the quiet nature, chirping birds, and a perfect ambience to unwind and connect with self or strengthen bonds with your family.
With 30 spacious rooms, tranquil views, lush green lawns, recreational activities, kids play area and excellent cuisine at 'Sky High', the all-day dining restaurant and destination dining options, the resort is a tasteful amalgamation of sublime nature and modern aesthetic. A contemporary take to immerse travellers in the local beauty and distinct character of the destination.
Country Inn Premier – Pacific, Mussoorie
Nestled amidst the picturesque hills, Country Inn Premier– Pacific, Mussoorie is an oasis for those on a constant quest for peace and calm. It is conveniently located at a walking distance from the heart of the town Mall Road and close to the attractions like Gun Hill and KemptyFalls, offering an ease to explore the destination. The mountain resort boasts of 48 well-appointed rooms, awe-inspiring views eliciting a restful state of mind and delightful experiences, promising guests a rejuvenating and soul-filling stay.
The multi-cuisine restaurant 'Mélange' is a perfect destination to indulge in the culinary delights from around the world. Be it a corporate getaway or celebration events, the outdoor lawn and the indoor event spaces, along with the heartfelt hospitality will make them inspiring.
Akhil Arora, Chief Operating Officer, Espire Hospitality Group
Speaking on these two important openings, Akhil Arora, Chief Operating officer, Espire Hospitality Group said "Marking an incredible beginning of FY 2023-24, we are thrilled to open these two resorts in high-demand markets of Mussoorie and Chail. Our new brand 'Country Inn Premier' has been designed to further elevate the Country Inn experience. While maintaining the brand's core DNA of extending hospitality that is heartfelt and intuitive, Country Inn Premier branded hotels and resorts willfeature spacious interiors and premium amenities for an inspiring stay."
He further added "Last one year has been quite eventful and encouraging for us from the growth perspective. We launched a new brand 'ZANA – Luxury Escapes' with the opening of ZANA Lake Resort, Udaipur, opened six new hotels under Country Inn Hotels & Resorts brand, in Goa, Amritsar, Vrindavan, Udaipur, Mussoorie and Chail, and signed new hotels in Raipur, Dehradun, Rishikesh, Patkot(Jim Corbett) and Ranthambore. With our steady growth strategy, we aim to become among the leading domestic hospitality chains in the country soon."
Sushil Amlani, Head of Business Development, Espire Hospitality Group
"Uttrakhand is an important leisure destination that attracts nature lovers and adventure enthusiasts from across the country. With the addition of this new resort, our presence in Uttrakhand is further strengthened, complementing our existing resorts in Jim Corbett and Bhimtal. On another hand, we are delighted to open our first resort in Himachal Pradesh. Known for its exquisite beauty and exclusive site, Chail is an ideal destination for those who love to take the road less travelled. With this opening, we want to elevate the level of comfort and facilities in the region through our exceptional offerings and renowned heartfelt hospitality." said Sushil Amlani, Head of Business Development, Espire Hospitality Group.
He further added, "These openings mark a milestone in our journey and a strategic move to steadily expand our footprint across the country. We are in active discussions with property owners in Jaipur, North Goa and Dharamshala, and these should be added to our portfolio soon."