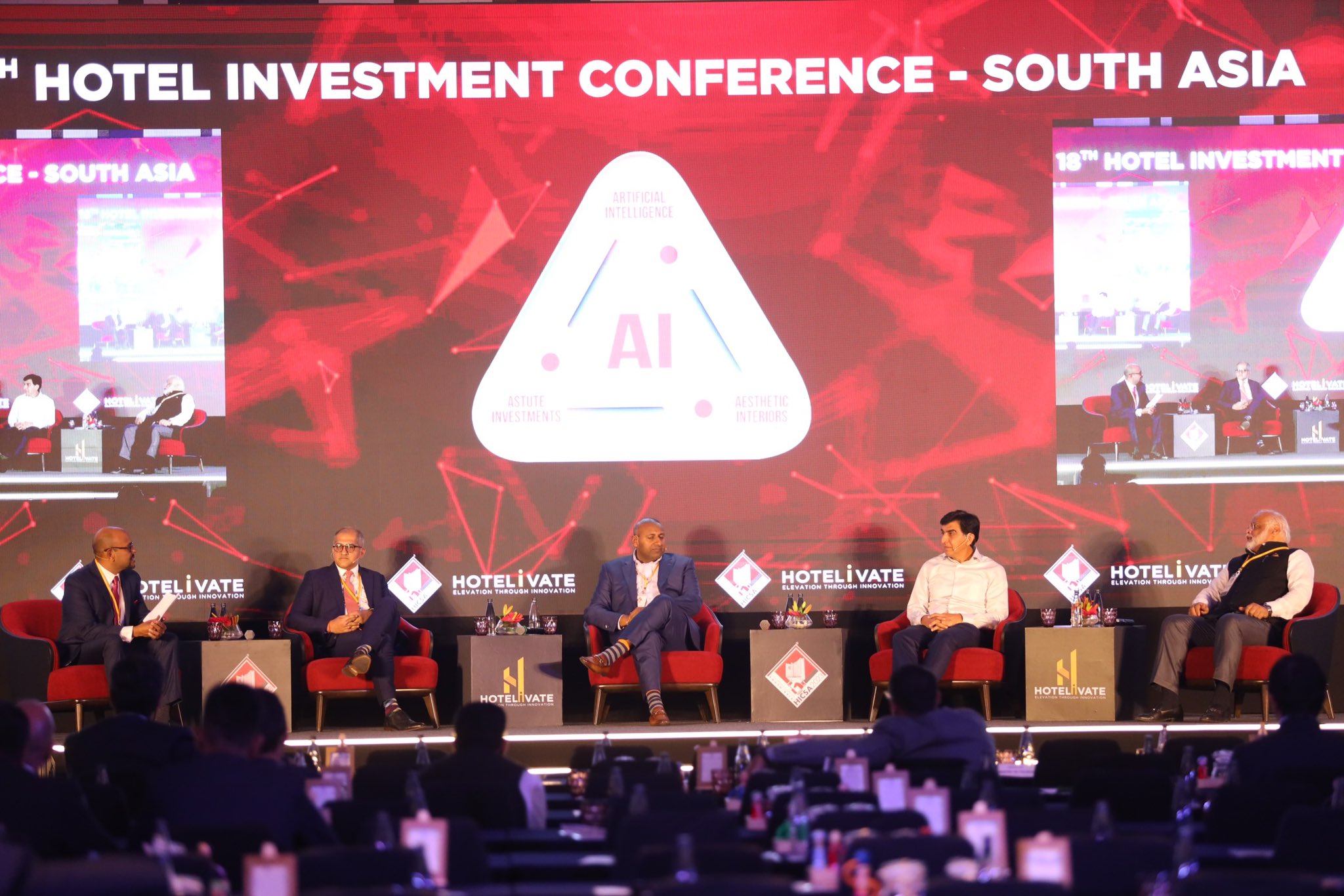 Innovation and Growth Take Centre Stage in Bengaluru
HBI Staff | Bengaluru
The 18th Hotel Investment Conference – South Asia (HICSA) was held in Bengaluru from 11th to 13th April 2023, and it attracted hotel owners, operators, developers, architects, consultants, and other hospitality professionals from 15 countries. With nearly 600 attendees, including almost 150 hotel owners, HICSA 2023 drew the second-highest number of participants since its inception in 2005.
Innovation was the theme of HICSA 2023, as the conference was designed differently from previous iterations. The event kicked off with a golf tournament followed by an owners-only meet on day one. The main conference was held over the next two days, and the entire venue was packed to capacity with multiple sponsors and hotel brands showcasing their products and services.
The overwhelming response from the attendees suggests that HICSA 2023 was a success. With its innovative format, the conference provided a platform for meaningful discussions and insights into the latest trends and developments in the hospitality industry.
The agenda for the conference not only included traditional topics related to tourism and hospitality but also relevant subjects that impact the industry and its future. For the first time since its initiation, HICSA 2023 was assigned a theme with three A's – Artificial Intelligence, Astute Investments and Aesthetic Interiors. These three topics were discussed by a panel of experts in breakout sessions during the course of the conference.
Speakers who addressed delegates at the conference included a celebrated list of hospitality industry professionals including Anthony Capauano, President and CEO Marriott International, Puneet Chhatwal, Managing Director and CEO at IHCL, Chris Nassetta, President and CEO of Hilton, Jitu Virwani, Chairman and MD, Embassy Group, and Dimitris Manikis, President and MD-EMEA, Wyndham Hotels and Resorts, Megna Shankaranarayanan, Industry Head – Travel & Food Tech, Google, Elie Younes, Executive VP and Global Chief Development Officer, Radisson Hotel Group, just to name a few.
The conference also saw the announcement of four new landmark hotel signings including the country's first Radisson Collection in Hyderabad, the first Anantara Resort and Spa in Jaipur, the first Waldorf Astoria in Jaipur and India's fourth Fairmont in Agra. 
HICSA 2023 Highlights:
The pandemic has undoubtedly brought unprecedented changes to the travel and hospitality industry. However, the industry has started to adapt and evolve to the new normal, with leaders like Chris Nassetta, President and CEO of Hilton, discussing the latest travel trends and sharing his plans for the Indian market.
During a session named "Defining The Next Golden Age Of Travel," Nassetta spoke about how post-Covid travel has accelerated due to people realizing that their freedom could be taken away, which they could never have imagined. This realization has prompted people to live their lives to the fullest, including traveling for business to build relationships with clients and customers.
Nassetta expressed his ambitious plans for the Indian market, which he believes is an under-explored market with plenty of opportunities. He said, "I think nobody yet in this market really gotten into the scale yet. We have pretty ambitious plans for the Indian market. I think in the next 3 years we should have 75 hotels combined."
Anthony Capauano, President and CEO of Marriott International, also shared his plans for the Indian market during a session. He revealed that they plan to have at least 250 hotels across India by 2025, creating 10,000 new jobs across the country.
Capauano emphasized Marriott Group's commitment to sustainability practices, stating, "We have set a goal to achieve Net Zero by 2025 and made commitments towards water and energy conservation. While we have made progress on climate, we recognize that there is a significant issue with ESG food waste, with 40% of the world's produced food going to waste, leading to food insecurity globally. Therefore, we are focusing on setting meaningful goals in various areas to address this issue."
Manav Thadani, Founder and Chairman of Hotelivate, spoke at length about the infrastructure and road connectivity that India is experiencing, which has led to a significant growth in the industry. He emphasized the importance of sports tourism and big fat Indian weddings as great fillers for the industry.
However, Thadani also brought up an important point about the work-life balance of employees in the hospitality industry. He suggested that hoteliers must ensure that their employees have a good work-life balance to retain them.
As the travel and hospitality industry continues to adapt and evolve to the new normal, it is essential to have leaders who can bring innovative ideas and solutions to the table. The plans and strategies shared by Nassetta, Capauano, and Thadani show that the industry is moving towards a more sustainable and employee-centric future.
As per the Hotelivate HICSA 2023 seminar on "Owners Challenges: Is Anyone Listening?", the hospitality industry has been facing several challenges, including rising costs, labor shortages, and an oversupply of hotel rooms. The panel discussed the need for hotel owners to be heard and how to address these challenges.
During the insightful panel discussion on the challenges faced by hotel owners, Zubin Saxena, the Managing Director and Area Senior VP – South Asia of Radisson Hotel Group, took on the role of moderator. The esteemed panel consisted of industry leaders including Harshavardhan Neotia, Chairman of AmbujaNeotia Group; Nirupa Shankar, Executive Director of Brigade Group; Snehdeep Aggarwal, Chairman and Founder of Bhartiya Group; and Sonica Malhotra, Joint Managing Director of MBD Group.
The panel included several industry experts, including hotel owners and operators, who shared their insights and experiences. They stressed the importance of hotel owners having a seat at the table in decision-making processes and being involved in the development and execution of strategies.
They also discussed the need for a more sustainable approach to hotel development and operation, including the implementation of eco-friendly practices and reducing carbon footprints. The panel emphasized the need for collaboration between hotel owners, operators, and other stakeholders to address these challenges and ensure long-term success.
Overall, the seminar highlighted the importance of addressing the concerns and challenges of hotel owners and finding ways to work together to ensure a sustainable future for the hospitality industry.
The conference ended with an evening of revelry and a unique bar-hop experience at some of Bengaluru's finest bars. The Seven-Rivers Brewing Co at Taj, MG Road Bengaluru, was the final stop before HICSA 2023 officially concluded.
Highlights From the Event :
The topics under discussion could be categorised into the following – post pandemic revival of the hospitality industry, challenges that plague the industry and new trends and concepts shaping the future of industry.
Some key takeaways that can be drawn from the conference are as follows:
Hotels across India have seen an astounding surge in performance. They have witnessed 25% or higher growth in RevPar across all segments over the year 2019. The last time such levels of growth were seen was prior to 2008. Furthermore, the overarching belief is that these levels of growth are sustainable and are here to stay. The projection is that

business travel will continue to remain strong as the leisure footprint will soften compared to the two pandemic years.

The growth in per capita levels across the country is acting as a tailwind for the hospitality industry. Hotels are an aspirational commodity and with the increase in disposable income there is bound to be greater demand for travel, hotels and aviation. That is the driving factor behind airlines increasing its fleet size and hotel companies building aggressive expansion plans.

The next layer of growth in hotels will be seen in Tier 2 and Tier 3 cities in India. With increased connectivity, urbanization and infrastructure development, hotels will have greater access to new, untapped markets. Leisure traffic driven by wildlife and religious destinations located in remote parts of the country will see higher traction.
It is no surprise then to see that hotel brands have robust expansion plans in place for India. For example, Marriott International plans to operate 250 hotels in its portfolio in India by 2025. Hilton Worldwide plans to expand from 24 hotels to 75 hotels in India by 2026. Other hotel brands had large growth projections for India.

Although artificial intelligence technologies have a lot of practical uses and will help enhance the pace and quality of service delivery, it cannot replace personalized, local interactions.

While management contracts have traditionally dominated new hotel singings in India, franchising as a concept is picking up pace among major hotel brands, both domestic and international.
Issues Pondered Upon :
While a lot of positive commentary was heard about the industry at large, there were some challenges and risks that were discussed. These included the following:
Acquisition and retention of talent has become a major challenge in the hotel industry. The industry is suffering from high attrition levels due to long working hours and inadequate compensation levels at the grassroot level. Furthermore, there is little being done by hotels to change this trend.
Hotel owners continue to face regulatory challenges when it comes to setting up new hotels. These challenges may vary from one state to another but the overall ease of doing business in the country needs to improve.
Accessibility to funding in the form of bank loans is increasingly becoming difficult as the perception is that hotel developments do not generate returns as high as other industries.
The hospitality industry needs to leverage the use of technology much better. There is a lot to be learnt from the e-commerce and airline industry in terms of use of tech, and revenue management.
Awards & Recognition:
One of the highlights of the event was the HICSA Hotels of the Year Awards – 2023 presented by Make My Trip, which acknowledged and celebrated the most outstanding hotel developments in South Asia in the previous year.
| | |
| --- | --- |
| Best Hotel in Conversion Hotel category | Devi Ratn, Jaipur – IHCL SeleQtions |
| Best Hotel in Budget and Mid-Market category | Fairfield by Marriott, Dehradun |
| Best Hotel in Upper Mid-Market category | Hilton Garden Inn Bengaluru Embassy Manyata Business Park |
| Best Hotel in Upscale Urban Locations category | Hyatt Regency Jaipur Mansarovar |
| Best Hotel in Upscale Leisure Locations category | Welcomhotel by ITC Hotels, Jim Corbett |
| Best Hotel in Boutique Hotel category | Storii by ITC Hotels Shanti Maroda, Goa |
| Best Hotel in Upper Upscale & Luxury category | JW Marriott Resort Prestige Golfshire Resort & Spa |
| Critics Choice Award | Hyatt Regency Dehradun |