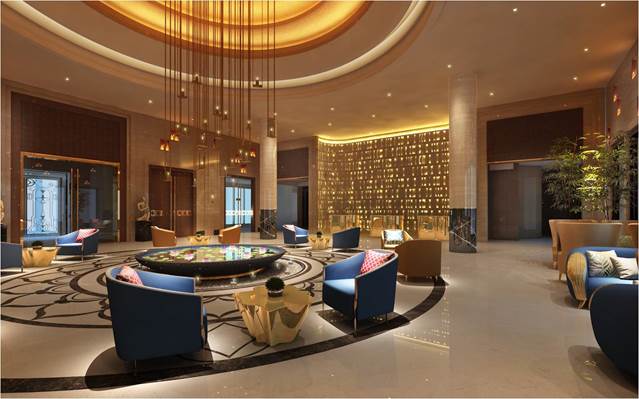 Indian Hotels Company (IHCL) unveiled its latest offering, the luxurious Taj Gandhinagar Resort & Spa in Gujarat. Situated in the capital city of Gandhinagar, this serene oasis promises a world-class spa experience amidst a picturesque paradise.
Puneet Chhatwal, the Managing Director & Chief Executive Officer of IHCL, expressed his enthusiasm for the expansion, stating, "With the introduction of Taj Gandhinagar Resort & Spa, we not only cater to the growing demand for leisure and social events but also put this remarkable city on the global tourist map. This Taj-branded resort, located in close proximity to Gujarat's major cities, will provide guests with a tranquil escape."
Spanning across six acres of lush greenery adorned with soothing water bodies, the resort features a Mediterranean hacienda-style design. Guests will be captivated by its distinct blue domes, elegant arches, majestic pillars, and captivating artwork. The resort's convenient location offers easy access to Ahmedabad airport, ensuring a comfortable journey for travelers. Additionally, Taj Gandhinagar Resort & Spa boasts an exceptional culinary experience, with the all-day diner Palette serving a delightful blend of local and global favorites. Tea enthusiasts can find solace in the Tea Lounge, which offers a range of exotic blends. The spa café caters to wellness aficionados, offering a delicious organic plant-based menu.
The J Wellness Circle Spa invites guests to embrace holistic practices deeply rooted in India's ancient healing traditions. With twelve treatment rooms, a relaxation lounge, a sensory lounge, a meditation room, a state-of-the-art fitness center, a Turkish hammam, and a dedicated Ayurveda Centre, the spa facilities provide a sanctuary for rejuvenation. Outdoor enthusiasts can indulge in a variety of recreational activities, including a squash court, badminton court, indoor games, an exclusive kids' play zone, and a swimming pool.
The resort's pillarless banquet hall spans 5,000 square feet, while over two acres of meticulously manicured lawns offer ideal venues for conferences and sophisticated social events.
Taronish Karkaria, the General Manager of Taj Gandhinagar Resort & Spa, expressed excitement about showcasing the cultural richness of Gujarat. He stated, "We aim to provide our guests with an immersive experience that seamlessly blends modern comforts with the timeless traditions of this region. With Taj's renowned warm service, we eagerly anticipate welcoming guests to our resort."
With the launch of Taj Gandhinagar Resort & Spa, IHCL now operates 21 hotels across Gujarat, including the Taj, SeleQtions, Vivanta, and Ginger brands, with four additional properties currently under development.