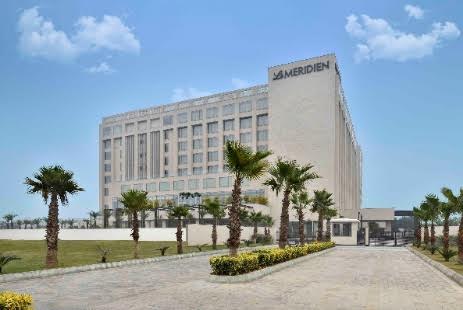 Le Méridien Hotels & Resorts, part of Marriott Bonvoy's portfolio of 31 extraordinary brands, announced the opening of Le Méridien Amritsar, further strengthening the European -born brand's presence in India with its 11th property in the country. Surrounded by lush green fields soaked in beautiful sunrises and warm sunsets, the hotel is located within 1.5 km from the Sri Guru Ram Dass Jee International Airport. Unveiling the best-kept secrets of Amritsar, guests can savour and enjoy the colorful spirit of the city, the people and the rich history of the land through Le Méridien's distinctively European- chic lens.
"We are thrilled to introduce Le Méridien to the warm and vibrant city of Amritsar. This opening marks the third Marriott property in the city and underlines our commitment to growing our portfolio of brands in the emerging markets of India, said Ranju Alex Area Vice President, South Asia, Marriott International. "We look forward to offering curated experiences in this dynamic destination, tailored for the creative and curious-minded traveler."
Amritsar is home to the spectacular Golden Temple, Sikhism's holiest shrine and one of India's most serene and humbling sights. The hyperactive streets surrounding the temple are a delightful mass of life and color – with local art and crafts, hand woven fabrics and enticing street food dotting every nook and corner. Pedestrian walkways connect to frenetic old-city bazaars, sheltering a sensory overload of sights, sounds and smells. In addition, The Partition Museum, Jallianwala Bagh, Ram Bagh (former palace grounds of Maharaja Ranjit Singh) and the Summer Palace are highly recommended on every itinerary.
The lobby is spacious and welcoming with natural light, high ceilings, and contemporary art and décor. A majestic horse installation, which is a spectacular amalgamation of the city's history and new age décor, stands tall and proud in the lobby. With experiences and programmes centered around the brand's filters of discovery – culture, coordinates and cuisine. Le Méridien's global Unlock Art programme grants culturally enthusiastic guests' complimentary access to notable galleries and exhibitions in the city.
Guests can enjoy the perfect cup of coffee with the hotel's Illy Coffee Programme, served by Master Baristas. Le Scoop by Le Méridienfeatures various flavours of gelatos and sorbets, which can be enjoyed during a slow and lingering walk through the city, unlocking the destination's locale.
The hotel features the Le Méridien Hub, a concept that reinterprets the hotel lobby into a social gathering space meant for guests to convene and converse. The 147 guest rooms, which include family rooms and suites, are designed to inspire and offer tranquil respite from the hectic pace of the city. Each room features the Le Méridien signature bed, 55-inch LED TV, designer bath amenities and high-speed internet access. A rejuvenating spa, an open-air pool and a fully equipped, 24-hour fitness center allows guests to relax and reminisce at leisure.
Culinary finesse awaits guests at the Le Méridien Amritsar, with innovative flavours and creative presentations through three dining venues. The All-day dining restaurant Le Grand Café features an interactive kitchen serving a healthy mix of international favourites and local delights. The Asian Bistro offers a richly varied menu embracing flavors and ingredients from Thai, Chinese, Japanese and Indonesian cuisines. Latitude which is at the heart of the Le Méridien Hub transforms from a chic and fresh coffee house by day, to a sophisticated cocktail bar by night. Guests can enjoy light bites and Illy coffee expertly prepared by skilled Master Baristas, creating the perfect setting for the creative and curious minded guests and locals to gather.
Le Méridien Amritsar offers interactive multi-compatible meeting spaces spread over 20,000 sq. ft, including a grand ballroom, six meeting rooms and an array of alfresco areas crafted for open-air celebrations and soirées. Full conference facilities include in-built projectors and high-definition LED screens with high-speed internet, making it the perfect venue for business meets, intimate gatherings and indulgent weddings.
"We look forward to welcoming guests to a rich and immersive experience at Le Méridien Amritsar, where we will set the tone for premium hospitality in the city with our distinctive dining experiences, creative event spaces and engaging services. Along with Le Méridien's signature brand programmes, guests are invited to savour the moment and delight in the discovery of everything that Amritsar has to offer said- KP Singh, General Manager of Le Méridien Amritsar.