Asmita Mukherjee | Hyderabad
Little Italy restaurant which was founded in Pune by Raj Mehta along with an Italian chef is known for its unmatched authentic Italian fare. About 33 years ago in 1989, Mehta saw a blank space for a good vegetarian Italian fine dining experience. Pioneering ahead, he grew Little Italy to a nationwide footprint with over 60+ outlets across 20 cities and 4 countries. Now the reign is being helmed by his son Amrut Mehta. Under Amrut's able leadership the brand has explored branches internationally and different QSR formats.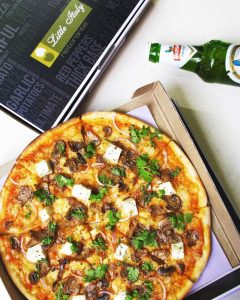 At Hyderabad, Little Italy is located in the posh by-lanes of Jubilee Hills and has successfully brought the authenticity of Italian fare, ambience and décor to the city.
While entering the restaurant a huge wood log engraved with the name of the restaurant welcomes visitors lending a rustic charm to the initial impression.
The restaurant showcases a live kitchen right at the entrance where the patrons can see their food being prepared to display the authenticity and openness of the brand. The interior of the restaurant which was recently renovated is minimalistic yet impressive.
The restaurant is ensconced in glass and can surely refresh all senses of natural light during the day time and at night the lights around the city light up the whole area. At night it is cosier romantic, the yellow lighting at the restaurant welcomes patrons with its superb hospitality and warmth.
We learnt that the food which is purely vegetarian has managed to capture the heart of many celebrities such as Mahesh Babu, Anushka, etc.
The menu shows the reasons why Little Italy has gained popularity as one of the best veg fine dining restaurants in a very small span of time, as the options are numerous. It offers not only Italian fare but a plethora of authentic Mexican cuisine too.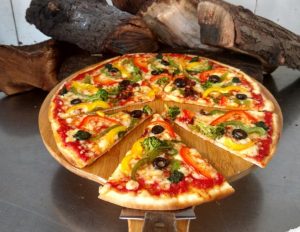 The Italian fare started with Zuppe/Soup – Crema Di Funghi, which is a treat for mushroom lovers. The creamy texture of the warm soup perfectly managed to open all the senses, which was followed by Nachos with Cheese sauce. The Nachos were perfectly crisp and the topping of warm creamy cheese garnished with spring onions was a hit for the taste buds, the irresistible dish was so good that one could not have enough.
Classic Wood Burn Pizza was next – Pizza Napoli containing toppings of fresh tomato sauce, onion, capsicum, sundried tomato, mozzarella and jalapeno peppers, drizzled with chilli oil enthrals with its taste and plays perfectly in tune with the marvellous experience of the soup and Nachos.
Funghi Alla Trapanese was the next dish, containing roasted mushrooms mildly flavoured with garlic, lemon, and parsley, and drizzled with olive oil served with warm farmer's bread. No meal can be complete without savouring mocktails and Little Italy offers such a vast range of unique mocktails that one needs to diligently go through the menu before choosing one. A concoction of mango juice, passion fruit syrup, lime juice, sugar, mint and soda perfectly blended into Mango Passion Fruit Mojito is a personal favourite.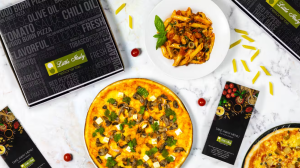 A proverb says 'You can't go to Italy without having pasta'. The land of wine – Italy is known around the world for its fine and comforting cuisine. Little Italy has perfectly managed to do justice with unmatched Italian cuisine. Masala Mafia under the Classic Pasta section was next to be explored. This was a perfect combination of Penne pasta, bell pepper, and onion with a beautiful mix of tomato sauce and béchamel sauce which stole the show.
Risotto Con Verdure was next on the list – brown rice perfectly amalgamated with veggies and cheese truly fills guests to satisfaction.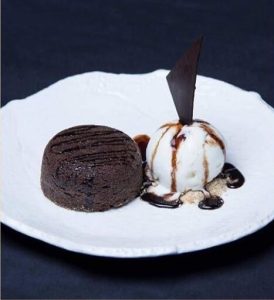 For dessert, the recommendation was Chocolate Bomb, which is their bestseller. The rich warm and gooey melted chocolate sauce oozing inside from the bomb is a perfect end to a hearty meal at Little Italy. For two people Italian fare at Little Italy will cost around INR 2000. It also offers buffet on the weekends and brunch on Sundays.
asmita.mukherjee@saffronsynergies.in
asmitamukherjeehbiz@gmail.com