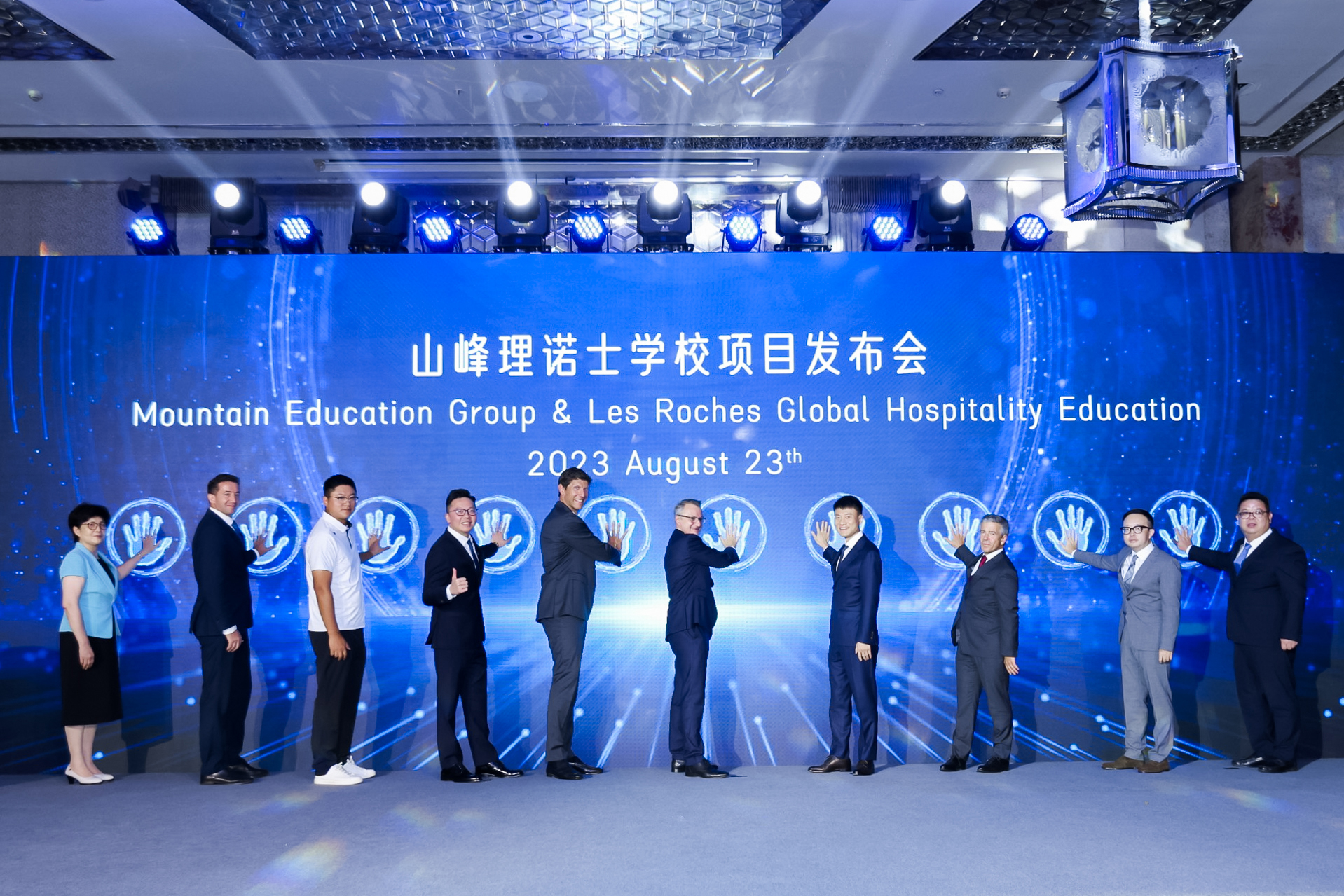 Mountain Education Group (MEG), leading education group in China operating in K12 bilingual schools and worldwide reference in Higher Education Les Roches business school officially celebrated yesterday their exclusive cooperation in China. Through a strategic alliance, the two parties plan to develop a unique network of hospitality higher education campuses in China starting with a first Campus in Shanghai in 2025.
Les Roches has always been committed to China and Chinese students, having been a pioneering actor in China with its first establishment in 2003, 20 years ago. 
With Mountain Education Group, Les Roches pursue its mission to provide Chinese talents with world-class hospitality management education, building on the highest standards developed by Les Roches. The agreement foresees pan-Chinese expansion of Les Roches brand, starting with the first campus opening in Shanghai planned in 2025. The partners plan to open 3 to 4 campuses across the country (Shanghai, Wuxi, Suzhou…).
On the day of the official signing, Carlos Díez de la Lastra, CEO Les Roches commented: "We are thrilled to share this new development for Les Roches. Les Roches is proud to have been the first actor in Hospitality management education supporting the transformation of China's hospitality industry as well as the development of its talent pool, and now wishes to continue to contribute to this dynamic and important industry in China. The aim of Les Roches is to provide the widest career opportunities to aspirants in Hospitality and entrepreneurship providing students with knowledge, skills and opportunities for international and national careers in hospitality, gastronomy, luxury and retail. "
MEG CEO Mr. Zeng declared: "For many years, MEG has consistently pursued an idealistic approach to education, the schools we invest in and manage in Shanghai and Suzhou have received high praise from parents and students, several campus buildings have won numerous significant domestic and international awards."
Sommet Education CEO, Benoît-Etienne Domenget shared: "As one of the world's fastest growing economies for careers in tourism and hospitality, China is an essential development platform for international education brands like ours to invest in and innovate. This new alliance will seal future opportunities to all of our students and Chinese talents."
Les Roches will be responsible for academic curriculum development, as well as standard policies implementation.
The first iconic realization of the two partners will be the "Shanghai Mountain Les Roches Campus", a very ambitious project that brings a unique model of education and architectural design to the city of Shanghai. 
"Shanghai Mountain Les Roches Campus" will adopt an educational model based on academic learning and strong integration of practice within the curriculum. The principal team, academic team and backbone teachers will be appointed by the Les Roches Global Hospitality Education. The teaching curriculum of the school will be aligned with the curriculum of Les Roches Campuses in Switzerland and vocational education will be combined with undergraduate education. 
MEG will be responsible for all financial investments, land acquisition, architectural design, campus or project construction, licenses and permits, financial management, student recruitment and logistical arrangements. 
The campus design is divided into two phases. The project has entered the first phase of the design and planning stage. The campus building will be designed and built by a team of world renowned and Pritzker Prize winners' designers. The confirmed Pritzker Prize Winners include: Alvaro Siza (Portugal) and Tadao Ando (Japan). In addition, MEG is inviting Peter Zumthor, a Swiss national treasure designer and winner of Pritzker Prize in 2009, to join the design of this magnificent campus project. The other designers team includes Guo Xien and Hu Rushan, founding partners of Ruen Design Research Office, Liu Yichun, the chief architect of Dashe Architecture Design Firm, and Fan Beilei, the founder of Geng Architecture Firm. 
Les Roches will also support MEG in the pre-opening phase of the campus with project management as well as with facilities and operations development, marketing and enrolment.
Detailed program offering will be performed in 2023, based on Les Roches academic standards and addressing the needs of Chinese Hospitality Industry. 
Les Roches model hospitality education programs balance theory with practice, independent learning with strong faculty support and mentorship, providing a solid foundation for lifelong learning. Guided by its mission, Les Roches ensures that students acquire personal and professional skills for immediate employment and progression into leadership positions in the industry.