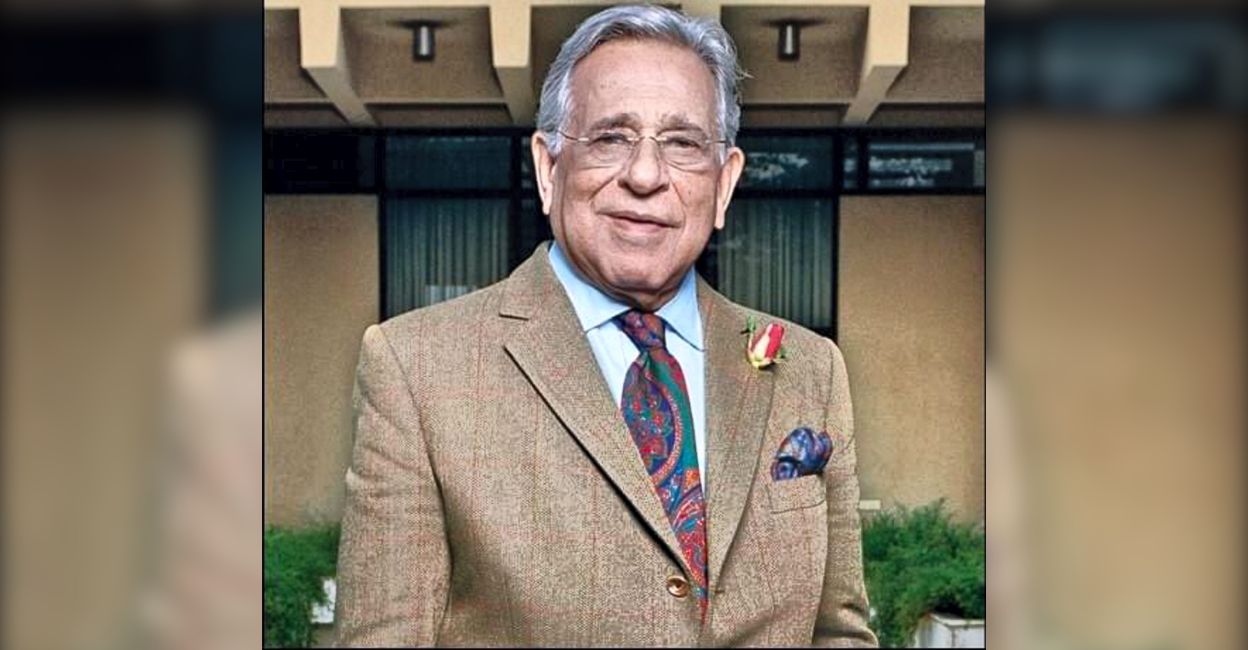 In a profound loss to the hospitality industry, Prithvi Raj Singh (PRS) Oberoi, the revered 94-year-old Chairman Emeritus of The Oberoi Group, fondly known as 'Biki,' breathed his last on Tuesday. Recognised as a visionary corporate hotelier, he leaves behind a legacy that reshaped India's hospitality landscape.
PRS Oberoi, the son of the late Rai Bahadur MS Oberoi, founder of The Oberoi Group, played a pivotal role in expanding the renowned hotel chain to encompass 32 establishments during his illustrious career. His influence extended to the development of the Trident chain of hotels, solidifying his reputation as a stalwart in the field.
Following in the footsteps of his father, PRS Oberoi navigated the hospitality chain through challenges, securing its position as a beacon of luxury. The Oberoi empire, which began in 1934, became a powerhouse in Indian hospitality under his leadership.
Born on February 3, 1929, in New Delhi, PRS Oberoi served as the company's Chairman from 1988 until May 2022, when he stepped down due to deteriorating health. His decision marked the end of an era for The Oberoi Group, concluding two generations of Oberoi family leadership.
In a statement, The Oberoi Group expressed deep sadness, acknowledging Oberoi's profound impact on the global hospitality landscape. A luminary in the industry, his legacy transcends borders, leaving an indelible mark.
Under PRS Oberoi's guidance, The Oberoi Group evolved from its inaugural hotel, 'The Trident Chennai,' in 1988, to become one of India's most reputable hotel companies. His contributions were recognised with the Padma Vibhushan, India's second-highest civilian honor, in 2008, and the 'Corporate Hotelier of the World' award by HOTELS magazine in 2010.
Survived by three children, including son Vikramjit Singh Oberoi, Managing Director and CEO of EIH Hotels, PRS Oberoi's impact on luxury hospitality is celebrated globally. His accolades include the Businessman of the Year 2008 by Business India magazine and the Ernst & Young Lifetime Achievement Award in 2008.
In reflecting on his lifetime achievements, PRS Oberoi's influence on luxury hotel design and his role in globalizing The Oberoi Group have left an indelible mark on the industry. The legacy of this pioneering hospitality icon will be remembered for years to come.
Paying tribute, Manav Thadani, Founder Chairman at Hotelivate, said, "PRS Oberoi's remarkable legacy is that he was a visionary well before his time. Oberoi Hotels & Resorts has not only raised the bar for luxury but has also contributed significantly to India's image as a global tourist destination. Essentially, Oberoi introduced luxury hotels to India and took Indian hospitality global. As the driving force behind the Oberoi Group, his visionary leadership has shaped the landscape of hospitality, setting new standards for excellence. Under his guidance, the Oberoi brand became synonymous with impeccable service, attention to detail, and a commitment to creating extraordinary guest experiences. We had the privilege of celebrating him and bestowing upon him the HICSA Lifetime Achievement award in 2008."
"I remember him as one of the finest gentlemen I have had the privilege of getting to know. He also gave us our first few assignments at HVS India in consulting and executive search. Engaging in discussions about new opportunities with him was always enlightening; each meeting left you enriched in thought and knowledge. Oberoi's memories will be cherished by one and all for those who interacted with him. He was a mentor to so many and, as someone mentioned, a professional father to many more. We will miss him. May his soul rest in eternal peace," said Thadani.